Entertainment
Casa de Mi Padre Movie Quotes

52 votes
30 voters
26.4k views
The best 'Casa de Mi Padre' movie quotes include the funniest lines from this new Spanish-language comedy film starring Will Ferrell as Armando Alvarez -- a mild-mannered ranch hand in Mexico. This list includes some of the most hilarious quotes from 'Casa de Mi Padre,' written in English. Seriously funny clips and trailers are also included. See a favorite 'Casa de Mi Padre' quote? Vote it up! And, if you have a particular favorite that isn't listed, add it!
'Casa de Mi Padre,' or 'House of My Father,' is a spoof of Spanish telenovelas, and in this case, Armando Alvarez falls in love with Sonia (Genesis Rodriguez), the fiance of his younger brother, Raul (Diego Luna). Eventually, the two brothers wind up in an all-out war with Mexican drug lord Onza (Gael Garcia Bernal). 'Casa de Mi Padre' features an all-star cast that also includes Pedro Armendáriz Jr., Adrian Martinez, Efren Ramirez and Nick Offerman (as DEA Agent Parker). The movie is directed by Emmy-winning former 'Saturday Night Live' writer Matt Piedmont and written by Funny or Die's Andrew Steele.

Raul: "I'd like to propose a toast and thank those who have come from so far. But I would like to specially thank someone -- someone who many of you have often called stupid, imbecile, fat head, but...he's a guy with a big heart. I propose a toast for my brother. For your happiness Armando."
Armando: "Yes, to Raul's happiness. May you enjoy all of life's pleasure. Even if it means the destruction of the family!"
Raul is Armando's younger brother, and because of his family's financial troubles, he's gotten involved with some very, very bad men, including Mexican drug lord Onza (or La Onza, which means "snow leopard"). Onza (Gael García Bernal) is now looking to collect on the family's debt.
Should this be higher or lower?
I'll Beat You With These Hands!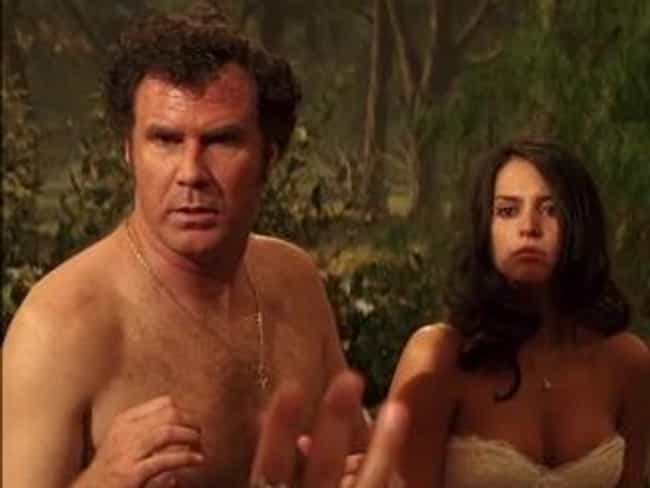 Onza: "Sonia, why are you sleeping with this dirty rancher?"
Armando: "Say away, or I'll beat you with these hands!"
Onza (laughs): "Kill him."
Look out, Onza: Armando is mad and he's ready to destroy you. With his hands. And no weapon. Because he's apparently naked.

Should this be higher or lower?

Armando: "Do you ride?"
Sonia: "I haven't in a long time, but I would like to."
This quote, by itself, isn't overly funny -- but watch the clip. Together with the video? Hilarious!
Should this be higher or lower?

Armando: "I live my life on earth, the dirt is all I know. I am a ranchero, and I know nothing. I know nothing..."
Will Ferrell's version of "Yo No Se" is pricelessly funny. His Spanish is actually very good, but the over enunciation makes this particularly amusing...
Should this be higher or lower?