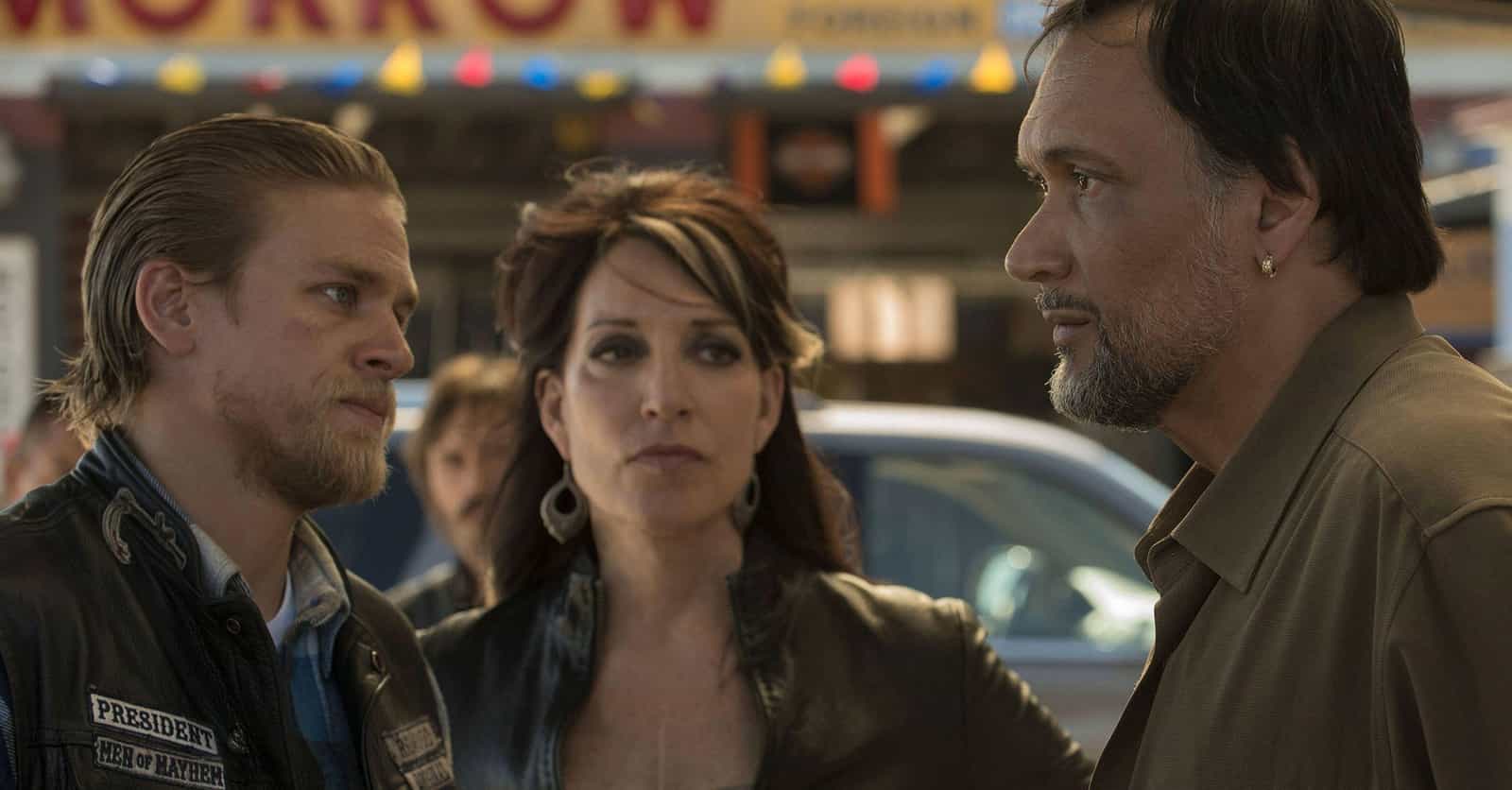 How the Cast of Sons of Anarchy Aged from the First to Last Season
From sparring with rival motorcycle gangs to navigating the complicated power dynamics of the Sons of Anarchy Motorcycle Club, viewers were on the edge of their seats watching the characters of Sons of Anarchy for seven white-knuckle seasons. From the first season reving up in 2008 to the seventh season in 2014, the cast aged right along with the residents of Charming, California.
How old is the cast of Sons of Anarchy? Charlie Hunnam was 28 when he first put on his black leather to represent SAMCRO during season one of Sons of Anarchy. A few buzz-cuts aside, his look remained fairly consistent throughout the series' seven season run. Katey Sagel returned to the TV screen at 54 - having previously starred in Married... With Children and 8 Simple Rules for Dating My Teenage Daughter - in 2008 to star as matriarch Gemma Teller Morrow.
Mark Boone Junior played Bobby Munson on Sons of Anarchy from ages 53 to 59. Other Sons of Anarchy actors include Kim Coats (Alex "Trig" Trager in seasons one through seven) and Ron Perlman (Clarence "Clay" Morrow, in seasons one through six).
Which Sons of Anarchy cast member do you think aged the most? Take a look at this Sons of Anarchy cast now and them list and vote the most drastic changes up to the top.
---
Charlie Hunnam was 28 when he first put on his black leather to represent SAMCRO during season one of Sons of Anarchy. A few buzz-cuts aside, his look remained fairly consistent throughout the series' seven season run.

After the show concluded in 2014, the then 34-year-old Hunnam focused on films, appearing in such movies as Crimson Peak, King Arthur: Legend of the Sword and The Lost City of Z.

Age: 43
Birthplace: Newcastle, England, UK

In 2008, the then 54-year-old actress Katey Sagel returned to the TV screen after previously starred in Married... With Children and 8 Simple Rules for Dating My Teenage Daughter - to star as Gemma Teller Morrow in Sons of Anarchy. Fun fact: Sagel has been married to Sons of Anarchy creator Kurt Sutter since 2004!

In recent years, Sagel has appeared on The Connors, Shameless and the Sons of Anarchy spin-off Mayans MC.

Age: 69
Birthplace: Hollywood, California, USA

Ron Perlman, who played the iconic comic book character Hellboy, portrayed Clay Morrow on Sons of Anarchy for six seasons. A few more gray hairs were the biggest changes to the actor's appearance during his time as Clay, whom he played from ages 58 to 63.

Age: 73
Birthplace: New York, New York, USA

Kim Coates was an established stage actor before he began appearing in films and TV series including Sons of Anarchy, on which he played Alex "Trig" Trager. After seven seasons of Sons of Anarchy, a then 58-year-old Coates went on to star in such TV shows as Bad Blood, Ghost Wars and Godless.

Age: 65
Birthplace: Saskatoon, Saskatchewan, Canada

Mark Boone Junior played Bobby Munson on Sons of Anarchy from ages 53 to 59. His character grew more road-worn throughout the series seven season run but his beard game remained on-point.

Since Sons of Anarchy concluded in 2014, the actor has appeared on such TV shows as Flaked and Patriot.

Age: 68
Birthplace: USA, Cincinnati, Ohio

Tommy Flanagan appeared in 90 out of 92 episodes of Sons of Anarchy. He played Chibs Telford, the former IRA gunrunner turned SAMCRO President, holding the role from ages 43 to 49.

Much like his character, the more grizzly he looked, the better.

Age: 58
Birthplace: Glasgow, Scotland, UK