List Rules Catsuits aren't for everyone, so who wears them best?
With the right design on the right body, a woman in a catsuit can create a spectacular look. This list prefers traditional leather, latex. lycra and similar fabrics to mere bodystockings or jumpsuits. But we make allowances when a celebrity known for her ability to fill a catsuit shows off a similar but even more impressive costume.
We also favor those who put their catsuits to a test, either in believable action scenes or energetic stage performances.
And there is also extra credit for attitude, since even for a beautiful woman, wearing one of these things well requires self-confidence. All the women here are beautiful, but some wear it better.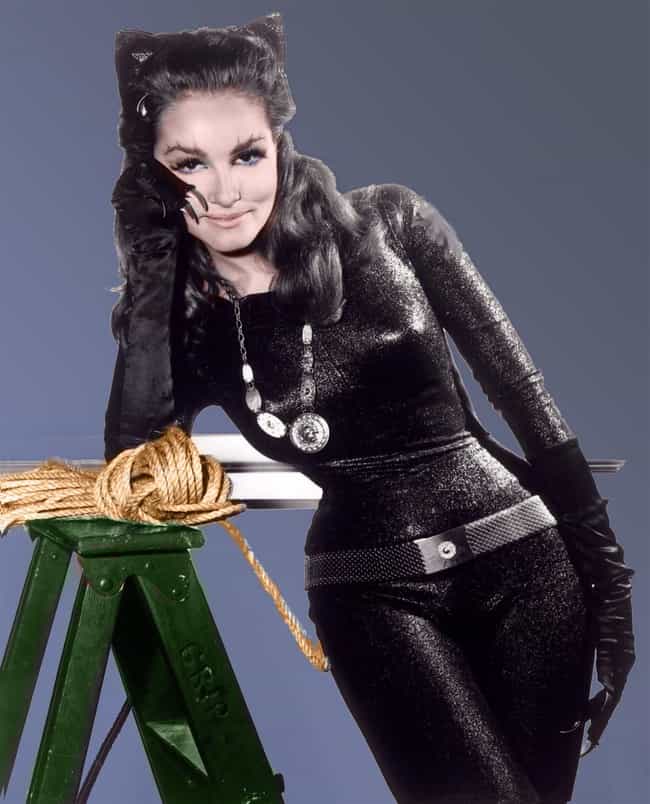 She was not quite the original catsuit wearing heroine, but as Catwoman, but Julie Newmar set a standard that has not been surpassed. At 5'11, 145 pounds, Julie was already physically impressive, but her astounding 38C-23-38 measurements embodied "the perfect hourglass figure." Her catsuits only added to her stunning natural attraction, and Julie's 135 IQ affirmed her business smarts.
Possibly the only detraction from her effect is that amid the camp of "Batman," Newmar's Catwoman tended, in her words to "file her nails" during fight scenes. But perhaps that's the best reaction to an actual fight.
"We had such fun" during the Sixties, Julie told The Daily Mail in 2012. More recently, she said her catsuits fit her "like licorice being poured on the body."
But she was critical of the more constructed catsuits, "all padded out and very macho" on which some other actresses have had to rely. "It's as if the costume acts for you," Julie said, before sexily filling out a suit all by herself for a photo shoot.
Age: 85
Birthplace: Los Angeles, California, United States of America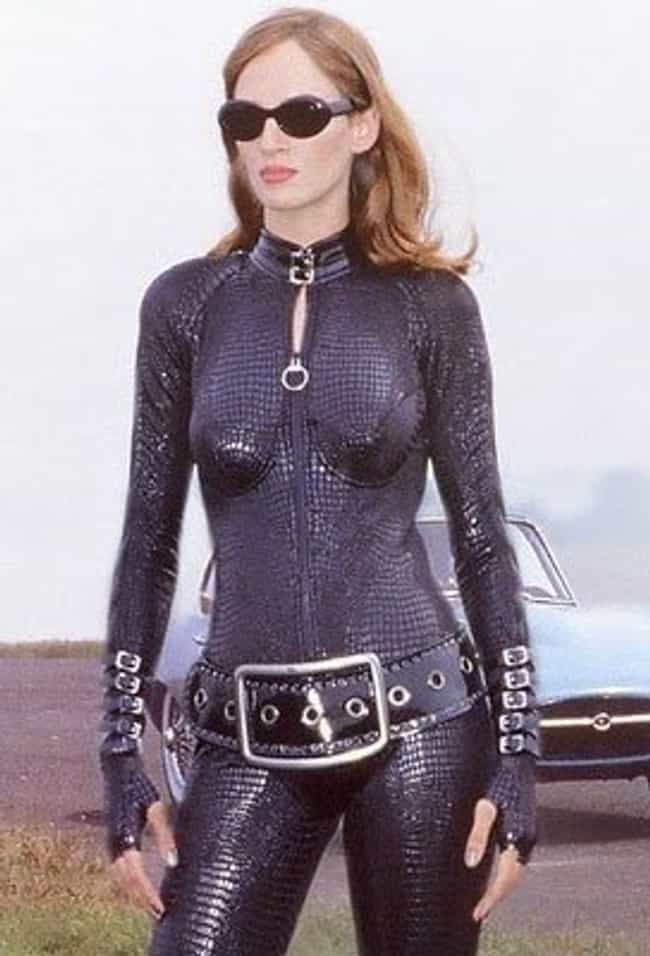 One of the most prolific wearers of catsuits in recent years, Uma Thurman is a a serious challenger for the top spot on this list. At 183 cm (6 feet), 66 kg (145 lbs.) and 93-63-91 (36C-25-35), Uma fills out a catsuit spectacularly, even though she at times has caught the Hollywood starvation bug and been listed as low as 128 pounds.
Still, Uma has consistently seemed curvaceous. And for purposes of this list, she's conveyed attitude and physical skill in action scenes.
What has held her back is only the NASCAR-ish look of her "Kill Bill" outfits, and the red fright wig that distracted from her "Poison Ivy" voluptuousness.
But when she got a chance to play Emma Peel in the movie version of the old British adventure series "The Avengers," Thurman knocked it out of the park. Uma filled out the catsuits, and the rest of her tight-fitting wardrobe, in ways that Diana Rigg could only dream about. That's why Uma Thurman rates as 1A on this list.
Age: 48
Birthplace: Boston, Massachusetts, United States of America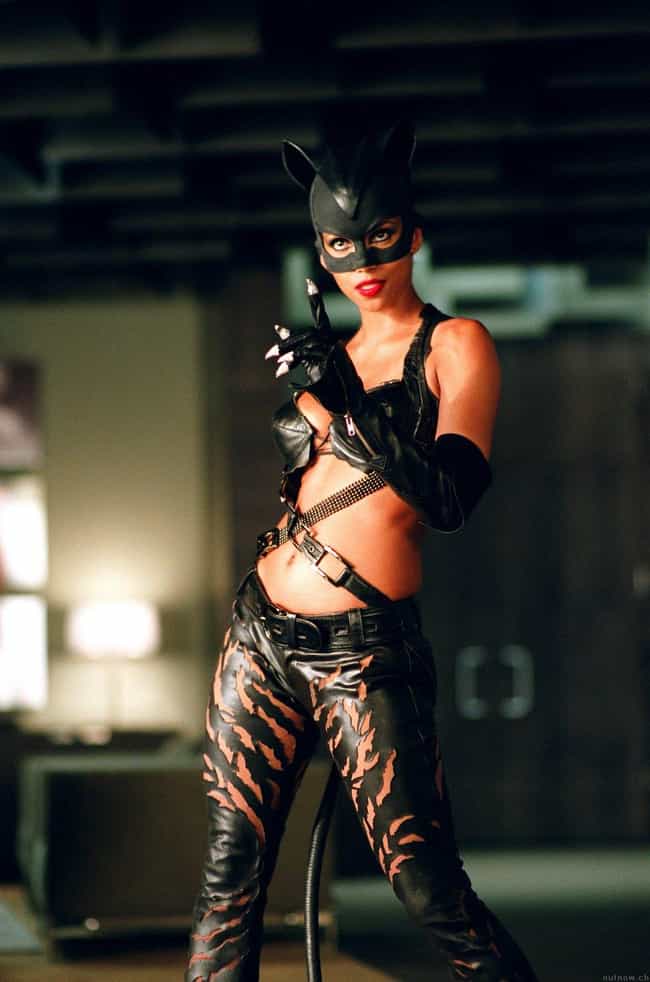 Another prolific modern catsuit aficionado, Halle Berry has worn more traditional suits on her gorgeous 169 cm (5'6), 53 kg (116 lbs.) frame. But while "Catwoman" may have been a terrible movie, it gives us a chance to include this more abbreviated but thrilling take on a "catsuit."
Though she's been a fine actress elsewhere, we greatly appreciate Hall's willingness to show her perfect skin and a 92-61-94 figure (36C-24-37) in this unintentionally comic genre piece.
Age: 49
Birthplace: Cleveland, Ohio, United States of America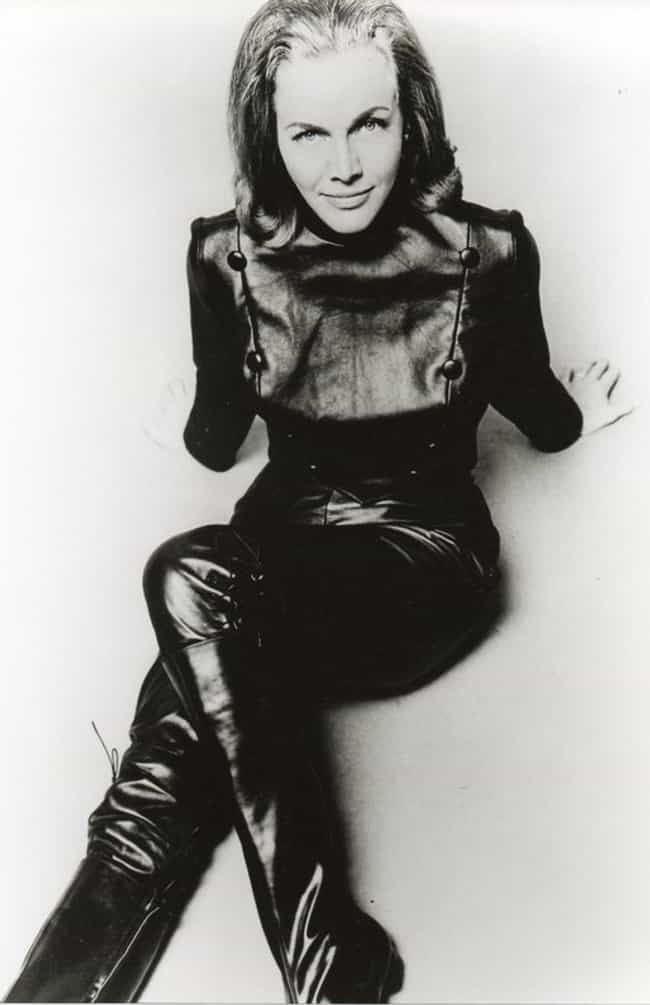 In 1962, London native Honor Blackman, an actress known for her "English Rose" looks and her spectacular rack, was cast as one of three rotating partners for the spy John Steed (Patrick Macnee) in the British adventure series "The Avengers." Some of the producers were worried that she would be too genteel. But Honor quickly made the other two expendable, learning judo and donning leather catsuits as Cathy Gale, the first prime-time woman warrior.
Blackman explained the leather as being practical, it wouldn't tear as she actually threw around stuntmen.
But this was Swinging London, and there were other reasons, as evidenced by "Kinky Boots," the record she made with Macnee. It was no accident that Honor liberated the catsuit from bondage and moved it toward the mainstream.
Blackman moved on to turn the potentially silly P*ssy Galore into another dead sexy icon in "Goldfinger." At 170 cm. (5'7"), 57 kg (127 lbs) and 94-61-93 (37C-24-36), Honor could make you weep even before she kicked your butt.
A true pioneer, Honor also co-wrote a book on women's self-defense, and joined an anti-monarchist group.
Age: 93
Birthplace: Plaistow, United Kingdom