Entertainment
Celebrities Who Don't Have Anything Nice to Say About Taylor Swift

Updated July 9, 2019
211.7k views
16 items
We all know about Taylor Swift's main feuds: Katy Perry, Kanye West, Kim Kardashian West, Calvin Harris, and even Scooter Braun. But did you know that Miley Cyrus, Avril Lavigne, and Camilla Belle have also spoken out against Swift? While the songstress has a long list of ex-lovers (not Starbucks lovers!), she also has quite a few ex-friends who round out the list of celebrities who don't like Taylor Swift.
Even if you're a Swiftie, it was hard not to laugh at Amy Pohler and Tina Fey's joke about Swift's dating habits at the Golden Globes in 2014. Even President Obama got in on the action at the White House Correspondents' Dinner in 2013, joking: "Republicans fell in love with this thing and now they can't stop talking about how much they hate it. It's like we're trapped in a Taylor Swift album."
Read on to discover the top celebrities who have "bad blood" with Taylor Swift and why the songstress has sparked so much drama.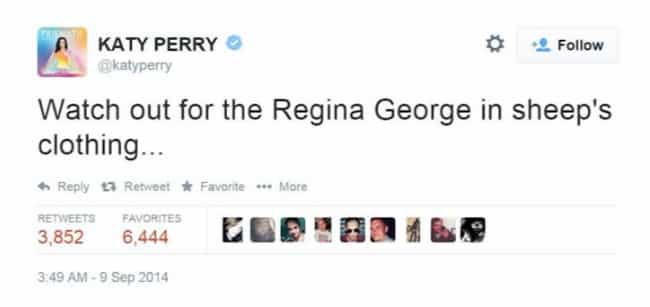 This tweet was not-so-secretly aimed at Swift - Perry took to Twitter shortly after an article about Swift was released in Rolling Stone in 2014. In the article, Swift talked about how her single, "Bad Blood," was about a feud with another pop singer. Their relationship deteriorated after some of the dancers on Swift's Australian tour left to work for Perry instead.
Perry also chimed in on Twitter when Taylor's ex, Calvin Harris, put Swift on blast for trying to "bury" him like she did Katy. In 2017, Perry took the feud a step even further. She released her song "Swish, Swish," and told talk show host James Corden the song was about Swift. But ultimately, Swift got the last laugh when she released her entire discography to streaming services the same day Perry's latest album, Witness, dropped, something she had been resisting for years.
The long-simmering fight may have finally ended in May 2018, though. Swift posted a clip to her Instagram stories thanking Perry for sending her a literal olive branch.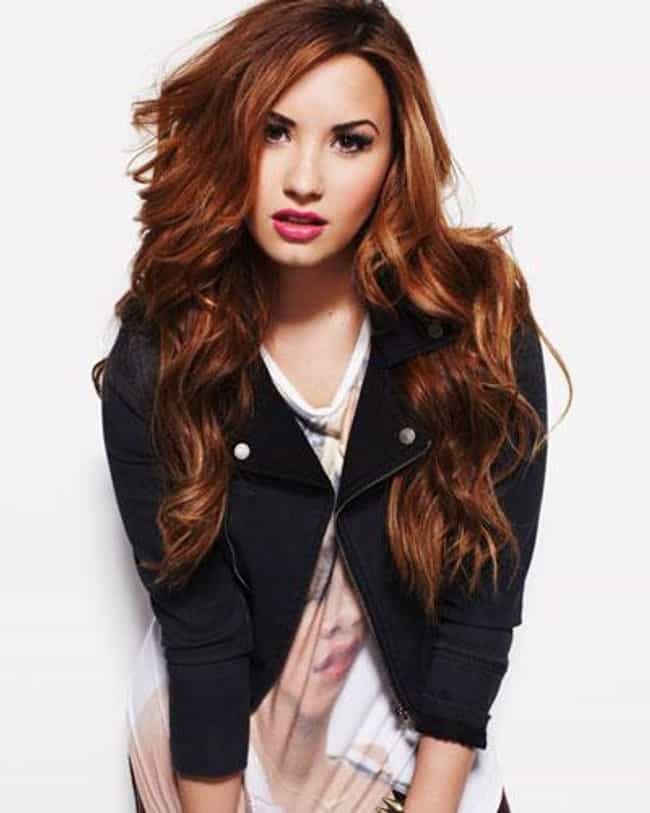 In the November 2017 cover story for Glamour magazine, Demi Lovato came out swinging against Taylor Swift's girl squad brand of feminism. "To be honest, and this will probably get me in trouble," (please, go on), "I don't see anybody in any sort of squad that has a normal body. It's kind of this false image of what people should look like. And what they should be like, and it's not real."
In case you weren't absolutely sure she was talking about Taylor Swift, she continued to say "I think that having a song and a video about tearing Katy Perry down, that's not women's empowerment." She then went on to say that, to her, feminism means actually speaking out on issues that affect women.
The moment that started it all was when Kanye interrupted Taylor's acceptance speech after winning Best Female Video at the VMAs in 2009. Apparently, Kanye decided that was the best time to tell the world that Beyoncé should have won because she had one of the best videos of all time. That incident kicked off an on-again, off again feud that's still raging on.
Things actually seemed to be cooling down between the two before Kanye released his song "Famous" in 2016, which completely blew up the tentative peace they had brokered. See, "Famous" includes two lines referencing Swift: "I feel like me and Taylor might still have sex/Why? I made that b*tch famous."
When the song was first released, Kanye claimed Taylor approved the lyrics, but Swift quickly distanced herself from the song. Here's the
statement Taylor's publicist released
about the controversial lyrics earlier this year: "
Kanye did not call for approval, but to ask Taylor to release his single 'Famous' on her Twitter account. She declined and cautioned him about releasing a song with such a strong misogynistic message. Taylor was never made aware of the actual lyric, 'I made that b*tch famous.'" So they're back to feuding now.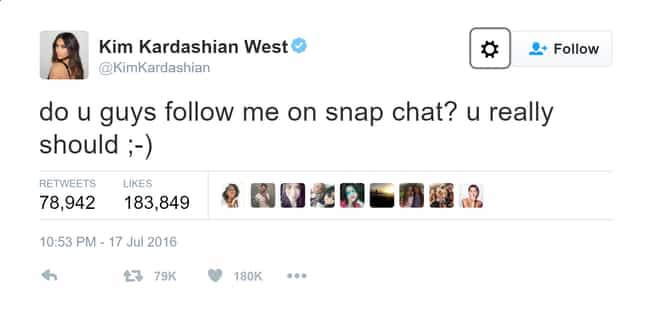 In response to the "Famous" lyrics controversy, Kim Kardashian West stood by her husband and mounted a three-point offensive against Swift. She spoke out in an interview with
GQ
about Taylor's dishonesty, was vocal on her show
Keeping Up with the Kardashians
about Taylor trying to make Kanye look bad, and then - for the
coup de grâce
-
released a series of snaps
over Snapchat showing Kanye and Taylor's conversation about the song and its content before it was released. Kanye asks for Taylor's approval for the lyric "I still feel that me and Taylor might have sex," and the video shows Taylor approving the line.
Taylor responded to Kardashian West's accusations by
writing a post on Instagram
that said Kanye never told her about the lyric she had a problem with, which was "I made that b*tch famous."