Entertainment
Celebrities Who Dropped Big News on Talk Shows

Updated February 18, 2020
35k views
17 items
Usually celebrities on talk shows are only making an appearance to talk about their new movie, or maybe an autobiography that they're releasing, but sometimes stars let down their guards and reveal something about themselves that's truly interesting and revealing. Charlie Sheen did this in 2015 to reveal that he is HIV-positive, and also to get out from under an alleged blackmail scheme surrounding his illness.
Celebrity gossip on talk shows is usually made up of silly anecdotes that exist to make the star seem likable, but when a celeb drops a bombshell the way Sheen did it serves to remind the viewing public that stars are more like us than we realize, and that they're sometimes dealing with very real problems. This list of celebrities that dropped big news during a talk show appearance is full of wild stories, and admissions that will change the way you see these celebrities forever.
Occasionally, when stars are going to make an admission on a chat show, the episode is publicized in a way that can seem calculated. But sometimes getting the most eyes on celebrity talk show appearances can be important. When Ellen came out in 1997 and tied in that announcement with an Oprah interview, it was probably the right thing to do.
Many of the celebrities on this list of stars who dropped big news at talk shows are equally as brave, so read on to hear their stories and admissions.
To Whom They Broke the News: Matt Lauer
In 2015, after years of erratic behavior, the
Two and a Half Men
and
Anger Management
star revealed on the
Today Show
that he'd been
HIV positive for years
, and that he was tired of being "shook down" over his illness. He told Lauer,
"It's a hard three letters to absorb. It's a turning point in one's life."
Age: 53
Birthplace: New York City, New York, United States of America
Nationality: United States of America
Profession: Television director, Television producer, Film Producer, Screenwriter, Actor, + more
Schools: Santa Monica High School
Credits: Two and a Half Men, Wall Street, Anger Management, Hot Shots!
To Whom Who They Broke the News: Diane Sawyer
In 2015, Jenner revealed to Diane Sawyer that she was transitioning and was now Caitlyn Jenner. She revealed that transitioning strengthened her faith in God, saying, "I had this feeling, kind of a revelation, that maybe this is my cause in life. This is why God put me on this Earth, do deal with this issue. That was a very powerful moment. It certainly gave me a lot of courage."
Age: 69
Birthplace: USA, New York, Mount Kisco
Nationality: United States of America
Profession: Public speaker, Socialite, Businessperson, Actor, Athlete, + more
Schools: Newtown High School, Graceland University
Credits: Keeping Up with the Kardashians, I Am Cait, Donald Duck's 50th Birthday, Celebrity Double Dare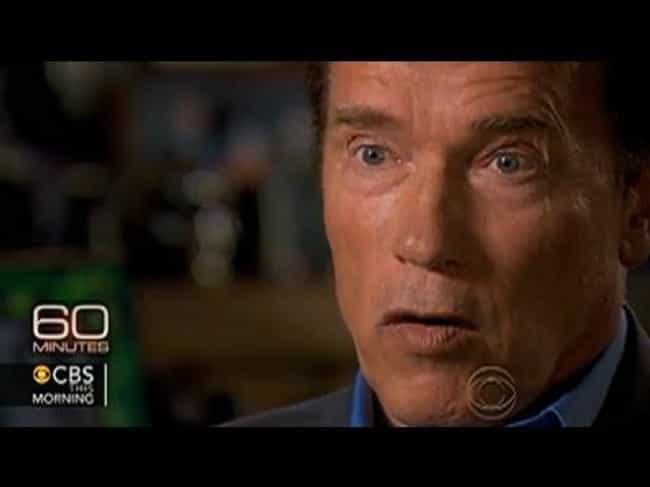 To Whom They Broke the News: Lesley Stahl
After the Governator left office, he
sat down
with
60 Minutes
to
come clean about his infidelity
with his family's housekeeper. Supposedly he felt really bad, saying,
"I think it was the stupidest thing I've done in the whole relationship. It was terrible. It inflicted tremendous pain on Maria and unbelievable pain on the kids."
Age: 71
Birthplace: Thal, Austria
Nationality: Austria, United States of America
Profession: Bodybuilder, Television director, Businessperson, Politician, Investor, + more
Schools: University of Wisconsin-Superior, Santa Monica College
Major/Field Of Study: Business Administration
Credits: The Terminator, Predator, Total Recall, Pumping Iron
To Whom They Broke the News: Oprah Winfrey
In 2013, multiple Tour de France winner
Lance Armstrong gave an exclusive interview to Oprah Winfrey
and revealed that his
"mythic, perfect story" was "one big lie." After denying doping allegations for nearly a decade, he finally copped to taking part in the sport wide scandal. He later said,

"I will spend the rest of my life trying to earn back trust and apologize to people."
Age: 47
Birthplace: Plano, Texas, United States of America
Nationality: United States of America
Profession: Athlete, Professional Road Racing Cyclist
Schools: Plano East Senior High School
Credits: DodgeBall: A True Underdog Story, You, Me and Dupree