Button Mash
Celebrities Who Play 'Animal Crossing: New Horizons'

Updated May 15, 2020
1k views
12 items
Animal Crossing: New Horizons arrived at the perfect time, and it seems like everyone is playing. The celebrities who play Animal Crossing: New Horizons are coming out in droves, and they're just like us. Elijah Wood searched for "high turnip prices" on Twitter and ended up surprising a generous fan on her island. Danny Trejo is one of the latest additions in celebrities who play Animal Crossing, while veteran players like Chrissy Teigen have also taken to the new Nintendo Switch game.
Some of these names may come as a surprise, but we're sure you wouldn't mind a visit from any of these celebrities who play Animal Crossing.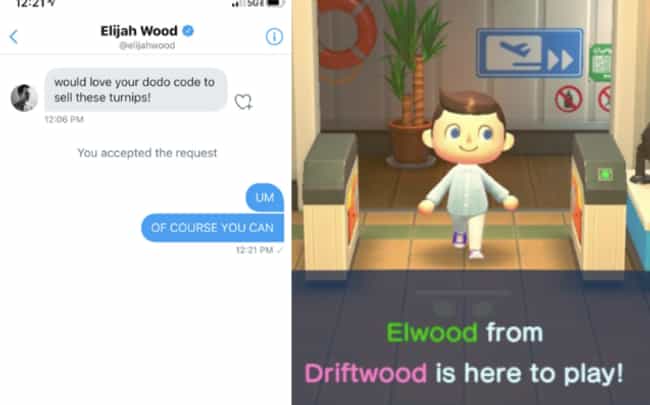 Elijah Wood, widely recognized as Frodo Baggins from The Lord of the Rings, has not only been playing Animal Crossing: New Horizons, but also browsing Twitter for high turnip prices. The actor made headlines for asking Twitter user directedbyrian, who goes by Jessa, for entry onto their island to sell a few turnips (which are basically the Animal Crossing equivalent of stocks). While Elijah was on the island, fans couldn't stop gushing about his perfect island etiquette, like making sure it was okay before picking some fruit.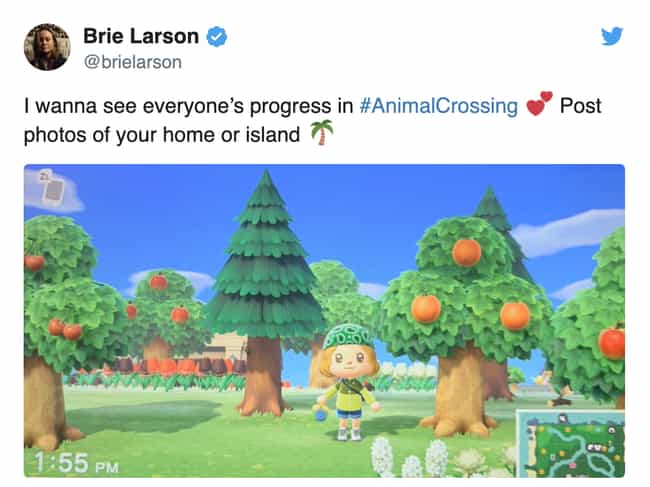 Okay, so her initial Instagram post was a hashtag ad, but it looks like Animal Crossing: New Horizons did rope Brie in! After posting an adorable photo wearing a Nook Inc. collared shirt, Brie took to Twitter and posted a photo of her island, asking fans to show her theirs. Additionally, the Captain Marvel actress revealed, "I change my clothes more frequently in Animal Crossing than in real life."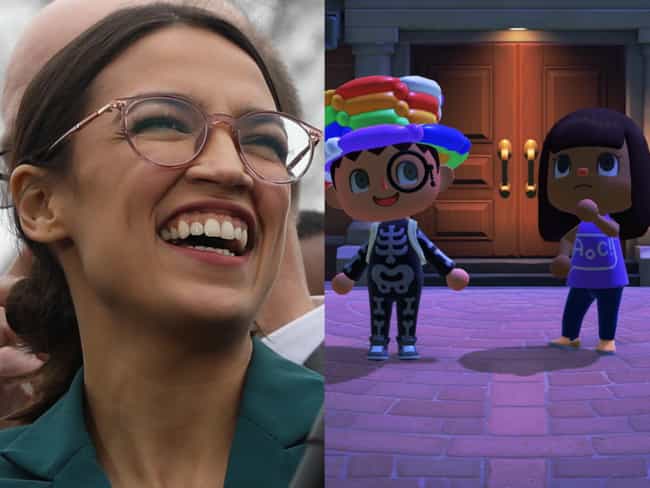 US Rep. Alexandria Ocasio-Cortez, popularly known as AOC, sought opportunities to visit strangers in the Animal Crossing universe, so she asked Twitter, "Hi there! Very new to this. I would like to visit other random people's islands and leave a doodle or note on their bulletin board. Can I do that? If so, how?"
Married couple Justin Mirsky and Laura Smykla were the first to welcome AOC. Mirsky told Buzzfeed, "I tweeted my code at her, and DMed her our code and also said, 'please come visit, my wife and son would be so excited!'"
AOC brought some fruit and left drawings on their bulletin board.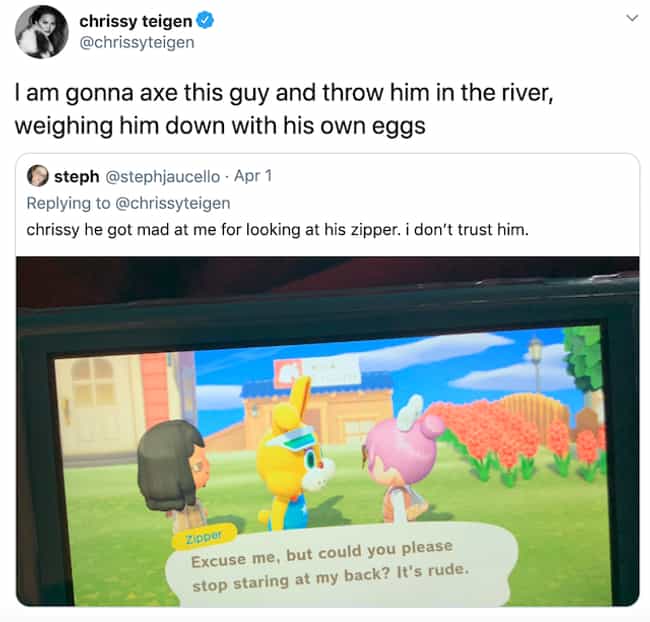 Believe it or not, Chrissy Teigen has been playing Animal Crossing since Animal Crossing: New Leaf! The supermodel tweeted in 2014, "I am at the Louvre and truth be told, I only recognize many of these paintings from Redd's tent on Animal Crossing." Teigen, star of the parody court procedural Chrissy's Court, was tweeting about Animal Crossing: New Horizons the minute it released on March 20. Since then, she's shown off her coelacanth and took part in the community's shared hatred of the Bunny Day demon, Zipper.