Graveyard Shift 21 Celebrities Who Predicted Their Own Deaths

The list of celebrities who predicted their deaths is unfortunately long. Many of these deaths shocked the world into a state of disbelief, while others were met with more of an unsurprised sadness. Either way, one thing is clear: all these actors, musicians, athletes and other public figures saw their deaths coming long before everyone else. That is perhaps the saddest part of all.
Some of these celebrity death predictions are eerily intricate and precise, while others are slightly vague but immensely foreboding. Musicians appear on this list the most by far. Rappers, rockers, and more appear to be especially talented at predicting their own deaths. It may have to do with the unique knowledge they have, or it could be simply the situations they frequently find themselves in. It's not all musicians though. Athletes, writers, and famous composers have also been successful in predicting their own deaths. Perhaps the most surprising though is the famous mathematician who was obsessed with death.
Many of the people on this list died far too young. There are multiple members of the infamous "27 Club," on the list, as well as a few who were even younger than that when they died. These famous predicted deaths might have been foreseen by some, but they are tragic nonetheless.
The Prediction: Tupac Shakur's death is shrouded in mystery. In the lyrics of one song, he raps "I been shot and murdered, can tell you how it happened word for word." When asked where he saw himself in a few years, he was quoted as saying, "Best case, in a cemetery. Not in a cemetery, sprinkled in ashes smoked up by my homies. I mean, that's the worst case."
What Happened:
Tupac was shot and murdered during a drive-by two months later in Las Vegas, though many speculate that he actually faked his own death.
Also Ranked
#31 on The Greatest Musical Artists of the '90s
#2 on The Greatest Rappers of All Time
#55 on The Best Solo Artists Who Used to Front a Band
#13 on The Greatest Musicians Who Died Before 40
see more on Tupac Shakur
The Prediction: John Lennon's death shocked the world, but Lennon himself may have seen it coming. Not long before he died, he recorded a song called 'Borrowed Time," in which he sings, "Living on borrowed time, without a thought for tomorrow."
What Happened:
Lennon was shot dead before the song even came out. It was later released posthumously.
Also Ranked
#30 on The Greatest Musical Artists of All Time
#12 on The Best Singers of All Time
#44 on The Best Rock Bands of All Time
#3 on The Best Solo Artists Who Used to Front a Band
see more on John Lennon
The Prediction: While giving a speech upon being inducted into the WWE Hall of Fame, The Ultimate Warrior said, "every man's heart beats its final beat. The spirit of the Ultimate Warrior will run forever."
What Happened:
Not even a full day later, Hellwig's heart beat its own final beat.
Also Ranked
#6 on The Best WWE Superstars of the '80s
#22 on The Greatest WWE Superstars of All Time
#80 on The Best WCW Wrestlers of All Time
#35 on The Best Pro Wrestling Champions
see more on The Ultimate Warrior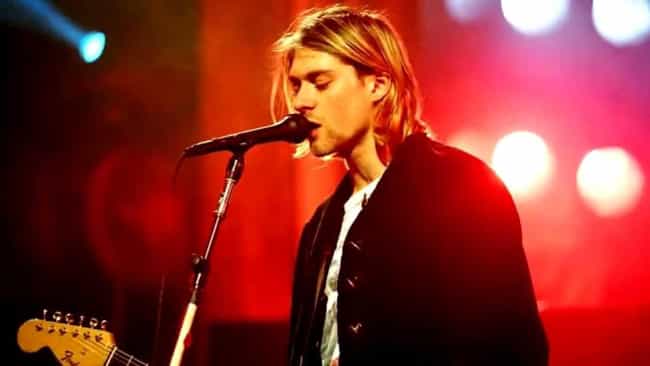 The Prediction: When he was only 14, Kurt Cobain told a classmate that he would become a superstar musician, get rich and famous, and that he would kill himself, going out in a blaze of glory.
What Happened:
Cobain nailed all of it. He became wildly successful, rich, and famous. He also committed suicide via a gunshot to the head.
Also Ranked
#61 on The Best Singers of All Time
#22 on The Best Rock Vocalists
#92 on Famous Men You'd Want to Have a Beer With
#11 on The Best Frontmen in Rock
see more on Kurt Cobain