Celebrities

Celebrities Who Quit Smoking Weed

List Rules Celebrities who publicly smoked and then renounced weed
"Legalize it, don't criticize it," sang Peter Tosh many decades ago. If the former Wailer were still alive, he might find comfort in knowing that two states, Colorado and Washington, have already legalized recreational cannabis, and that many other states permit medicinal marijuana use. Although it's still a federal crime to grow, smoke or own marijuana, the tide is turning as more and more states vote on legalizing it.
Even with marijuana's growing acceptance, several stars have sworn off smoking for a variety of reasons, such as weed-related health issues, anxiety attacks, lack of focus, getting older, incarceration, or for the benefit of their children.
So why did the following singers, rappers, actors and musicians swear off cannabis? Some have quit for years, some did it relatively recently, some slowed their roll, and a few have picked up the habit again. Read on to find out why their high times ran out.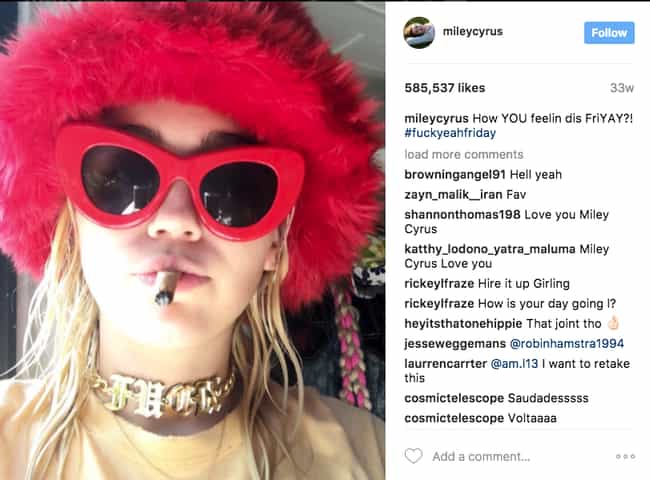 Miley Cyrus told Cosmopolitan in 2017 she quit smoking weed and drinking as a way to clear her mind. Cyrus, who was a proud marijuana user, said she stopped using drugs about 10 weeks before releasing her new single "Malibu" in May 2017. She said she had more energy, felt more clear-headed, and overall was more productive.
"Anything that I want to do, if I want to stop or start something, I can do anything," she said. "I just decided not to [smoke] anymore and now it's easy for me."
Also Ranked
#25 on The Best Current Female Singers
#41 on The Best Current Pop Groups/Singers
#72 on The Sexiest Artists of All Time
#86 on The Greatest Former Child Stars
see more on Miley Cyrus
Brad Pitt told Hollywood Reporter that he eventually grew tired of his Mary Jane habit towards the end of the '90s. It was causing him to feel sluggish and depressed. Pitt said, "I was hiding out from the celebrity thing, I was smoking way too much dope, I was sitting on the couch and just turning into a doughnut and I really got irritated with myself."
Source
Also Ranked
#35 on The Best Actors in Film History
#24 on The Coolest Actors Ever
#19 on The Best (Male) Actors Working Today
#64 on The Hottest Men Of 2019, Ranked
see more on Brad Pitt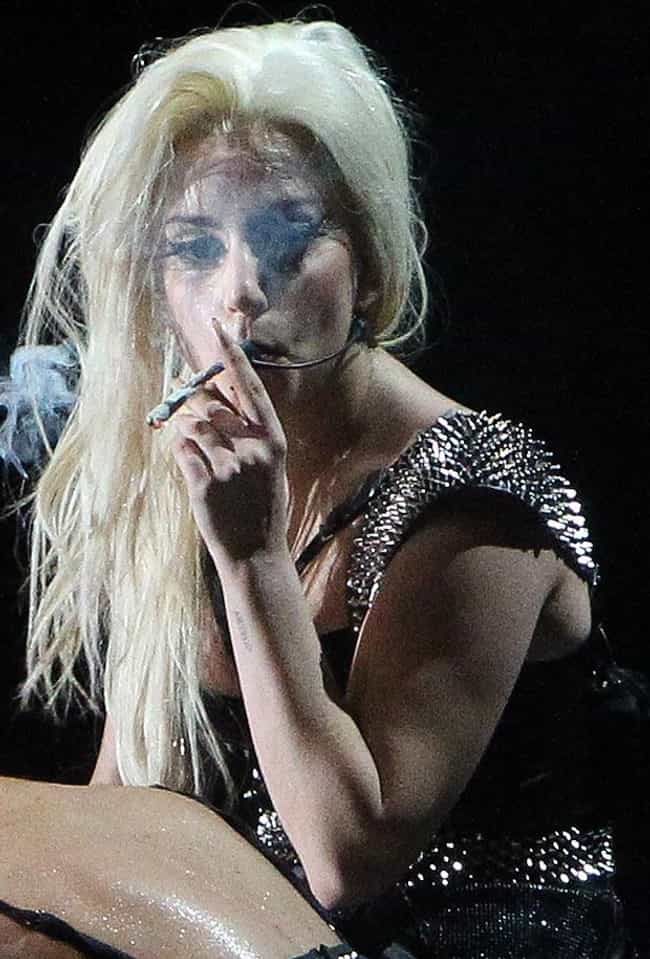 When Lady Gaga injured her hip during her 2013 Born This Way Ball tour, she started smoking pot to ease the pain. Gaga was reportedly smoking up to 15 joints a day, and eventually realized that her habit was a problem. "I was just numbing, numbing, numbing myself then sleeping it off, then getting on stage, killing it in pain, then getting off and smoking, smoking, smoking, not knowing what the pain was," she told Mirror.
Upon realizing that she needed help to get sober, Gaga called on performance artist, Marina Abramovic, to help her curb her weed cravings. Abramovic put her through an intense 3 day rehab at her own home, where she immersed Gaga completely in art. Gaga was able to kick the habit, and now only smokes "a little bit [of weed] at night."
Source
Also Ranked
#16 on The Best Female Vocalists Ever
#31 on The Best Singers of All Time
#4 on The Best Current Female Singers
#9 on The Best Current Pop Groups/Singers
see more on Lady Gaga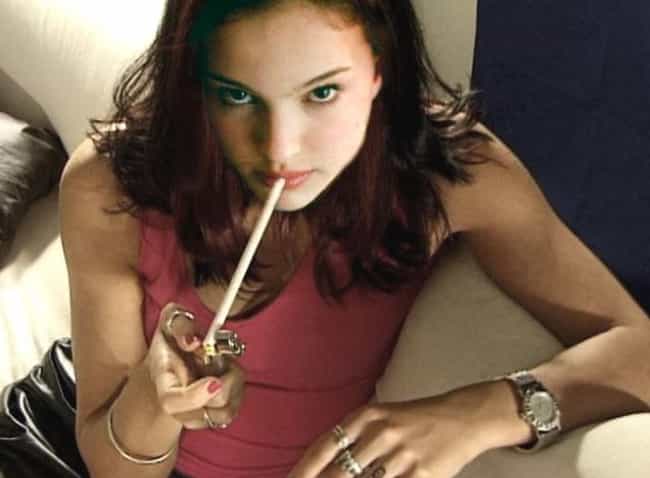 Everyone remembers that infamous line from the SNL skit, "Natalie's Rap:" "When I was at Harvard/I smoked weed every day/I cheated every test/I snorted all that yay."
Although Portman was kidding about the cocaine and cheating, it seems that her claims about smoking pot were true. Portman told Entertainment Weekly that she indulged in a little marijuana use in college, but that she's "too old for that now."
Source
Also Ranked
#37 on The Best Actresses in Film History
#42 on The Most Beautiful Women of All Time
#17 on The Best Actresses Working Today
#6 on The Hottest Celebrities of Our Time
see more on Natalie Portman