Famous Families
Famous People Youngsters Have No Idea Are The Kids Of Other Famous People

Updated January 7, 2020
63k views
13 items
When it comes to some of the more famous names in Hollywood, the apple rarely falls far from the tree. While many kids tend follow in their parent's footsteps, most people don't realize there are plenty of people active in Hollywood today with famous parents. When it comes to the likes of Robert Downey Jr., it's pretty clear who his famous father is, but for kids who leave their folks' famous name behind, their pedigree is not as obvious.
These celebs are some of the most famous people working in the entertainment industry today who got their start on the road to celebrity thanks to notable parents.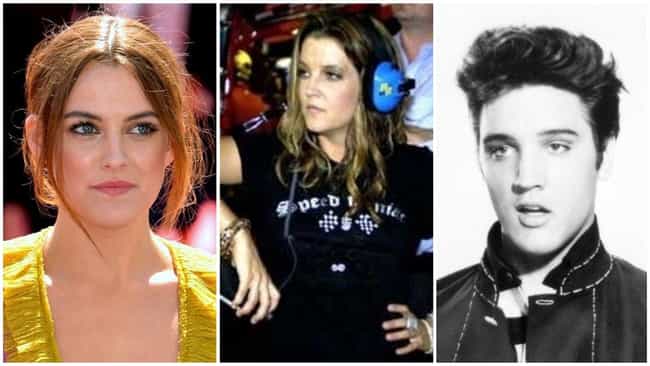 Riley Keough has been blowing up over the past few years thanks to appearances in Magic Mike, Mad Max: Fury Road, and her Golden Globe nominated role on the television series The Girlfriend Experience. But what some people might not know is that Keough is daughter of Lisa Marie Presley, the granddaughter of Elvis and Priscilla Presley, and the stepdaughter of Michael Jackson.
People always ask, "How crazy is it that your grandpa was Elvis and your stepdad was Michael Jackson?" I make them happy and say, 'Yeah, it's soooo crazy! The reality is I know as much about my grandpa as you'd know about a grandpa you never met. I remember this Disney watch that Michael gave me. I think I sold that for five (dollars).
Like most celebrity kids, she would prefer people recognized her for her own accomplishments.
Age: 29
Birthplace: Santa Monica, California
Maya Hawke's Parents Are Uma Thurman And Ethan Hawke
Maya Hawke stormed into the spotlight thanks to a breakout role in season 3 of Stranger Things. She also landed a role on Once Upon a Time in Hollywood and played Jo March in the television miniseries Little Women in 2017. In addition to her acting, Hawke also released two singles in 2019 and has plans to release a studio album in the near future.
If you recognize her last name, that's because she has two famous folks for parents: Her father is actor Ethan Hawke and her mother is Uma Thurman. Technically, Maya's full name is Maya Ray Thurman Hawke.
Ethan Hawke has been a big name in Hollywood since the mid-1980s having starred in Dead Poets Society, Reality Bites, Explorers, Training Day, and Gattaca, which is where he met Maya's mother, Uma. Her mother is best known for her work alongside Quentin Tarantino in Pulp Fiction or Kill Bill I & II. Like Maya's father, she has been working since the mid-1980s in numerous films including The Adventures of Baron Munchausen, Dangerous Liaisons, Les Misérables, and many more.
After her breakout role in Stranger Things, Maya opened up about her famous parents in an interview with WSJ Magazine:
I'm always running decisions by them. They both have similar levels of success but really different experiences within the business. I think that's the biggest advantage [I have], that I have information about the pitfalls and the good things. Hopefully, it'll keep me from making some mistakes that young actors can make.
Age: 20
Birthplace: New York City, New York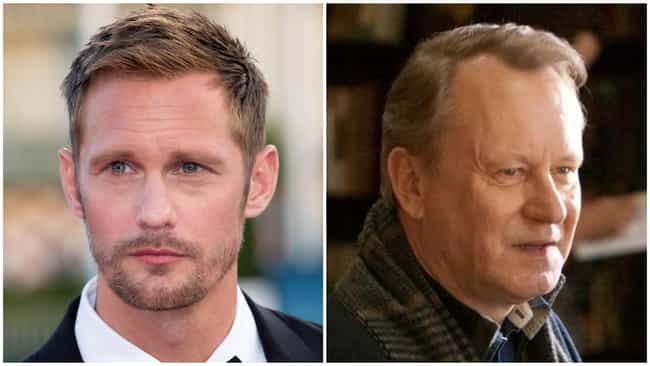 Alexander Skarsgård has been making quite a name for himself over the years with prominent roles on True Blood and Big Little Lies, but he's been working steadily since 1984 when he started in Swedish cinema - just like his father. His father, Stellan Skarsgård, is probably best known for his recent work as Dr. Erik Selvig in the Marvel Cinematic Universe, but the man has been working since the late 1960s and has starred in films suchs as Good Will Hunting, The Hunt for Red October, The Girl With the Dragon Tattoo, and Mamma Mia!
Alexander spoke about growing up with a father who was a working actor, and his words are what you might expect for the child of a celebrity:
He was a great dad when I was growing up but it was tough because I didn't get to see him much. He worked 16-hour days, six-to-seven days a week. I would go to the theater and hang out backstage to see dad, basically.
Age: 42
Birthplace: Stockholm, Sweden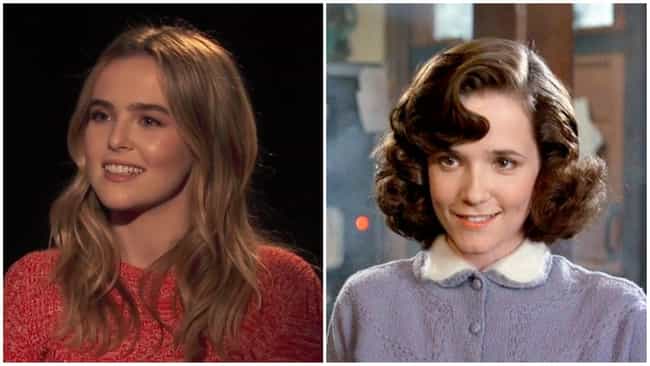 Zoey Deutch's career as an actress and producer has included some impressive roles in Beautiful Creatures, Vampire Academy, and Flower. She took her father's slightly less well known name for her professional career instead of taking her famous mother's name.
Lea Thompson is best known for her role as Lorraine Baines, Marty McFly's mother in the Back to the Future trilogy. She also starred in the NBC sitcom Caroline in the City and dozens of movies and television series over the course of her 30+ year-long career. The entire family is very close, if their collaboration on The Year of Spectacular Men is any indication:
I mean, my mom directed it, my sister wrote, starred in and scored it, my ex-boyfriend played my boyfriend, I produced alongside my dad. And everyone still speaks, and no one lost any limbs, and we made a really good film.
Age: 24
Birthplace: Los Angeles, USA, California