Entertainment
17 Celebrities with Kids Born Decades Apart

Believe it or not, there are several celebrities who have had children over the course of several decades, with their children's ages ranging over 20 years apart. Some of these famous parents are musicians and others are actors. Most famous people with lots of kids years apart are men, but there are a few ladies who have kids in different generations.
Who is the most famous person with kids born decades apart? Donald Trump tops our list. The Donald has five children born over the course of 26 years: 1977 - Donald Trump, Jr. (with Ivana Trump), 1981 Ivanka Trump (with Ivana Trump), 1984 - Eric Frederic Trump (with Ivana Trump), 1993 Tiffany Ariana Trump (with Marla Maples), and 2006 - Barron Trump (with Melania Trump). Larry King is also on this list with five kids born over the course of 39 years.
Robert De Niro, Bruce Willis, and Mel Gibson also have children with wide age gaps, and Paul McCartney's kids were born over the course of 41 years. Mia Farrow has 14 children born 23 years apart, many of whom she adopted as a single mother.
Do you think it would be weird to have a sibling 40 years
older than you
? Check out this list of celebrities with kids decades apart, and be sure to let us know what you think in the comment section.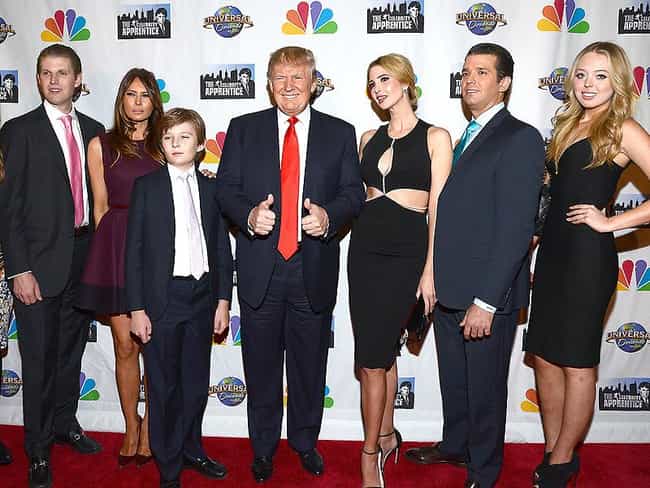 Donald Trump has five children born over a span of 26 years:
1977 - Donald Trump, Jr. (with Ivana Trump)
1981 - Ivanka Trump (with Ivana Trump)
1984 - Eric Frederic Trump (with Ivana Trump)
1993 - Tiffany Ariana Trump (with Marla Maples)
2006 - Barron Trump (with Melania Trump)
see more on Donald Trump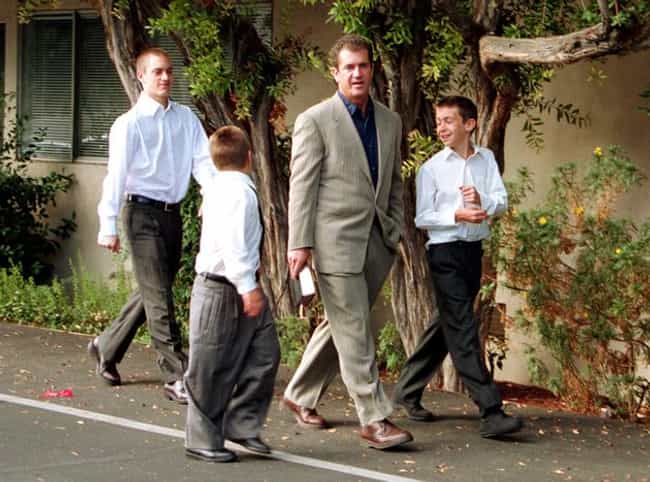 Mel Gibson has eight children born over a span of 29 years:
1980 - Hannah Gibson (with Robyn Moore Gibson)
1982 - Christian Gibson (with Robyn Moore Gibson)
1982 - Edward Gibson (with Robyn Moore Gibson)
1985 - William Gibson (with Robyn Moore Gibson)
1988 - Louis Gibson (with Robyn Moore Gibson)
1990 - Milo Gibson (with Robyn Moore Gibson)
1999 - Thomas Gibson (with Robyn Moore Gibson)
2009 - Lucia Gibson (with Oksana Grigorieva)
see more on Mel Gibson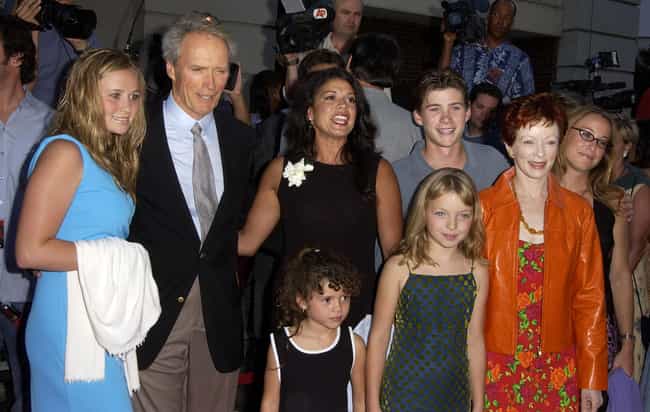 Clint Eastwood has seven children born over a span of 32 years:
1964 - Kimber Eastwood (with Roxanne Tunis)
1968 - Kyle Eastwood (with Maggie Johnson)
1972 - Alison Eastwood (with Maggie Johnson)
1986 - Scott Eastwood (with Jacelyn Reeves)
1988 - Kathryn Eastwood (with Jacelyn Reeves)
1993 - Francesca Eastwood (with Frances Fisher)
1996 - Morgan Eastwood (with Dina Eastwood)
see more on Clint Eastwood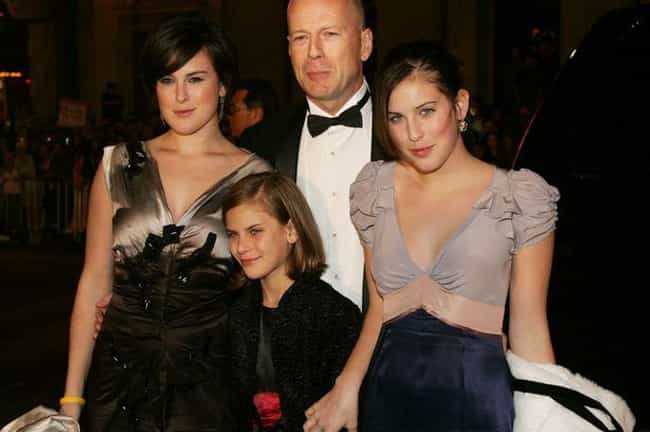 Bruce Willis has five children born over a span of 24 years:
1988 - Rumer Glenn Willis (with Demi Moore)
1991 - Scout LaRue Willis (with Demi Moore)
1994 - Tallulah Belle Willis (with Demi Moore)
2012 - Mabel Ray Willis (with Emma Heming)
2014 - Evelyn Penn Willis (with Emma Heming)
see more on Bruce Willis