Entertainment
Celeb 'Never Have I Ever' Answers That Lit Up the Internet

If you've never played the game "never have I ever" then drop everything, go grab a few beers and friends, and prepare to experience the greatest drinking game of all time. Traditionally, the game is played by taking turns throwing out random acts such as "never have I ever streaked naked in a public place," which produces confession in the form of a sip of beer by everyone who actually has performed said act. Recently however, Ellen started featuring a celebrity never have I ever version of the game on her talk show. Though it doesn't include alcohol, it is just as entertaining, nonetheless.

Here you'll find some of the most hilarious and scandalous answers from some of your favorite celebrities who have fallen victim to a round of Ellen Never Have I Ever! Below you'll find out which of your favorite actors, singers, and Hollywood personalities have committed sins ranging from texting naked pictures of themselves to using someone else's toothbrush without telling them.

The answers may surprise you as you get a peek into the secret lives of some of your favorite celebs who may or may not be as innocent as they appear on the big or small screen!

Drake Admits to Hooking Up with a Fan
Attention fans of Jared Leto and Drake: never give up hope! It turns out, you just might have a chance with the superstars. Both admitted to having hooked up with fans in the past. Leto may have even done more than that! He also admitted to having sent a nude selfie and to accidentally sending a dirty text to the wrong person. (They probably didn't mind.)
You've gotta hope for her sake that it wasn't the same person she was thinking of in a later question when she confessed to having sent a dirty text to the wrong person!
see more on Rihanna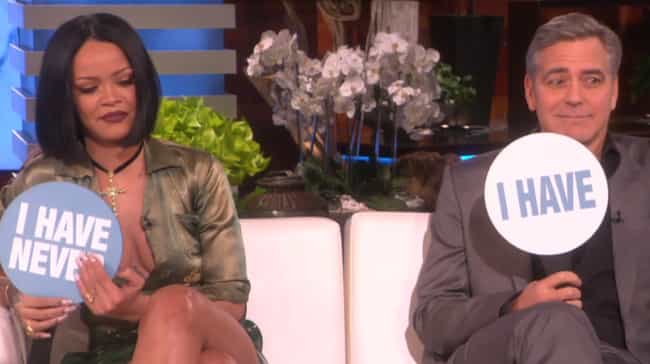 Lake Como probably didn't mind. George, Rihanna, and Ellen then went on to bond over all having hooked up in the backseat of cars. Vroom, vroom!
see more on George Clooney
Justin Timberlake Hooked Up With A Spice Girl
When *NSYNC stopped by The Ellen DeGeneres show for a round of "never have I ever" in May 2018, they may have revealed more than they bargained for. They were given the prompt "Never have I ever hooked up with a Spice Girl."
All the pop stars immediately turned their paddles to "I have never" – except Justin Timberlake, who sheepishly turned his to "I have."