Entertainment
17 Photos From Celebrity Open Casket Funerals

It may seem ironic, but whether you're saying goodbye to a celebrity or to a member of your own family, being present for the funeral is one of the best ways to begin the healing process through mourning. It can serve as a way for family and friends to find closure. Many celebrities (or their family members) have chosen to have open casket funerals for reasons that are often unknown. Some may do it as a way to say goodbye to fans, while others may have wanted to make a final statement, even after they'd passed. This list of celebrity open casket funerals is not for the faint of heart, but these final images - and the stories behind them - are often important to remember.
Even if you simply came to this list to learn more about the final moments of your favorite celeb, you may find a bit of closure as well, but keep in mind that photos of dead bodies are sometimes difficult to see.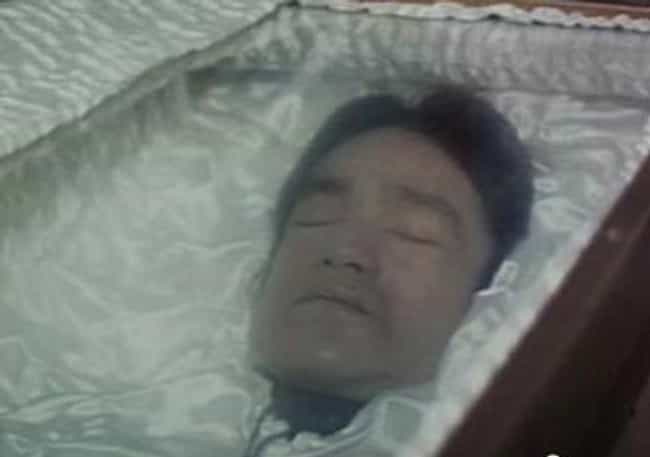 In 1973, Lee died of cerebral edema after completing his final film, Enter the Dragon, in Hong Kong. Before he was flown back to Seattle to be buried, a public mourning was held for his fans, and close to 20,000 people attended a public viewing of his body.
Bruce Lee was a Hong Kong American martial artist, Hong Kong action film actor, martial arts instructor, philosopher, filmmaker, and the founder of Jeet Kune Do. Lee was the son of Cantonese opera star Lee Hoi-Chuen. He is widely considered by commentators, critics, media and other martial artists to be one of the most influential martial artists of all time, and a pop culture icon of the 20th century. He is often credited with helping to change the way Asians were presented in American films. Lee was born in Chinatown, San Francisco on November 27, 1940 to parents from Hong Kong and was raised in Kowloon with his family until his late teens. He was introduced to the film industry by his ...more on Wikipedia
see more on Bruce Lee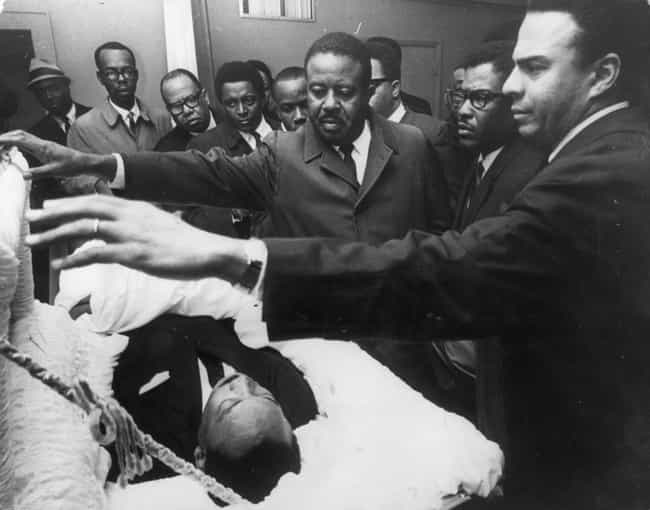 After the assassination of Dr. Martin Luther King, Jr., his body was laid in an open casket in Atlanta on April 9, where over 1,000 mourners came to pay their respects to the civil rights leader. While the body lay in state in Memphis days earlier, the wound in King's neck was still visible, and many mourners reportedly kissed and touched King's face.
Martin Luther King Jr. (born Michael King Jr., January 15, 1929 – April 4, 1968) was an American Baptist minister and activist who was a leader in the Civil Rights Movement. He is best known for his role in the advancement of civil rights using nonviolent civil disobedience based on his Christian beliefs. King became a civil rights activist early in his career. He led the 1955 Montgomery bus boycott and helped found the Southern Christian Leadership Conference (SCLC) in 1957, serving as its first president. With the SCLC, King led an unsuccessful 1962 struggle against segregation in Albany, Georgia, and helped organize the 1963 nonviolent protests in Birmingham, Alabama. King also helped to ...more on Wikipedia
see more on Martin Luther King, Jr.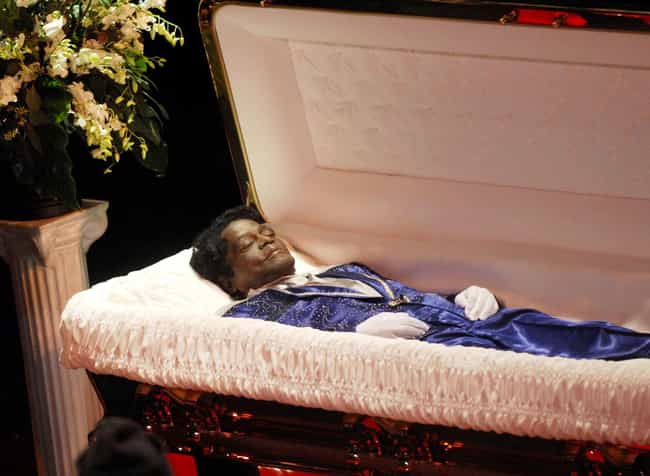 In 2006, a number of celebrities, including Michael Jackson, paid their respects to James Brown at his funeral. Jackson was just one of the thousands who gathered around Brown's 24-karat gold coffin.
James Joseph Brown (May 3, 1933 – December 25, 2006) was an American singer-songwriter, dancer, musician, record producer and bandleader. A progenitor of funk music and a major figure of 20th-century music and dance, he is often referred to as the "Godfather of Soul." In a career that lasted 50 years, he influenced the development of several music genres. ...more on Wikipedia
see more on James Brown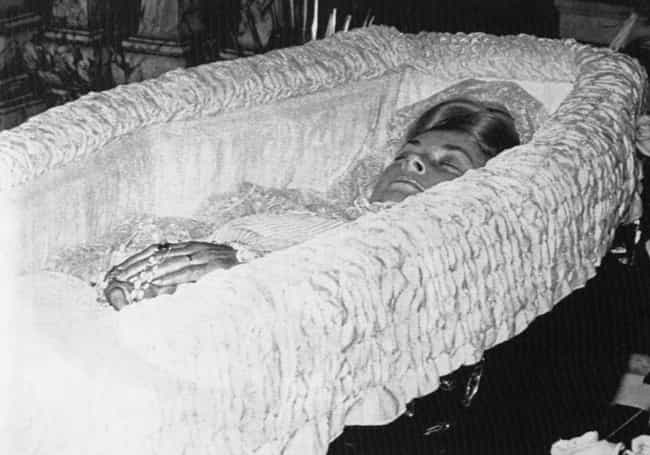 After suffering a cerebral hemorrhage while driving through the hills of Monaco, Grace Kelly died in a car crash and was committed to her final resting place in the Grimaldi family vault. Kelly, also known as Princess Grace of Monaco, drew film stars and royalty to her funeral in Monaco's St. Nicholas Cathedral.
Grace Patricia Kelly was an American actress who, after marrying Prince Rainier III, became Princess of Monaco. After embarking on an acting career in 1950, at the age of 20, Kelly appeared in New York City theatrical productions and more than 40 episodes of live drama productions broadcast during the early 1950s Golden Age of Television. In October 1953, she gained stardom from her performance in the film Mogambo. It won her a Golden Globe Award and an Academy Award nomination in 1954. She had leading roles in five films, including The Country Girl, for which her deglamorized performance earned her an Academy Award for Best Actress. ...more on Wikipedia
see more on Grace Kelly