Food
Champps Americana Recipes

133 votes
111 voters
33.1k views
10 items
Champps Americana recipes, a helpful list of recipes from your favorite sports bar, Champps Americana. All of these recipes are hand-chosen to come as close as possible to the great foods you love at Champps Americana. The flavors and textures are designed to match those of Champps to a high degree so that every bite is tasty and delicious.
Going out to Champps Americana is a great time but you don't actually have to go out to have fun. With our great recipes from Champps Americana you can recreate your sports bar experience at home! Simply pick your favorite dishes and invite over your friends. Plan ahead and everything will be ready by the kickoff. Touchdown!
From the refreshing beer to the delectable buffalo wings there are so many reasons to go to Champps to fill yourself up. Unfortunately most of us aren't made of money and a home cooked meal is just the solution. You can control your portion size and change anything to your liking. What better way is there to celebrate the night than eating some Champps Americana inspired food?
Making Champps Americana recipes in your home gives you all of these options, while saving you money, and providing the same great diversity and taste that you'd find at your favorite casual dining spot. This list is a prime collection of the best recipes from Champps Americana.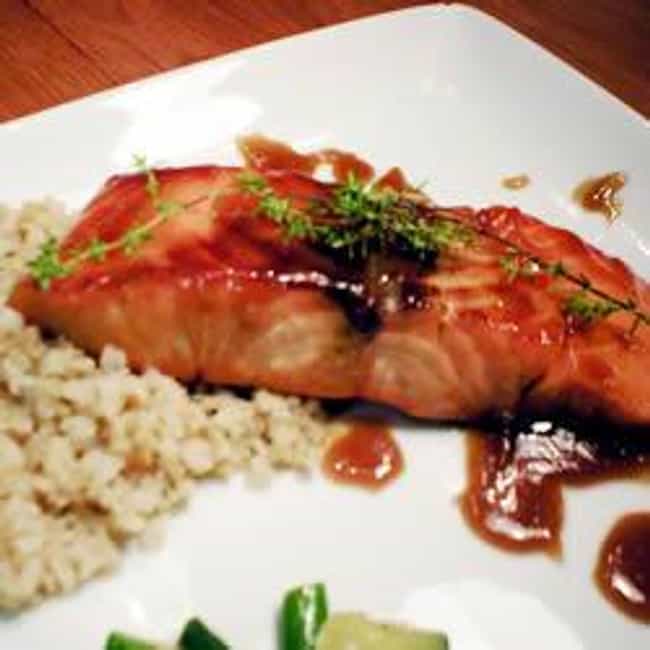 1/4 cup pineapple juice
2 tablespoons soy sauce
2 tablespoons brown sugar
1 teaspoon Bourbon
1/4 teaspoon fresh cracked pepper
1/8 teaspoon garlic powder
1/2 cup vegetable oil
1 lb salmon fillet
- Combine juice, soy, brown sugar, bourbon, pepper, garlic powder and oil in a bowl.
- Remove all skin from the salmon.
- Place the salmon in a glass dish side by side.
- Pour some of the marinade over (reserve some for basting while grilling)
- Refrigerate for at least 1 hour a few hours will be even better.
- Drain and grill over med.-high about 5-7 minutes per side or until fish flakes-basting with the reserved marinade.

Would you try this?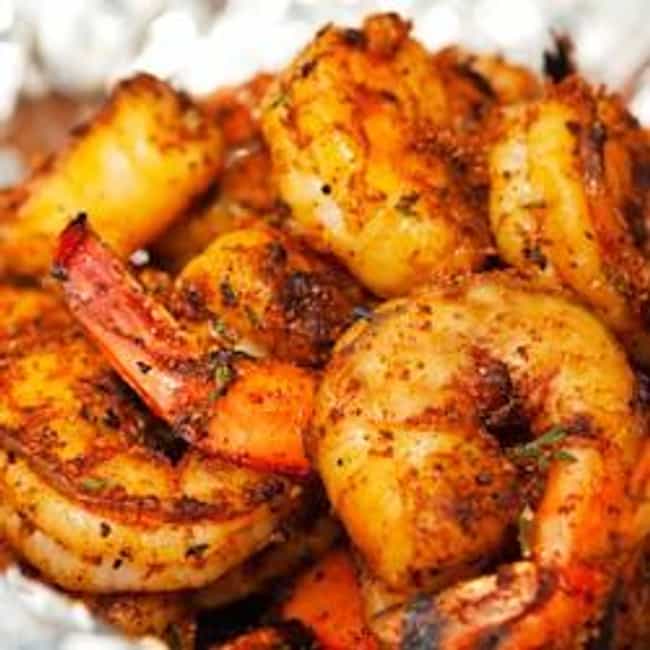 1 lb penne pasta
1/2 lb shrimp , deveined and shelled
1 cup cream
2 garlic cloves , chopped
1 medium onion , chopped
1/4 lb bacon , chopped
1 tablespoon paprika
1 tablespoon olive oil
1 teaspoon red chili pepper flakes
1 ounce fresh grated parmesan cheese
- Cook penne paste until al dente.
- Drain and let cool.
- In a saute pan heat olive oil and add bacon.
- Cook until bacon is crisp.
- Remove bacon and set aside, but leave grease in saute pan.
- Add onions and garlic to bacon grease and cook until golden.
- Remove onions and garlic, set aside with bacon.
- Add shrimp and cook until done.
- Turn heat to low, return bacon, onion, and garlic to pan.
- Add paprika, red chili pepper flakes, and penne pasta.
- Add cream and parmesan cheese.
- Add salt and pepper to taste.

Would you try this?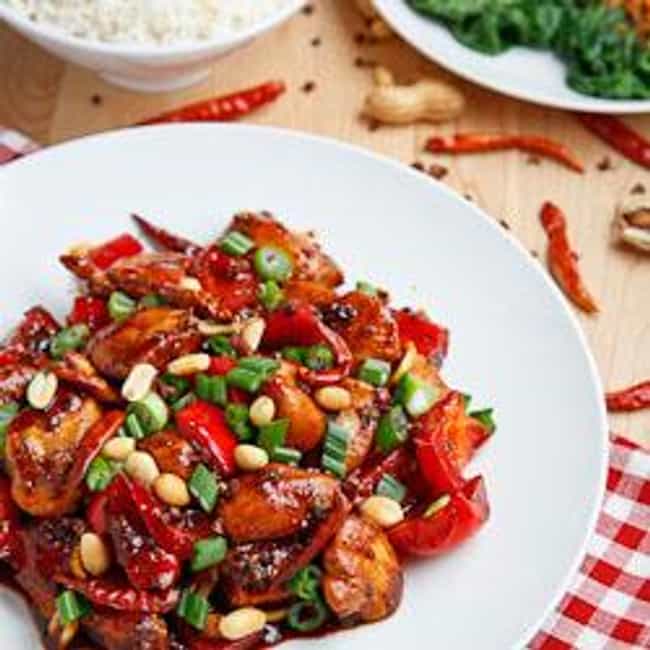 1 pound skinless, boneless chicken breast halves - cut into chunks
2 tablespoons white wine
2 tablespoons soy sauce
2 tablespoons sesame oil, divided
2 tablespoons cornstarch, dissolved in 2 tablespoons water
1 ounce hot chile paste
1 teaspoon distilled white vinegar
2 teaspoons brown sugar
4 green onions, chopped
1 tablespoon chopped garlic
1 (8 ounce) can water chestnuts
4 ounces chopped peanuts
To Make Marinade:
- Combine 1 tablespoon wine, 1 tablespoon soy sauce, 1 tablespoon oil and 1 tablespoon cornstarch/water mixture and mix together.
- Place chicken pieces in a glass dish or bowl and add marinade.
- Toss to coat.
- Cover dish and place in refrigerator for about 30 minutes.
To Make Sauce:
- In a small bowl combine 1 tablespoon wine, 1 tablespoon soy sauce, 1 tablespoon oil, 1 tablespoon cornstarch/water mixture, chili paste, vinegar and sugar.
- Mix together and add green onion, garlic, water chestnuts and peanuts. In a medium skillet, heat sauce slowly until aromatic.
- Remove chicken from marinade.
- Saute in a large skillet until meat is white and juices run clear.
- When sauce is aromatic, add sauteed chicken to it and let simmer together until sauce thickens.

Would you try this?
Blackened Chicken Alfredo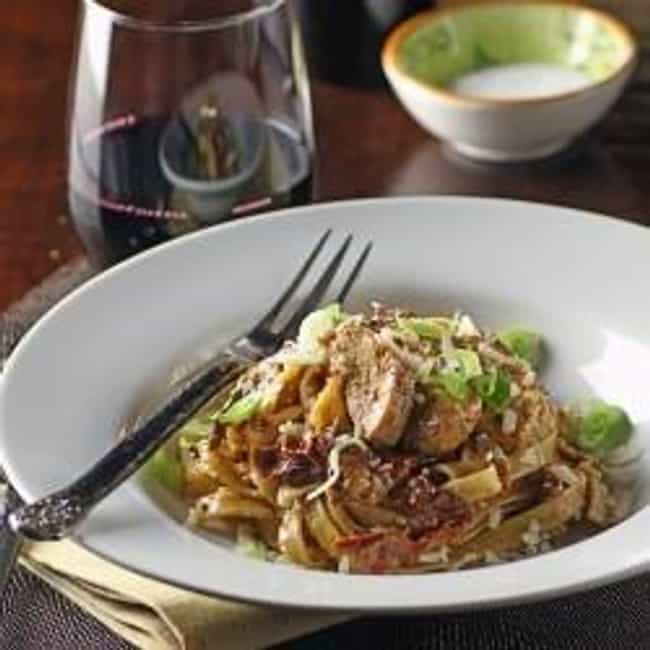 3 -4 boneless skinless chicken breasts
zataran's blackening seasoning , to taste
2 tablespoons butter
16 ounces linguine
1 1/2 pints heavy cream
1/2 cup butter
3 tablespoons cream cheese
1/2 teaspoon garlic powder
1/2 cup grated parmesan cheese
salt and pepper
- Preferrably use a cast iron skillet for blackening the chicken breasts. I
SAUCE:.
- First off place 1 stick of butter and cream cheese in large saucepan on medium heat, let melt.
- Stir in 1 pint of heavy cream.
- Let simmer for 5 minutes, stirring frequently.
- Slowly stir in the parmesan cheese, about 1/4 cup at a time.
- Add salt and pepper if desired.
- Simmer for about 20 minutes on low heat.
- Stirring frequently.
- The longer this simmer's the better.
- If sauce seems to be real thick then slowly stir in the rest of heavy cream.
- In the meantime while the sauce is simmering start the noodles.
- Drain.
- Set aside,adding a little of sauce so the noodles don't stick.
Chicken:.
- Preheat skillet on medium-high heat with 2 tablespoons butter.
- Sprinkle both sides of chicken with zataran's blackened seasoning.
- Place on to skillet and brown on both sides, turn down heat to medium.
- Cook on each side for about 7-8 minutes or until no longer pink in the middle.
- Place noodles on plate, top with sauce and place the chicken on the side.
- Garnish sauce with fresh grated parmesan cheese.
- Serve with your favorite salad and breadsticks.

Would you try this?