Total Nerd Chaos Chaos Talks About Their 'Fast' And 'Fun' Work On 'Rick And Morty'

Indie synthpop band Chaos Chaos has been featured in a number of television shows, but their work is perhaps most recognized for appearing in Adult Swim's uber-popular Rick and Morty. After their song "Do You Feel It" appeared at the end of the Season 2 episode "Auto Erotic Assimilation," the group – two sisters – were approached by show creator Justin Roiland to work on original content for the show.
Chaos Chaos appeared and performed at the Adult Swim Festival in October 2018 and took some time to sit down with Ranker to talk about Rick and Morty, working with Roiland, and what they've got coming up.
How Did You End Up With Music Featured In 'Rick And Morty'?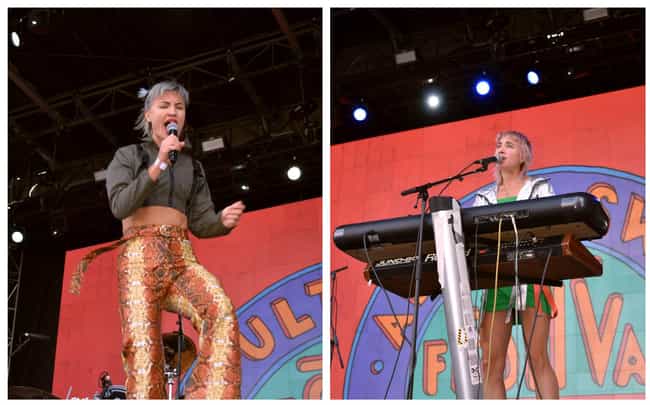 Asy Saavedra: We've had songs featured in other shows, and they kind of come about in different ways. With Rick and Morty, it was interesting because from the start it was just Justin Roiland reaching out through email because he was a fan. He really liked our music. He personally wanted the song in a certain episode. It was cool coming directly from him.
We didn't know the show at that point, and didn't have a good sense of what it was going to turn out to be or how our song would even be used. We thought it sounded like a cool opportunity.
Chloe Saavedra: It's been surprising to see how the show has gotten so popular. A lot of fans of the show have found our music through it which is pretty cool.
The Scene 'Do You Feel It' Is Featured In Is Probably One Of The Most Depressing And Emotional Scenes In The Series. What Was Your Reaction To Seeing It?
Asy: It was really interesting seeing the song like that. It made it seem really sad, and added this other layer of depth that you wouldn't expect from having your song in a funny show. It's been amazing to see how people have reacted so emotionally – or felt so intensely – from watching it. That episode really sat with people.
Chloe: Yeah, it was really emotional. I felt emotional watching the episode. I don't watch much animation, so I thought it was awesome that Rick and Morty has this interesting combination of being funny and humorous and twisted while also being really emotional.
You've Been Working With Justin Since Then On Original Music For The Show. What's That Collaboration Like?
Asy: They've all been sorta different, the ones we've done.
Chloe: He did the lyrics on "Terryfolds." That was all him.
Asy: And then we did "Memories." In that one there was a little bit of direction for the theme, and the kind of content that the song should have because of the moment it was going to be placed in.
Whenever we collaborate with Justin, it's always fun and very last minute. There's never a ton of thought going into it. It might seem different because of the way the show is – there's a lot of thought behind it. Somehow, the stuff that we do is always very fast and just fun. I feel like I never really know how it's going to turn out.
The Lyrics He Writes Are So Smartly Absurd, Too
Chloe: He does them all – or at least for "Terryfolds" – it was all first take, and totally improvised.
Asy: Pretty much everything in that song had to be first take, just because of the time constraint we had. If we couldn't think of something in that time it probably wouldn't have worked out.