Entertainment
TV And Movie Characters Who Can't Afford Their Homes

2.1k votes
494 voters
17.6k views
12 items
List Rules Vote up the most unrealistic living spaces.
Sometimes, Hollywood does a bad job presenting realistic portrayals of working-class existence; for example, a slew of TV characters have expensive apartments and wardrobes they really can't afford. These characters are hardly wealthy, and they're not supported by rich parents. In most cases, they work lower-wage jobs, if they even work at all. Yet, somehow, they can afford palatial digs in the most expensive American cities.
Sure, TV shows and movies are a welcome form of escapism. Perhaps viewers aren't meant to scrutinize the details quite so closely. Who, after all, would want to watch casts of beautiful actors cavort in flea-infested dumps? However, when the most expensive fictional apartments are occupied by people who can't afford them, it may be hard to focus on the series in question.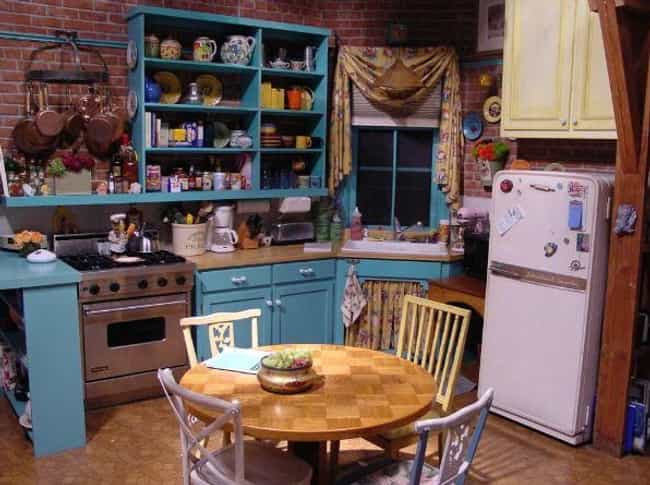 The Apartment:
Monica's massive apartment on Friends is gorgeous. There are high ceilings, exposed brick, floor-to-ceiling windows, a balcony, a large kitchen and dining area, and two sizable bedrooms. The apartment is especially impressive when compared to Joey and Chandler's place across the hall. It's much more modest but still too expensive for an often-unemployed actor and a mid-level finance guy.
The Income:
Apartments like Monica's are virtually impossible to find in the real New York City, NY. A super-conservative estimate prices a two-bedroom in her neighborhood at about $5,000. A more realistic price for an apartment that size is around $14,000 per month. Monica holds various chef positions, but a sous chef's salary in the Big Apple is only about $56,000 a year.

Is this unrealistic?
see more on Monica Geller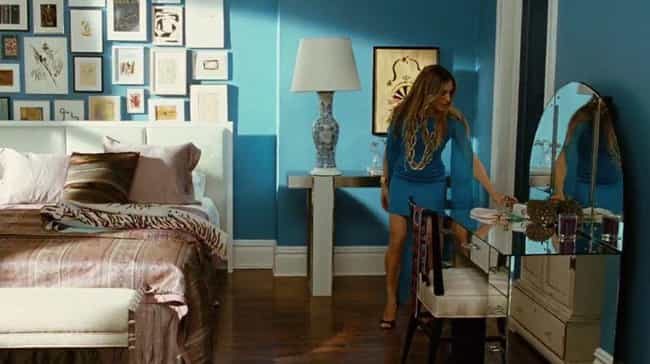 The Apartment:
Carrie lives in a one-bedroom apartment on the Upper West Side. Chic and comfortable, the space also has ample closet space. Exterior shots show the building is a classic New York City brownstone.
The Income:
A columnist for The New York Star, Carrie presumably earns a median writer's salary of about $38,000 a year, while an Upper West Side one-bedroom costs about $3,000 a month. To be fair, Carrie mentions her unit is rent-controlled; she only pays $750 a month in rent. But figure in the cost of everything else – utilities, cable, cab rides, endless cosmos, and that famous designer wardrobe – and there's no way the main character can afford her life.

Is this unrealistic?
see more on Carrie Bradshaw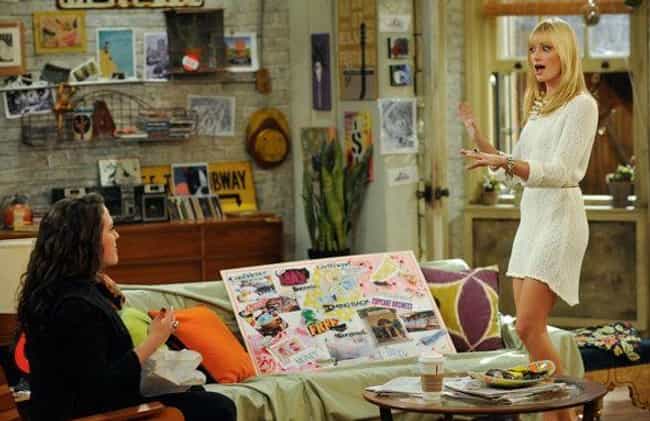 The Apartment:
Max and Caroline's Williamsburg apartment is meant to look cheap, but it's clearly not. It's huge by New York City standards, even though Caroline sleeps in the living room. The place is always in a state of disarray, but even the clutter is strangely unrealistic. And there's a yard, which is incredibly rare and fiscally impossible.
The Income:
The girls are supposed to be broke; they waitress at a local diner. However, a one-bedroom Williamsburg apartment is around $3,500 a month. Waitresses living on tips would struggle to afford that sort of rate.

Is this unrealistic?
see more on Max Black
Mia Dolan From 'La La Land'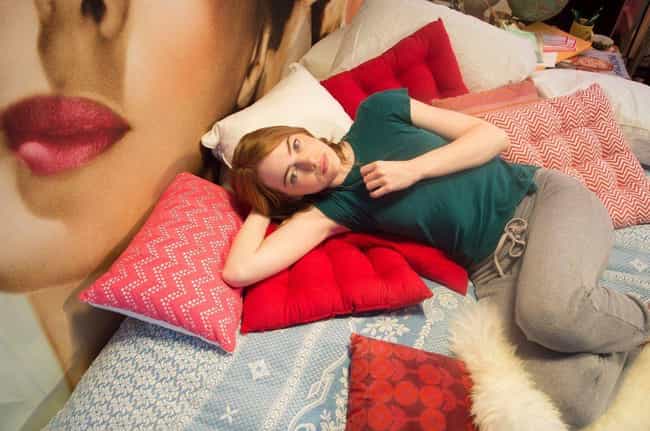 The Apartment:
La La Land is meant to be at least somewhat unrealistic; the characters are dreamers and everyone spontaneously bursts into song. But the poshness of Mia's apartment exceeds the bounds of believability. The place appears to be a refurbished Old Hollywood flat with multiple bedrooms. The unit is impeccably decorated in bold colors, expensive furnishings, and wall murals.
The Income:
For most of the movie, Mia is a barista and struggling actress. Roughly estimating, she takes home about $16,000 a year. The rent for a stylish four-bedroom unit in Los Angeles, CA, would be around $6,000, though. Split four ways, that's $1,500 each. And Mia only makes $1,333 a month.

Is this unrealistic?