Weird Nature
Zoos Often Pair Cheetahs With "Support Dogs" To Help Their Anxiety

Updated June 14, 2019
28.7k views
3 items
Not since Lady and the Tramp locked lips after sharing a single noodle of spaghetti have we been so excited about an animal pairing. Maybe it's not a love match, but the fact that cheetahs and dogs are best friends – in captivity, at least – is truly wonderful news. Since the 1980s, places like the San Diego Zoo and Safari Park have been bringing emotional support dogs to zoos to help cheetahs chill out – and learn how to mate.
Yes – some cheetahs have their very own anxiety dogs. Cheetahs, the fastest land animals, are naturally anxious creatures, and being in captivity only makes them more so. So, to help them learn how to play and live their lives with dog-like abandon, expert trainers pair them with a best pup friend when they're between three and four months old. From there, cheetahs and dogs do everything together, all in the hopes that a dog companion will help cheetahs relax enough to be able to procreate. And, because dogs are pretty much the best, they are successful in their best-friend mission.
Cheetahs Carry A Lot Of Anxiety – Good Thing Dogs Exist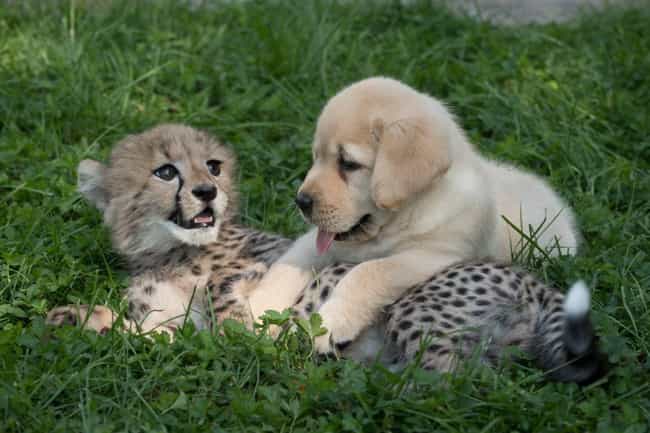 You probably associate cheetahs with their unbelievable speed. After all, they can reach speeds of up to 40 mph in as few as three strides and are the fastest land animals. They are also powerful predators. So, it might come as something of a surprise to learn that – despite their formidable speed and hunting abilities – cheetahs are super anxious creatures, especially in captivity. They're particularly nervous when it comes time to mating.
Enter dogs – those fun-loving, ever-inspiring fluffy buddies. Since the 1980s, conservationists at places like the San Diego Zoo and Safari Park have been pairing cheetahs with their very own canine best friend so the dogs can help the cheetahs chill out. Janet Rose-Hinostroza, an animal trainer at the San Diego Zoo and Safari Park, says "[it's] about getting them to read that calm, happy-go-lucky vibe from the dog."
These Wonderful Puppers Show Cheetahs How To Be Confident
Cheetah-dog pairs meet when they are each around three months old. At first, they meet through a fence, checking each other out in a super safe, controlled way. If things seem to be going well, trainers set up a "play date" between the two, and, if they continue to get along, soon the two creatures get to spend almost all of their time together – except when it comes time to eat. Because they are the alpha in the relationship, the dogs would eat all of the cheetahs' food if the two were left together.
Over the course of their playful friendship, dogs teach cheetahs how to be chill and confident, and – most importantly – they diffuse tensions in the cheetahs' captive environment, which allows them to mate with greater ease. Given how dangerously close to extinction cheetahs are, this is seriously important business.
How Do Dogs Get Selected For The Program?
Just when you think a story like this can't get any more heart-wrenchingly sweet, it goes and does. According to the folks at the San Diego Zoo and Safari Park, most of the dogs who end up as emotional support dogs (and best friends) to cheetahs come from local shelters, so they get saved in the process of helping cheetahs calm down. Trainer Janet Rose-Hinostroza, describes her favorite pair as:
"[the] dog is Hopper because we found him at a kill shelter and he's just 40 pounds, but he lives with Amara, who's our toughest cheetah by far."
We're not crying – you're crying.