Food
Chevys Fresh Mex Recipes

Updated June 14, 2019
110 votes
89 voters
34.2k views
9 items
Chevys Fresh Mex recipes, the best list of recipes for your favorite dishes from the Chevys Fresh Mex menu. These are copycat recipes and they are not exactly the same as those from Chevys Fresh Mex, but they are modeled closely on the flavor and texture of Chevys Fresh Mex's food, making it easier than ever to bring these great tastes to your house for cheap. If you love the amazing flavors of delicious Mexican food then you will love these recipes.
There is almost nothing better than laying on the beach and sipping a cold mexican beer. Having some Chevys Fresh Mex to chow down on is the only thing that makes it better. Even if you can't lay back and relax on the sandy shores of your local beach, the delicious taste of Chevys is never too far because you can use this list to make all your favorite dishes.
From the delicious salsa and tantalizing fajitas, Chevys knows good Mexican food and the proof is in the great taste. The only problem is that eating out at restaurants all the time can be very expensive. Not to mention the fact that, at restaurants, you have no portion control, and can't alter the recipes, ingredients or style of cooking to suit your own taste.
Using our recipes to make Chevys Fresh Mex at home gives you the ability to have whatever you want to eat, while saving you money, and providing the same great diversity and taste that you'd find at your favorite casual dining spot. This list will show you the best Chevys Fresh Mex recipes that you can find anywhere on the web.
Original Famous Chicken Fajitas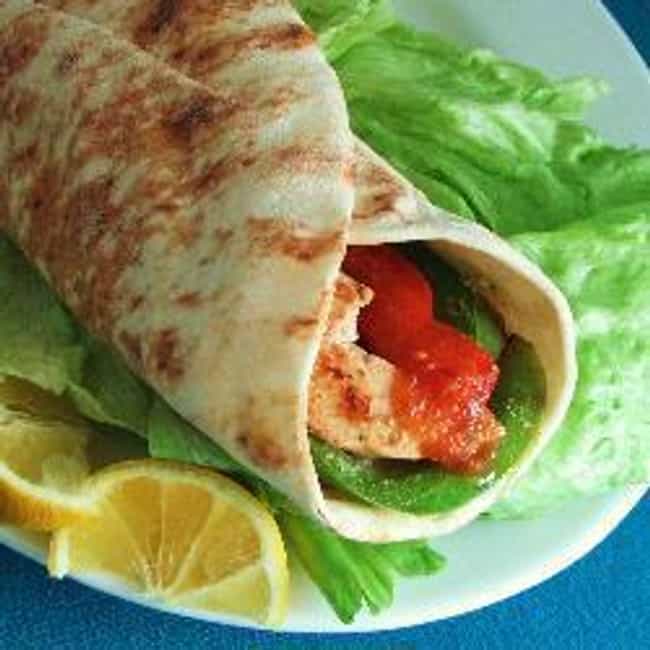 1 cup packed cilantro leaves, plus extra for serving
1/4 cup lime juice, about 2 limes
1/4 cup low-sodium chicken broth
3 scallions, cut into 1-inch pieces
2 cloves garlic
1 jalapeno, seeded if desired
1 tablespoon honey
Kosher salt
1 1/2-pounds boneless skinless chicken breasts
1 red onion, sliced into 1/2-inch thick rounds
2 orange and/or yellow bell peppers, quartered, seeds removed
1 ripe avocado, halved, seeded and peeled
1 1/2 teaspoons olive oil
1/8 teaspoon ground cumin
1/8 teaspoon ground coriander
1/4 cup fat-free Greek Yogurt
12 corn tortillas
- Put the cilantro, lime juice, broth, scallions, garlic, jalapeno, honey, and salt in a blender, puree until smooth.
- Reserve 2 tablespoons; do not wash out the blender.
- Put chicken breasts in a medium bowl and the peppers and onions in another.
- Divide the remaining cilantro puree evenly between the chicken and the peppers and onions.
- Toss well to coat the chicken and vegetables and let stand, at room temperature, for 30 minutes.
- Add the avocado, 1/2 cup water, and the reserved 2 tablespoons cilantro sauce to the blender.
- Puree until smooth and season with salt.
- Set aside.
- Heat the oil in a small skillet set over medium heat until hot.
- Add the cumin and coriander and continue to cook until fragrant, about 30 seconds to 1 minute.
- Pour the spices over the yogurt.
- Set aside for the flavors to blend.
- Stir before serving.
- Preheat a grill for medium-high/direct heat cooking.
- Oil the grill grates.
- Grill the chicken and vegetables, turning, until the vegetables are tender and the chicken reaches an internal temperature of 160 degrees F, about 5 to 8 minutes for the vegetables and 12 to 15 minutes for the chicken.
- Let chicken rest 5 minutes.
- Place the tortillas on the grill until just warmed through, about 30 seconds.
To assemble the fajitas:
- Slice the onions and peppers into thin strips.
- Slice the chicken.
- Place some peppers, onions, chicken and cilantro in a tortilla topped with the spiced yogurt and the avocado sauce.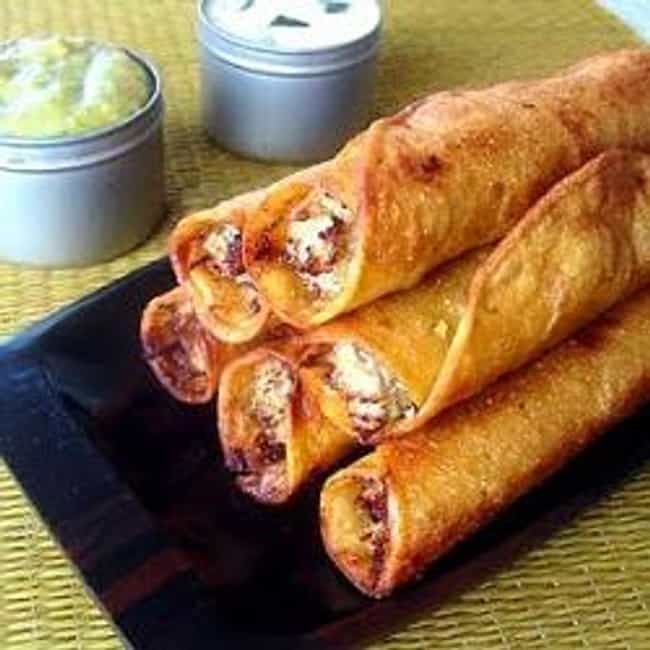 1 teaspoon vegetable oil
1/2 green bell pepper, chopped
1/2 onion, finely diced
1 pound skinless, boneless chicken breast, cut into 1-inch pieces
1 (1 ounce) package taco seasoning mix
3/4 cup water
1 (10 ounce) package corn tortillas (such as Ortega®)
1/2 cup shredded Cheddar cheese
1 cup salsa
24 toothpicks
2 cups vegetable oil for frying
- Heat 1 teaspoon vegetable oil in a skillet over medium heat.
- Stir in the bell pepper and onion.
- Cook and stir until the onion has softened and turned translucent, about 5 minutes.
- Increase heat to medium-high and stir in the chicken breast.
- Cook and stir until the chicken breast is no longer pink in the center, about 10 minutes.
- Shred the chicken using two forks.
- Stir in the taco seasoning and water.
- Simmer until the liquid has evaporated.
- Stirring occasionally, about 10 minutes.
- Stir in the Cheddar cheese.
- Remove from heat.
- Set aside.
- Lightly brush each corn tortilla will a layer of salsa.
- Spread about 2 tablespoons of the chicken mixture in a line along the bottom edge of the tortilla.
-Tightly roll the tortilla into a cylinder, and secure the ends with one or two toothpicks.
- Repeat with remaining tortillas.
- Heat 2 cups vegetable oil in a large skillet to 375 degrees F (190 degrees C).
- Fry the flautas in the preheated oil, no more than 4 at a time, until golden and crisp, about 4 minutes.
- Drain the flautas on a paper towel-lined plate.
- Discard toothpicks and top finished flautas with remaining salsa.
Chipotle Chicken Enchilada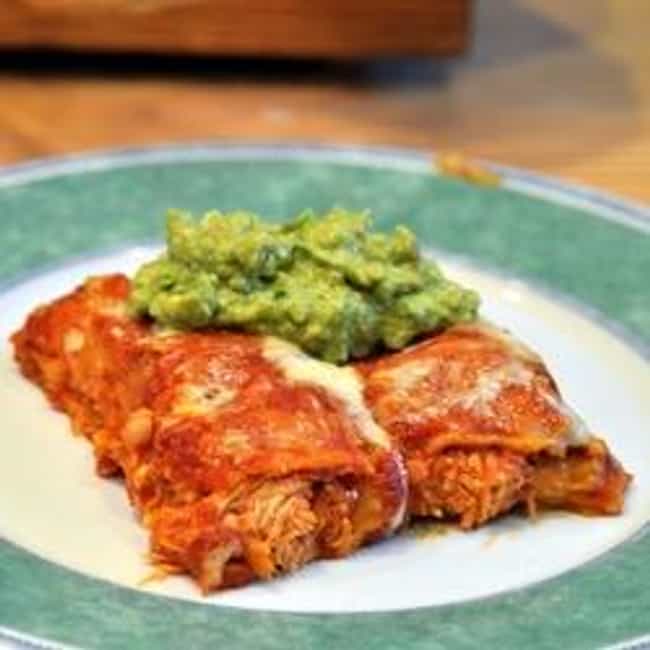 1 1/2 chicken breast, cooked and cubed
9 oz sharp cheddar cheese, grated
2 Tbsp butter
2 Tbsp sour cream
3 cloves garlic, minced
3/4 cup onion, minced
1 cup water
12 corn tortillas
2 Tbsp all purpose flour
1 tsp dried oregano
1 cup beef broth
3-4 chipotles, from a can of Chipotles in Adobo Sauce
2 Tbsp adobo sauce from can
1 tsp ground cumin
- Melt butter in a skillet.
- Stir in flour.
- Cook this roux until it is light brown.
- Remove pan from heat.
- Slowly stir in broth.
- Place pan over medium heat and whisk in water.
- Add spices, garlic, chiles, and adobo sauce.
- Simmer uncovered for 20 minutes.
- Whisk in sour cream.
- Heat some oil in another skillet.
- Lightly fry corn tortilla to soften it.
- Place it on a plate and fill with 1 Tbsp onion, and 1 Tbsp chicken
- Roll and place in a 9" x 13 " baking dish.
- Repeat with remaining tortillas.
- Cover enchiladas with the chipotle sauce.
- Top with any remaining onions and cheese.
- Bake at 375 degrees for 8 - 10 minutes, just until sauce bubbles.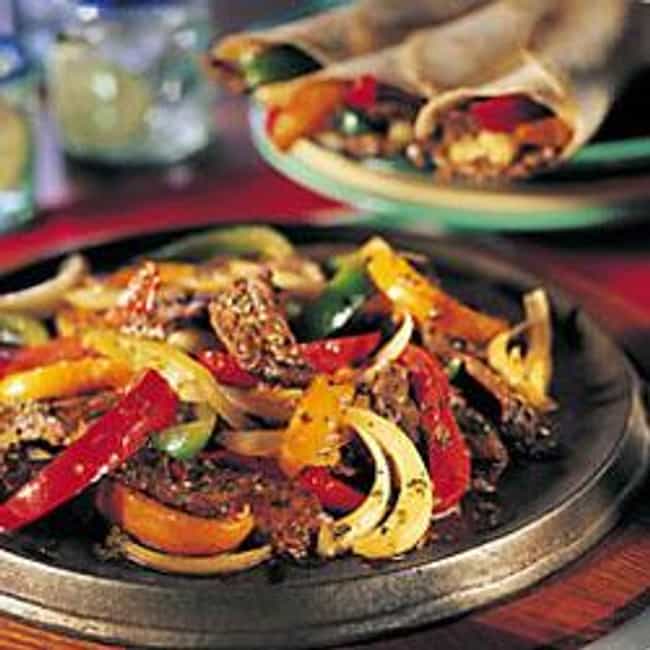 1/4 cup olive oil
1/4 cup red wine vinegar
1 teaspoon dried oregano
1 teaspoon chili powder
garlic salt to taste
salt and pepper to taste
1 teaspoon white sugar
2 small zucchini, julienned
2 medium small yellow squash, julienned
1 large onion, sliced
1 green bell pepper, cut into thin strips
1 red bell pepper, cut into thin strips
2 tablespoons olive oil
1 (8.75 ounce) can whole kernel corn, drained
1 (15 ounce) can black beans, drained
- In a large bowl combine olive oil, vinegar, oregano, chili powder, garlic salt, salt, pepper and sugar.
To the marinade :
- Add the zucchini, yellow squash, onion, green pepper and red pepper.
- Marinate vegetables in the refrigerator for at least 30 minutes, but not more than 24 hours.
- Heat oil in a large skillet over medium-high heat.
- Drain the vegetables and saute until tender, about 10 to 15 minutes.
- Stir in the corn and beans.
- Increase the heat to high for 5 minutes, to brown vegetables.