Celebrities
Behind-The-Scenes Stories From Kurt Cobain's Childhood That Shed Light On The Enigmatic Frontman

Updated August 26, 2019
72.5k views
12 items
He was the Jim Morrison of Generation X, a hard-edged rocker with a sensitive heart and the soul of a poet. And like Morrison, Janis Joplin, Jimi Hendrix, and many more since he was also troubled. As you'll see from this detailed look into how Kurt Cobain grew up, many of those issues stemmed from an unhappy childhood and dysfunctional family life. He turned to illicit substances as a way to both cope with reality and escape it, and the result was a spiral he didn't survive.
While the information accumulated here isn't exactly a list of fun facts from Kurt Cobain's childhood years, it is a list of sobering facts that shed more light on the man behind the myth - and the issues that plagued the vulnerable, openhearted little boy who lived inside one of the most iconic figures of the twentieth century. "There's good in all of us, and I think I simply love people too much, so much that it makes me feel too f*cking sad," he wrote in a note before his passing.
He Pretended He Was An Alien Adopted By A Human Family
Perhaps as a way to make sense of his innate feelings of not belonging, Cobain as a child invented a rich fantasy life. Part of that fantasy involved thinking of himself as an alien adopted by human parents. He told journalist Michael Azerrad in 1993:
I always wanted to think that I was an alien. I used to think when I was young that I was adopted by my mother because they found me and a spaceship let me off. I was from a different planet. I wanted to be from a different planet really bad. Every night, I used to talk to my real parents and my real family in the skies.
He Made Up A Childhood Game Called 'Corn On The Cop'
Cobain got in a bit of trouble early on, likely a result of his hyperactivity. He was just 6 years old when he invented a "game" called Corn on the Cop. It involved filling soda cans with pebbles and hurling them at cop cars.
This anti-cop sentiment was something he carried into adulthood. One of his guitars during the Nirvana years was emblazoned with a sticker that read: "Vandalism: Beautiful as a Rock in a Cop's Face."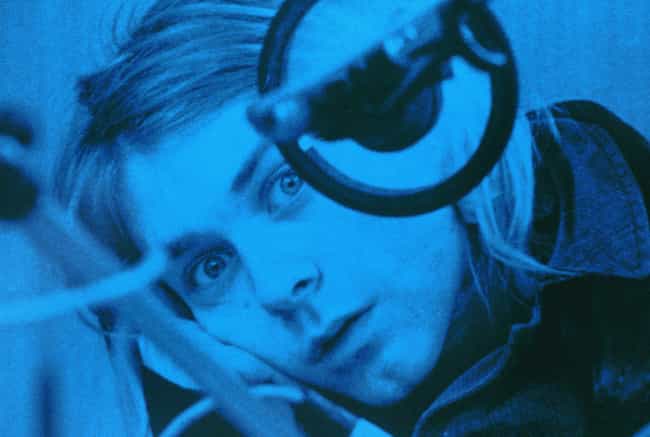 He Was Prescribed Ritalin At Age 7
As a child, Cobain was diagnosed as hyperactive and prescribed Ritalin. Then, to help him "come down" and relax enough to sleep at night, he was prescribed sedatives. This is a scenario that is all too familiar to adults who have struggled with reliance on substances.
These dependencies, fostered early in life, can become hardwired into a child's brain. Even Courtney Love felt that Cobain's early Ritalin usage set the stage for his future afflictions.
His Parents' Divorce Deeply Scarred Him
When he was 7 years old, Cobain's parents split. While he had issues with hyperactivity, up until that point, Kurt had been mostly outgoing and mild-mannered. The divorce changed all that. He turned inward, withdrew from people, and acted out often.
Cobain continued pouring his energies into art and music, but they took on a darker edge. His pictures were now captioned with "Mom Sucks" and "Dad Sucks." Cobain said in 1993:
I remember feeling ashamed... I was ashamed of my parents. I couldn't face some of my friends at school anymore, because I desperately wanted to have the classic, you know, typical family. Mother, father. I wanted that security, so I resented my parents for quite a few years because of that.