Weird
10 Chinese Replica Cities Recreating Other Locations For No Real Reason

Did you know there are neighborhoods in China that were designed to look almost exactly like cities from the West? There's a Paris, a London, a couple of Venices, and even a Jackson Hole, WY. But what are Chinese replica cities, exactly? What is it about Chinese culture that encourages these developments?
Replica cities in China aren't considered kitschy and goofy the way, say, Americans consider the tiny Eiffel Tower in Las Vegas or the country-themed pavilions at Epcot Center. Writer Bianca Bosker calls these city copies "duplitecture," and says the Chinese largely consider mimicry "a form of mastery."
Not everyone in China is enamored with these places, of course. Some people consider these replicas wildly expensive - and embarrassing - ghost towns. But, some actually do surprisingly well, considering their odd origins. Read on for some fascinating facts about some of the strangest examples of Chinese replica cities.
Jackson Hole: Hometown, USA
Where: Jackson Hole, Hebei Province, two hours north of Beijing. The Chinese name, translated, means "Hometown U.S.A."
Inspiration: Jackson Hole, Wyoming, but also the American West, in general. It's not a clone of Jackson Hole, but rather a housing development of 1,000 single homes meant to emulate the aesthetics of the American West and especially American Westerns. A Portland-based designer named Allison Smith is responsible for the look and feel of Jackson Hole, China Edition.
Strangest Thing About It: The homes were randomly pre-decorated with "antiques and knickknacks" shipped from America, including bear skins, old whiskey bottles, antlers, and snowshoes. Smith says the Chinese developers "really liked some of the more kitschy things." So it's a bit like living in a Cracker Barrel. They also named one street Route 66, which definitely sounds American, but the real Route 66 doesn't run through Wyoming.
What's It Actually Like?: Wildly successful and wildly exclusive: the first batch of homes sold for between $180,000 and $330,000 each, which means only the fabulously wealthy snatched them up (the average Chinese worker makes just over $4,000 per year). They have since tripled in value. As far as the "feel" of the place, the residents reportedly celebrate American Independence Day, Valentine's Day, Halloween, Thanksgiving, Christmas, and Easter, when "public places such as a church, stores and shopping malls will let kids touch and play with lovely rabbits and chickens." There's also a Christian church in the center of town, next to a row of shops, bars and cafes.
Thames Town: A Wedding Photo Mecca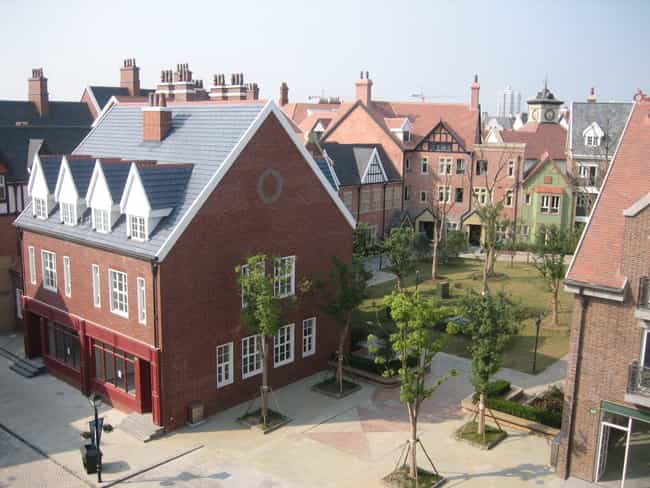 Where: Thames Town, Songjiang District, Shanghai. A one-square kilometer development built as part of Shanghai's ambitious, Western-themed "One City, Nine Towns" initiative of 2001, Thames Town is about 20 miles from central Shanghai.
Inspiration: London, first, but also Bristol - there's a church modeled on Christ Church in Bristol that is a popular backdrop for wedding photos. As you can see in the above picture, it's also a hodgepodge of classically "British" market town architecture. It directly lifted the design and signage of two buildings from the seaside town of Lyme Regis, Dorset: The Rock Point Inn and Cobb Gate Fish Bar, which inspired an article in the Telegraph headlined "The Chinese Have Shanghaied My Pub."
Strangest Thing About It: The scaled-down copy of Christ Church is such a popular spot for wedding photos that a fake cake, bottle of bubbly, and basket of baguettes is outside of it at all times for couples to use.
What It's Actually Like: Not counting the happy couples? A ghost town, unfortunately. Ken Jennings (of Jeopardy! fame) reported it "bloody deserted" in January 2016, and travel writer Wade Shepard said in August 2013 that "just about the only thing to do is try to photobomb wedding pictures." Shepard said the whole place feels "cheap and shoddy," which is a shame considering the cost ($330 million) and how much it would cost you to live there (as expensive as central Shanghai or Beijing).
Tianducheng: A Baby Paris in the Smog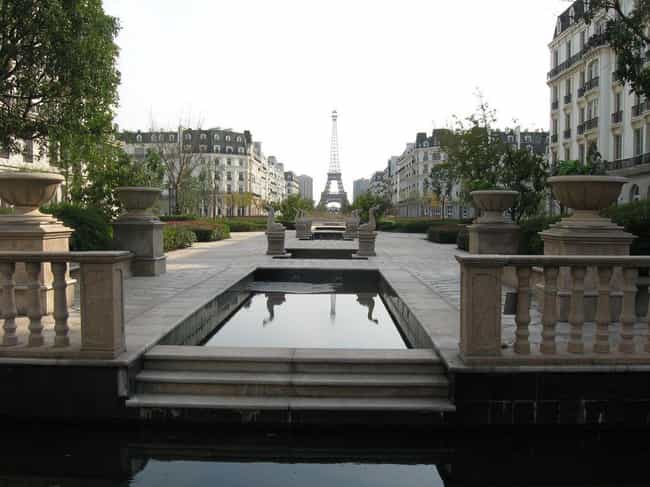 Where: Tianducheng, near Hangzhou, capital of the Zhejiang province.
Inspiration: Paris, for sure: it's home to the second-largest replica of the Eiffel Tower, its own Arc de Triomphe, and wide Haussmannian streets. It also has elements from Nîmes and Versailles.
Strangest Thing About It: The location. It's surrounded by wide swaths of farmland, meaning the occasional cow wanders into town. Heavy pollution from nearby factories keep the skies gray most of the year.
What It's Actually Like: Australian reporter Jarryd Salem said in July 2015 that the "sanitary and living standards are appalling" and only 1,000 people out of a planned 10,000 actually live there because of the high cost. ABC News reported in April 2016 that "laundry hangs in full view everywhere in Tianducheng, even on trees, and the fountains are dry." One resident they spoke to was embarrassed about the fake Eiffel Tower and said she only lives there because it's actually cheap compared to the rest of Hangzhou. She also noted that the environment is "good, especially for the baby."
Hallstatt: A Cloned Austrian Village
Where: Hallstatt, Luoyang, Boluo County. Technically a retail development surrounded by a housing development within Luoyang.
Inspiration: Definitely Hallstatt, Austria.
Strangest Thing About It: It's 100% Hallstatt, Austria: the village is literally a 1:1 scale replica. Not only that, the developers didn't even bother to inform the real town's mayor before they broke ground.
What It's Actually Like: The city reportedly has "copycat perfection," with expertly cloned buildings and landscapes (except for the Austrian mountains - hard to clone those). As of July 2015, however - four years after the ground-breaking - none of the residences in the housing development surrounding Hallstatt were occupied. Busloads of tourists, however, were coming daily come to take pictures and buy souvenirs.