Updated September 12, 2019
171 votes
92 voters
69.3k views
5 items
Chipotle recipes, a helpful guide to preparing your favorite dishes from the Chipotle menu at home. These copycat recipes are typically not based on exactly the method used at Chipotle, but are modeled closely on the flavor and texture of Chipotle's food, making it easier than ever to bring these great tastes to your house for cheap.
From the cheesy biscuits at Red Lobster to the amazing sauces at Buffalo Wild Wings, it's always tempting to go out for a delicious treat at one of the numerous chain and franchise restaurants dotting the landscape. But eating out at restaurants all the time can be a costly proposition. Not to mention the fact that, at restaurants, you have no portion control, and can't alter the recipes, ingredients or style of cooking to suit your own taste.
What goes into a Chipotle burrito? Making Chipotle recipes in your home gives you all of these options, while saving you money, and providing the same great diversity and taste that you'd find at your favorite casual dining spot. This list collections the best copycat Chipotle recipes from around the Web.
Check out more lists like this such as delicious IHOP recipes, food that helps you burn fat and 10 shocking foods you think are healthy but are not!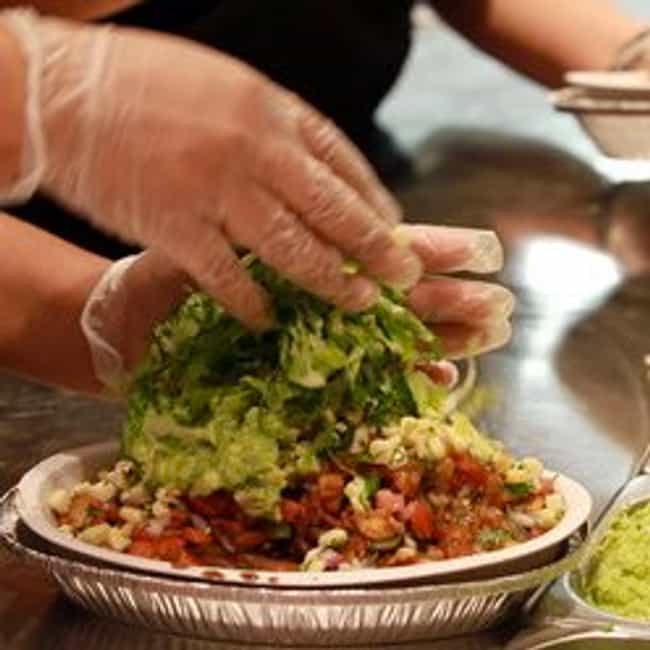 *Cilantro Rice*
1/2 cup dry rice
1/2 diced jalapeno
3 T chopped fresh cilantro
1 bunch chopped green onion (about a 1/2 cup)
2 cloves garlic
1/2 tsp salt
*Garlic Black Beans*
1 can Bush Black Beans
2 cloves garlic
1 cup water
2 bay leaves
1/4 tsp salt
* guacamole*
1 box grape tomatoes, quartered
1 avocado diced
1/4 tsp salt
1 Tbsp lime juice
Jar of salsa
2 Chicken breasts meat

*Cilantro Rice*
- Add 1 cup of water, 1/2 cup of rice, and salt to a sauce pan.
- Bring water to a boil.
- Throw in jalapeno cover and simmer for 20 minutes.
- Puree the cilantro, green onion and garlic together.
- When rice is done, stir mixture into rice.

*Garlic Black Beans*
- Drain and rinse the can of beans.
- Add beans, crushed garlic, salt, bay leaves, and water to a sauce pan.
- Bring to a boil, then simmer for 15 minutes.
- Stir occasionally.
Guacamole
- Quarter grape tomatoes.
- Dice the avocado.
- Stir together with salt and lime juice.

Meat*
- Grill and dice any meat that meets your fancy.
- Lightly seasoned with taco seasoning.
*Assemble*
- 1/4 cup prepared rice
- 1/3 cup beans (use a slotted spoon to drain liquid)
- 3 oz meat
- 4 Tbsp prepared salsas
-1/4 of tomato/avocado mix

Would you try this?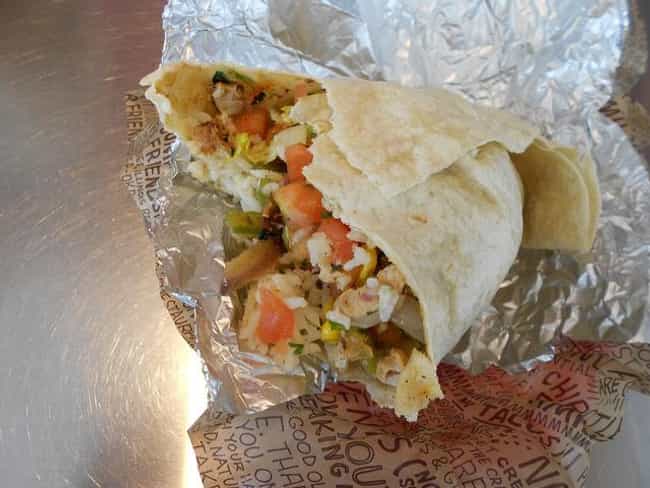 1 box (8 count) flour tortillas
3 c. shredded cooked chicken
1 1/4 c. water
1 (1 1/4 oz.) env. taco seasoning mix
1 1/2 c. shredded lettuce
1 c. diced tomato
1 c. (4 oz.) shredded Cheddar cheese
1/2 c. taco sauce
- Heat tortillas according to package directions.
- In medium skillet, combine chicken, water and taco seasoning.
- Bring to boiling; reduce heat.
- Simmer, uncovered, 15 minutes, stirring occasionally.
-To assemble burritos, spoon about 1/4 cup chicken mixture just below center of each tortilla.
- Add some of the lettuce, tomato, cheese and taco sauce to each tortilla.
- Fold bottom edge of each tortilla up and over just until filling is covered.
- Fold opposite sides of tortilla in, just until they meet.
- Roll up from the bottom.
- Serve with additional taco sauce, if desired.

Would you try this?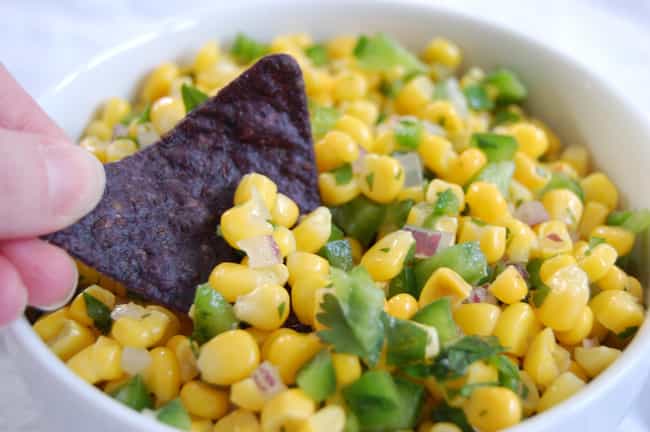 1/4 cup plus 2 tablespoons sour cream
2 tablespoons fresh lime juice
2 chipotle chiles in adobo sauce, seeded and finely chopped
1 scallion, thinly sliced
Salt and freshly ground pepper
5 ears of corn
1/2 medium Vidalia or Walla Walla onion, thickly sliced crosswise
1 tablespoon extra-virgin olive oil
- Preheat a grill pan.
- Brush the corn and onion slices with the olive oil and grill over moderately high heat until charred in spots but still slightly crisp, about 7 minutes.
- Let cool slightly, then cut the kernels from the cobs and coarsely chop the onion.
- In a medium bowl, mix the sour cream with the lime juice, chopped chipotle chiles and sliced scallion.
- Stir in the charred corn and onions.
- Season the corn salad with salt and pepper and serve immediately.

Would you try this?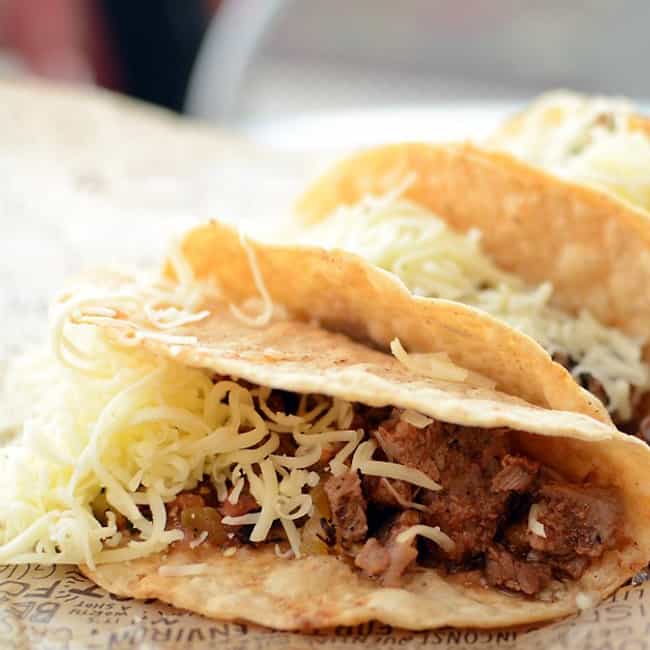 1lb ground beef
1 med. onion
1 container of fresh salsa (mild/med/hot your choice)
1 teaspoon cumin powder
1-2 tomatoes
1 cup of shredded cheddar cheese.
1 head of lettuce
1 package of corn tortillas (12 count)
1 cup of vegetable oil (enough to fill your fry pan about 1/2 inch)
1 can refried beans
- Chop of the onions as small as you like.
- Add onions and ground beef to large fry pan.
- Put them on medium heat and mix them up.
- Once the beef is browned.
- Add 1 teaspon of cumin.
- Add all of the fresh salsa.
- Mix and cook for about 15-20 minutes.
- Do not cover.
- Grate cheese.
- Cut up the tomatoes.
- Wash and dry lettuce.
- Pour vegetable oil in an 8" fry pan.
- Put it on med/low heat.
- Each tortilla will only take a couple of minutes to cook.
- Place a tortilla in the oil, after a minute or so, flip it, then take it out.
- The longer you cook them, the crispier they will get.
- Place shells on a paper grocery bag or a bunch of paper towels to soak up the excess oil.
- Now put tacos together.
- Put in the beef.Then the cheese, tomatoes, lettuce.

Would you try this?