Watchworthy
What The 'Saturday Night Live' Staff Thinks Of The Chris Farley 'Chippendales' Sketch

Updated May 21, 2020
222.2k views
11 items
Certain Saturday Night Live sketches have skyrocketed in popularity and become major cultural moments, but few sketches in the show's history have garnered as much love and attention as the Chippendales sketch from October 1990.
The sketch features then-newcomer Chris Farley and then-major movie star Patrick Swayze competing against each other at a Chippendales audition while dancing to Loverboy's "Working for the Weekend." Farley completely commits to the scene with an over-the-top performance. The sketch has often been cited as the moment Farley became a major star.
But in the years following Farley's tragic passing from an OD in 1997, a number of former SNL cast members, writers, and producers have been critical of the sketch. As the culture has become more sensitive to how weight is represented on television, there's no denying the problematic "joke" of the sketch.
Farley's significant substance use during his time on the show raises questions as to whether this type of comedy was detrimental to his own body image issues and mental health. Farley's former friends and colleagues weigh in on the subject.
Data-driven recommendations based on voting from over 40 million monthly visits to Ranker.
Try the free app
'I Knew In Rehearsal That A Star Was Born' - Mike Myers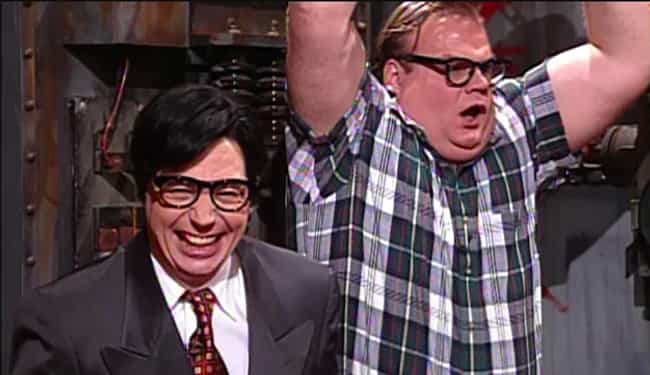 Mike Myers has said that it was clear even before they went live on the air with the sketch that Chris would be a hit.
"I knew in rehearsal that a star was born," Myers said.
Myers has also said that he found Farley's physical comedy to be intimidating at times: "I improvised with Chris, and I was scared... because he had already knocked someone's tooth out and given someone else a scar just from being so crazy."
'As Funny As That Sketch Was… It's One Of The Things That Killed Him' - Chris Rock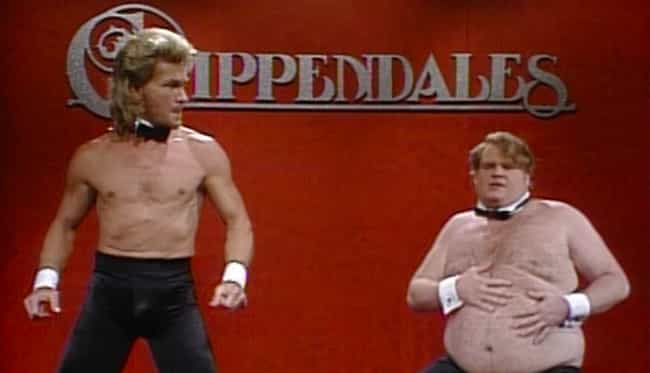 Comedian Chris Rock joined Saturday Night Live in 1990, the same year Farley arrived. In the 2008 book The Chris Farley Show, an oral history compiled by Tanner Colby and Chris's older brother Tom, Rock suggested that the sketch was noticeably damaging to Farley.
"That was a weird moment in Chris's life," he said. "As funny as that sketch was, and as many accolades as he got for it, it's one of the things that killed him. It really is. Something happened right then."
Rock criticizes the central joke and angle of the sketch, pointing out, "There's no turn there. There's no comic twist to it. It's just f---ing mean. A more mentally together Chris Farley wouldn't have done it, but Chris wanted so much to be liked."
'We All Thought You Had To Do Whatever Was Asked Of You' - David Spade
David Spade worked particularly closely with Farley, both as cast members on SNL and then as co-stars in the films Tommy Boy and Black Sheep.
In Live From New York: The Complete, Uncensored History of Saturday Night Live, Spade offers context to Farley's decision to do the sketch as a new cast member under pressure to prove himself.
"It was early on, when we all thought you had to do whatever was asked of you," Spade said. "Chris took off his shirt then because he's a fat guy and it is funny and that was really part of the sketch. But I think later on, he didn't want to do that as much."
'F--- That Sketch. He Never Should Have Done It' - Bob Odenkirk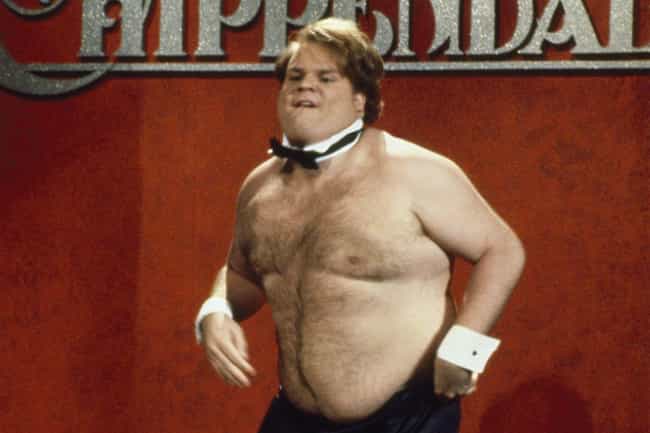 Actor and writer Bob Odenkirk was a writer on SNL from 1987 through 1991 and worked closely with Farley. He even created and wrote Farley's beloved character "Matt Foley, Motivational Speaker" specifically for Chris. But in the 2008 book The Chris Farley Show, Odenkirk had harsh words about the sketch.
He described it as "f---ing lame, weak bullshit. I can't believe anyone liked it enough to put it on the show. F--- that sketch. He never should have done it."