People Trivia
The Sad Tale Of Chris Gardner, The Man From The Pursuit of Happyness

Updated November 5, 2019
185.2k views
12 items
After watching the Will Smith film The Pursuit of Happyness, you may first find yourself sobbing. But after whipping away the tears, you may wonder about the man behind the story depicted in The Pursuit of Happyness. Because, yes, the film is based on a true story. The Pursiut of Happyness is the true story of the life of Chris Gardner, who battled homelessness while working his way up to become a stockbroker. While the whole rags-to-riches story may be the broad strokes of Chris Gardner's life, there are many other interesting facets to his life that the two-hour film simply didn't have time to explore. For example, Gardner faced a difficult childhood of his own, which landed him naked, wet, and freezing on one particular Christmas evening. And that's just the beginning.
Through it all, the facts of Gardner's life truly illuminate how hard work, determination, and ambition can push you forward in this world. Yes, The Pursuit of Happyness may be one of those movies that can make even grown men cry, but the facts about Gardner's life are endlessly interesting and motivating.
He and His Son Really Did Have To Sleep In A Public Restroom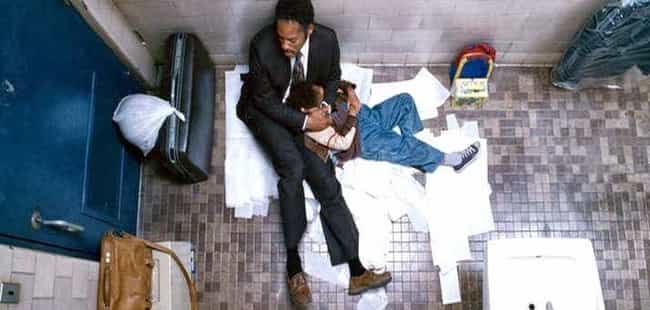 Gardner and his girlfriend decided that it would be best if he raised their son, but there was one problem: his building didn't allow children. Because of this, Gardner found himself homeless and raising his son on the streets, all while training at a major brokerage firm. However, Gardner managed to keep his homelessness a secret from his co-workers and bosses.
During this time, Gardner and his son often had to choose between spending money on shelter or buying food. Food almost always won, forcing the duo to get creative about where they slept. Gardner and his son would stay at $25/night hotels, in public parks, and even under his desk at work after the other employees had left. Gardner also recalled sleeping in a public bathroom at a railroad station, which was turned into a heartbreaking scene in the film.
Gardner eventually found more stability when he moved into a homeless hotel in San Francisco, run by Glide Memorial United Methodist Church; however, it still had its pitfalls. As Gardner explained, "There were no keys, so every day you take everything with you. For a year, I'd take my son, his stroller, a big duffel bag with all his clothes in it, my briefcase, an umbrella, the biggest bag of Pampers in the world, one suit on my back and one suit in a hanging bag and we'd hit it every day."
He Had Nothing Formal To Wear To His Interviews Because He Was Just Released From Jail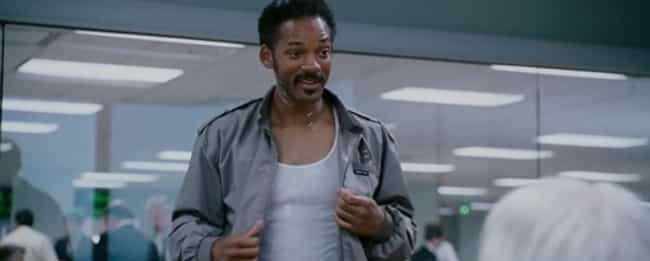 As luck would have it, Gardner quickly landed a job at a brokerage firm and was able to quit his previous job selling medical supplies. Yet, when Gardner showed up at the firm, he learned that the man who hired him had been fired, and that he was out of a job as well.
Thankfully, Gardner landed himself an interview for an internship at another firm, but he hit yet another bump in the road. A loud argument between Gardner and his girlfriend resulted in the cops being called. Although his girlfriend wasn't pressing charges, Gardner did have several outstanding parking tickets. Because Gardner couldn't pay these parking tickets, he was then jailed for 10 days. Gardner was released in time to make his interview, but he showed up wearing a Members Only jacket and sneakers splattered with paint. Gardner was honest about his situation and, despite his inappropriate attire, he landed the position.
To Get His Start In Finance, He Simply Approached A Well-Dressed Man And Asked, "What Do You Do?"
As is the case in most films based off true stories, the directors of The Pursuit of Happyness took some artistic liberties. As such, one might assume that the scene in which Will Smith's character approaches a well-dressed man driving a red Ferrari and asks him what he does for a living was one such artistic liberty, but that actually happened.
Gardner approached the man in a parking lot and asked, "What do you do?" and "How do you do it?" As it turned out, the man was a stockbroker who earned $80,000 a month. The successful stockbroker not only gave Gardner the lowdown on the industry, but he also used his connections to get Gardner interviews.
Yes, Gardner really did change his entire life simply by asking a successful-looking individual what he did and how he did it.
His Son Didn't Actually Realize They Were Homeless
One may think that a year of homelessness would have scarred Gardner's son, but as it turns out his son apparently didn't even realize they were homeless. While their living situation was unstable, Gardner remained a constant in his son's life. Gardner also found inventive ways to make their precarious living situation seem like an adventure. Gardner would tell his son they were going to "play a game and the game is called SHHHH" whenever they were sleeping in a public area where they weren't supposed to be.
In an interview, Gardner's son explained, "I didn't know we were homeless. I just remember that we were doing a whole lot of moving. I just know that when I looked up, he was there. I looked around, he was there."