Weird Nature
The Sad Tale Of Christopher McCandless, The Man From 'Into The Wild'

Updated October 28, 2019
2.3M views
12 items
Who was Christopher McCandless? The young man whose life was chronicled in the book and subsequent film adaptation, Into The Wild, often seems more myth than man. After his untimely passing in 1992, his story made McCandless a larger-than-life sensation and touted his philosophy of simplicity and detachment from material goods. His persona became something that people all over the world over would cling to and adopt as their own dogma; he's often spoken of in the same breath as wilderness figures like "Grizzly Man" Timothy Treadwell, who also met an untimely end seeking solace in the remote Alaskan wilderness.
However, was Into The Wild actually based on a true story? Or was it just another romanticized account of a big-hearted dreamer who ultimately lost his life alone in the Alaskan wilderness after he realized it was too late to turn back? When it comes to McCandless, there are the facts, based on his own journal entries and family members' accounts, but then there is also the speculation surrounding the truth, as often is the case when someone passes so young and mysteriously. Delve into the short, strange life of Christopher McCandless.
The Life Of Christopher McCandless Ended In The Middle Of Nowhere, Possibly From Potato Poisoning
In August of 1992, a moose hunter came across an abandoned bus situated just off the Stampede Trail in a desolate part of Alaska. Inside, still in his sleeping bag, the hunter found 24-year-old McCandless's remains. One of the more controversial conversations regarding Chris McCandless is what actually caused his untimely passing.
When his body was first discovered, starvation was the official ruling. However, as the story became sensationalized around the world, more in-depth research indicated that he may have passed due to starvation from the ingestion of wild potato seeds. These seeds contain an amino acid known to prevent absorption of nutrients. Over time, the alkaloid also slowly paralyzes the body, making it likely that an already-weak McCandless was unable to hunt or gather any sustenance.
He Lived In An Abandoned Bus For More Than 100 Days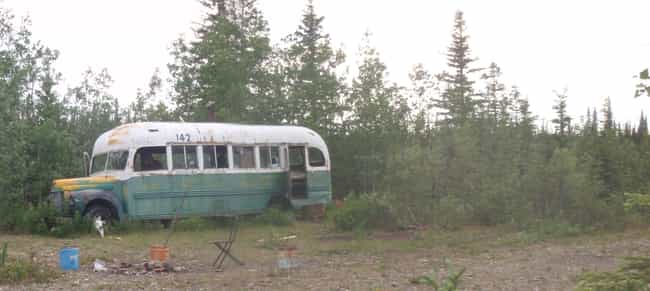 At the peak of his pilgrimage, McCandless found himself on the desolate Stampede Trail in Alaska, located in the Denali backcountry. For the first 67 days, he managed to hunt most of his meals, eating things like porcupines, ptarmigan, and squirrels. His journal entries were cheerful, for the most part, and after a little more than two months, he packed up his belongings, shaved his beard, and started to head back towards civilization, having supposedly satisfied whatever wild urge he had experienced.
However, when he reached the Teklanika River, (through which he'd fallen when it was iced over months earlier), he found a raging river, swollen from glacier melts. Crossing was not an option, so he retreated back to the bus, where he would eventually meet his end.
He Entered The Wilderness Woefully Unprepared
It's unclear just exactly what McCandless had in terms of supplies when he started off on the Stampede Trail. However, one thing is likely true: it was nowhere near a sufficient amount.
Though McCandless lived resourcefully for a few years on the road, there's a big difference between train-hopping and backcountry trekking. When his body was found, he had on him a few paperbacks, a camera, his diary, a book that identified edible plants, and a .22 caliber rifle. From his journal, it's known that he had brought a sack of rice and a compass along, but no maps. There was, of course, the sleeping bag in which he was ultimately found.
He Left Tragic Notes Of Farewell
When the moose hunter who found McCandless approached the bus, he found a page torn from a Nikolai Gogol novel taped onto the door, with this urgent message:
ATTENTION POSSIBLE VISITORS.
S.O.S.
I NEED YOUR HELP. I AM INJURED, NEAR DEATH, AND TOO WEAK TO HIKE OUT OF HERE. I AM ALL ALONE, THIS IS NO JOKE. IN THE NAME OF GOD, PLEASE REMAIN TO SAVE ME. I AM OUT COLLECTING BERRIES CLOSE BY AND SHALL RETURN THIS EVENING. THANK YOU,
CHRIS McCANDLESS
AUGUST ?
Apart from this note, he had taken a self-timer photo (a camera with film was included among his meager possessions), holding a note that said, "I have had a happy life and thank the Lord. Goodbye and may God bless all!"
Among his last journal entries, he also wrote this final, sad line: "Happiness is only real when shared." This note is especially tragic, because so much of his dogma was built on the ideology of self-sustainment, of adventure and passion.