Film

Christopher Walken Black Comedy Roles

List of Black comedy movies/films with performances by Christopher Walken, listed alphabetically with movie trailers when available. These Christopher Walken Black comedy roles include starring, supporting and cameo appearances. You can sort these Christopher Walken Black comedy movies for additional information as well, such as who directed the films and when they were released. Over the years Christopher Walken has become known for playing characters in Black comedy movies, so this list is the perfect resource for finding some you haven't already seen.
Examples include The Stepford Wives and MouseHunt.
This list answers the questions, "What Black comedy movies has Christopher Walken been in?" and "What are the best Christopher Walken Black comedy roles?"
You can't vote on this list, but if you want to re-order it you can re-rank the list to put your favorites at the top. (7 items)
Envy is a 2004 American comedy film directed by Barry Levinson. It stars Ben Stiller and Jack Black. ...more on Wikipedia
Actors: Rachel Weisz, Amy Poehler, Ben Stiller, Christopher Walken, Jack Black, + more
Initial Release: 2004
Directed by: Barry Levinson
see more on Envy
MouseHunt is a 1997 American comedy film directed by Gore Verbinski, written by Adam Rifkin and starring Nathan Lane and Lee Evans. It was the first family film to be released by DreamWorks. The film was shot just prior to William Hickey's death. In the story, two Laurel-and-Hardy-like brothers struggle against one small house mouse for possession of a house that was willed to them by their father. The intelligent and crafty mouse outwits them completely. The film is set in a humorously indeterminate 20th century time period, with styles ranging from the 1940s to the 1970s. ...more on Wikipedia
Actors: Christopher Walken, Nathan Lane, Lee Evans, Michael Jeter, Maury Chaykin, + more
Initial Release: 1997
Directed by: Gore Verbinski
Also Ranked
#56 on The Best Movies of 1997
#15 on The Funniest Comedy Movies About Animals
see more on MouseHunt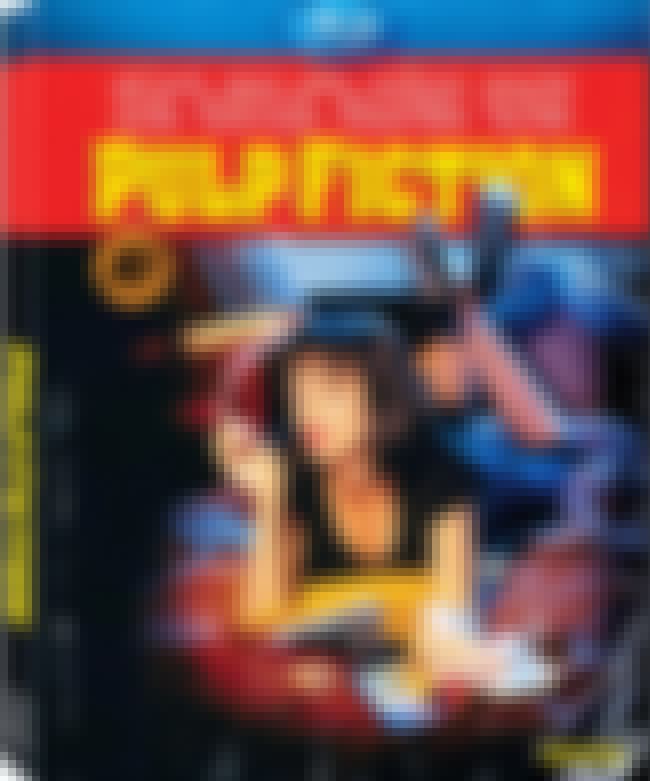 Pulp Fiction is a 1994 American black comedy crime film written and directed by Quentin Tarantino, from a story by Tarantino and Roger Avary. The film is known for its eclectic dialogue, ironic mix of humor and violence, nonlinear storyline, and a host of cinematic allusions and pop culture references. The film was nominated for seven Oscars, including Best Picture; Tarantino and Avary won for Best Original Screenplay. It was also awarded the Palme d'Or at the 1994 Cannes Film Festival. A major critical and commercial success, it revitalized the career of its leading man, John Travolta, who received an Academy Award nomination, as did costars Samuel L. Jackson and Uma Thurman. Directed in a ...more on Wikipedia
Actors: John Travolta, Bruce Willis, Uma Thurman, Samuel L. Jackson, Christopher Walken, + more
Initial Release: 1994
Directed by: Quentin Tarantino
Also Ranked
#56 on The Best Psychological Thrillers of All Time
#19 on The Most Rewatchable Movies
#10 on The Best Movies Roger Ebert Gave Four Stars
#73 on The Greatest Film Scores of All Time
see more on Pulp Fiction
Scotland, PA is a 2001 film directed and written by William Morrissette. It is a modernized version of William Shakespeare's Macbeth. The film stars James LeGros, Maura Tierney, and Christopher Walken. Shakespeare's tragedy, originally set in Dunsinane Castle in 11th century Scotland, is reworked into a dark comedy set in 1975, centered on "Duncan's Cafe", a fast-food restaurant in the small town of Scotland, Pennsylvania. The choice of Pennsylvania is arbitrary, though it coincides with two real towns, one southwest of Harrisburg on the outskirts of Chambersburg called Scotland and one just south of Erie, called Edinboro after Scotland's Edinburgh. The film was shot in Nova Scotia. The ...more on Wikipedia
Actors: Christopher Walken, Amy Smart, Andy Dick, Maura Tierney, James Rebhorn, + more
Initial Release: 2001
Directed by: Billy Morrissette
Also Ranked
#33 on The Best Shakespeare Film Adaptations
#18 on The Best Modern Versions of Shakespeare Plays
see more on Scotland, PA