Crafts
Clay Pot Craft Ideas That Don't Require Any Houseplants Whatsoever

281 votes
58 voters
3.5k views
12 items
List Rules Vote up the crafts you can't wait to try.
You don't need to be Martha Stewart to indulge in a little terracotta pot DIY. Yes, terracotta pots make great homes for plants, but if you don't have a green thumb, there are lots of clay pot crafts that don't require houseplants.
Creative ideas for clay pots run the gamut, from easy-to-make bird feeders to shabby chic votive candles. Some of them are more time-intensive than others, but some of these things you can make with terracotta pots take less than an hour or two of your time! Even if you feel like everything you have tried from Pinterest has looked less-than-ideal, these simple clay pot craft ideas are easy enough for even the most hesitant of crafters.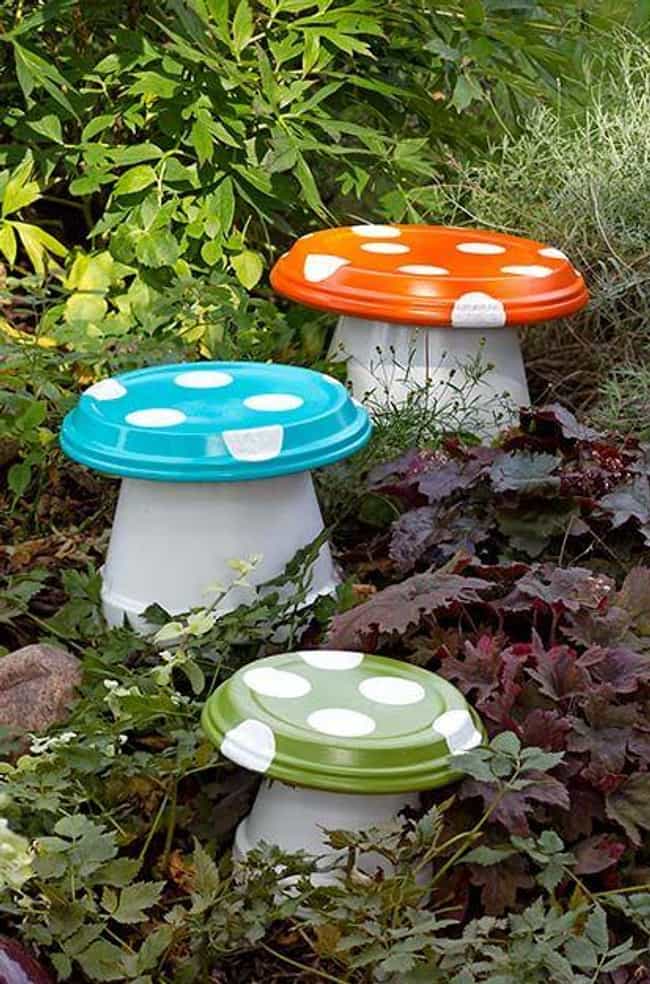 This adorable idea comes from Shalana Frisby via Birds & Blooms. You can put these just about anywhere in your garden. These DIY garden mushrooms can even sit on the front porch with you while you sip lemonade on a warm summer day. Learn how to make these adorable toadstools here!
What You Will Need:
2-3 round terra cotta pots in various sizes
2-3 round terra cotta drain plates (each 3-5 inches wider than the bottom of matching pot)
White spray paint and your choice of colors for mushroom tops
White acrylic craft paint
Waterproof clear paint-on or spray sealer
2 inch wide round sponge or spouncer
Small paintbrush
Epoxy or waterproof outdoor glue (optional)
Approximate Time: Several days (paint has to dry for 24 hours)
Approximate Cost: $

Will you try out this craft?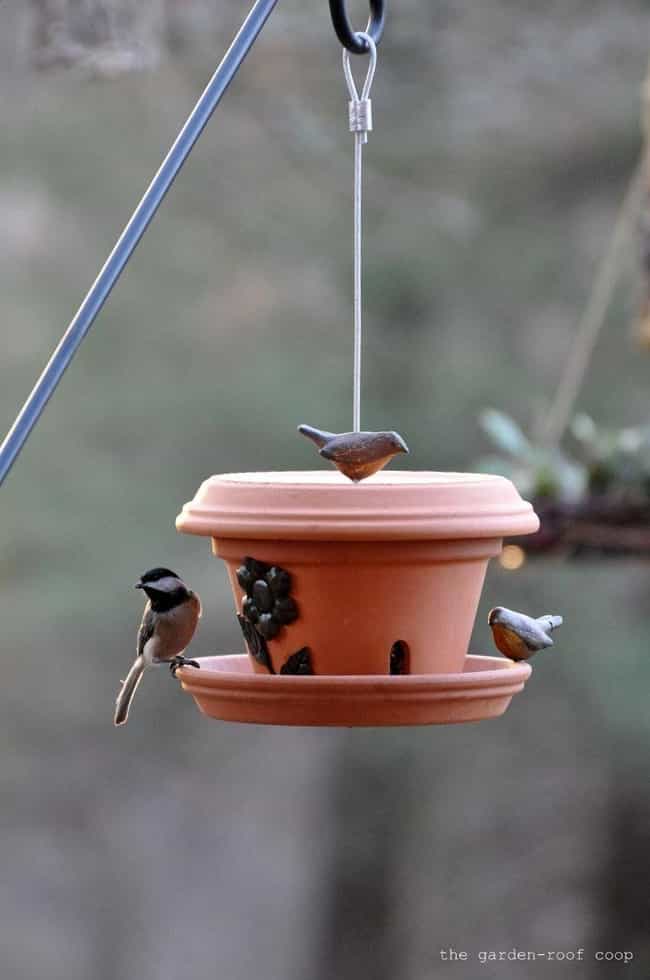 Looking to attract birds to your backyard or garden? Here are Rebecca Nickols's easy-to-follow instructions for a DIY flowerpot bird feeder, via the Garden-Roof Coop.
What You Will Need:
Terracotta or clay pot, along with two saucers
Glass and tile drill bits (1/2" for seed openings, 1/8" for hanging)
3/32" vinyl coated wire rope (about 2 feet)
1/8" ferrule and stop set
Pliers
Approximate Time: 1-2 hours
Approximate Cost: $$$ (can be less expensive if you already have drill and drill bits)

Will you try out this craft?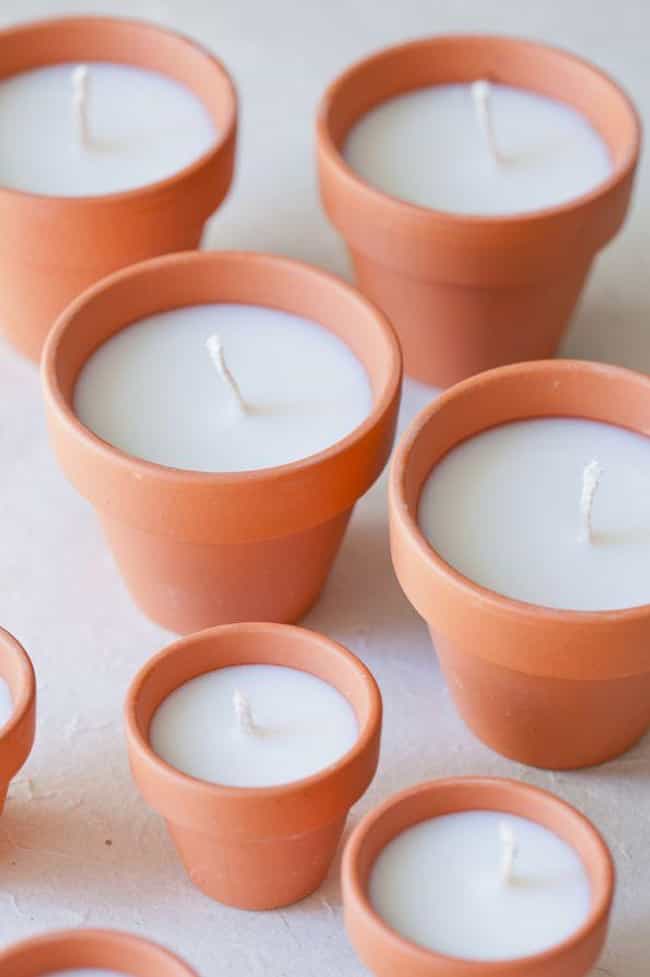 Who doesn't love candles? These DIY terracotta votives can be made in any size and any scent. For dinner parties, Eden Passante of Sugar and Charm recommends putting larger ones as a table centerpiece and smaller votives at each person's table setting. Of course, these can dress your backyard, be used as party favors, or even set a romantic mood. Follow the instructions courtesy of Eden at Sugar and Charm.
What You Will Need:
Sox wax
Double boiler (or a bowl over a pot with water)
Twigs
Wick
Mini terracotta planters
Fragrance oil of your choice
Penny
Approximate Time: 1 hour (although candle will not be solid for several hours after pouring)
Approximate Cost: $$

Will you try out this craft?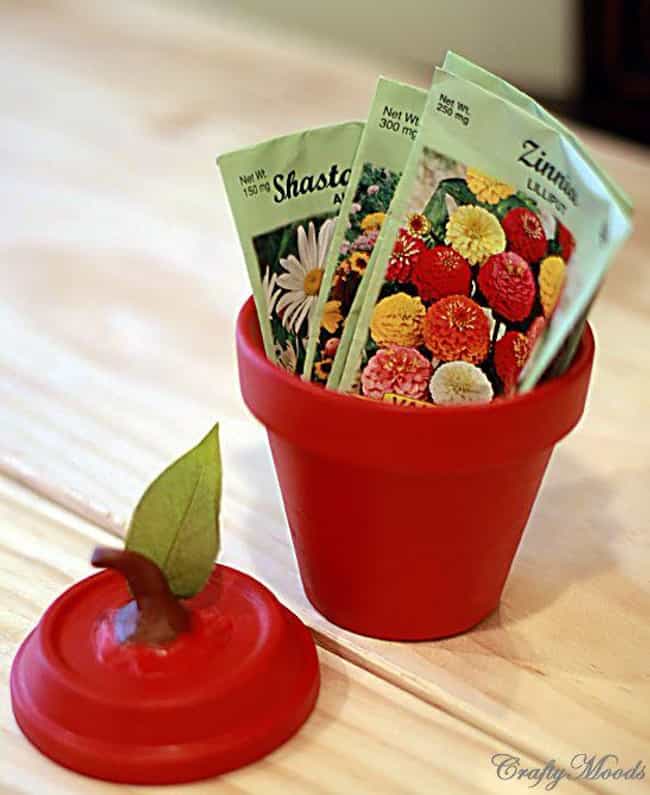 Skip the real apple and give your favorite teacher this apple clay jar with a lid. You can make them in any size. The lid can even be smaller or bigger than the pot's opening. Trish from CraftyMoods also recommends using the pots for storage. Here are the instructions for this perfect teacher gift.

What You Will Need:
Clay pot
Clay bottoms
Acrylic paints and brushes
Air dry or bakeable clay (optional)
A marble and hot glue gun (optional)
Approximate Time: 2-3 hours (most spent waiting for paint to dry)
Approximate Cost: $

Will you try out this craft?