Watchworthy
Clint Eastwood Western Roles

Updated October 14, 2019
8.2k views
16 items
List of Western movies/films with performances by Clint Eastwood, listed alphabetically with movie trailers when available. These Clint Eastwood Western roles include starring, supporting and cameo appearances. You can sort these Clint Eastwood Western movies for additional information as well, such as who directed the films and when they were released. Over the years Clint Eastwood has become known for playing characters in Western movies, so this list is the perfect resource for finding some you haven't already seen.
Examples of movies on this list include The Good, the Bad and the Ugly and Unforgiven.
This list answers the questions, "What Western movies has Clint Eastwood been in?" and "What are the best Clint Eastwood Western roles?"
You can't vote on this list, but if you want to re-order it you can re-rank the list to put your favorites at the top. (16 items)
Data-driven recommendations based on voting from over 40 million monthly visits to Ranker.
Try the free app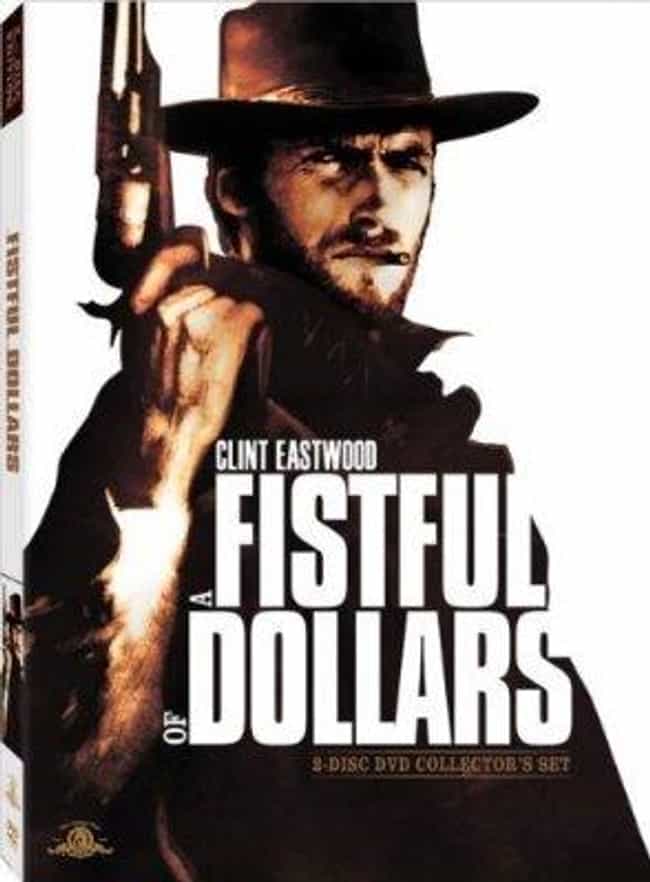 A Fistful of Dollars, titled on-screen as Fistful of Dollars, is a 1964 spaghetti western film directed by Sergio Leone and starring Clint Eastwood, alongside Gian Maria Volonté, Marianne Koch, Wolfgang Lukschy, Sieghardt Rupp, José Calvo, Antonio Prieto, and Joseph Egger. A Fistful of Dollars was filmed on a low budget, and Eastwood was paid $15,000 for his role. Released in Italy in 1964 and then in the United States in 1967, it initiated the popularity of the spaghetti western film genre. It was followed by For a Few Dollars More and The Good, the Bad and the Ugly, also starring Eastwood. Collectively, the films are known as the "Dollars Trilogy", or "The Man With No Name Trilogy". The ...more on Wikipedia
Actors: Clint Eastwood, Gian Maria Volonté, Aldo Sambrell, Mario Brega, Benito Stefanelli, + more
Released: 1964
Directed by: Sergio Leone
Ambush at Cimarron Pass is a 1958 Western film directed by Jodie Copelan, starring Scott Brady and Clint Eastwood. The film also features Margia Dean, Irving Bacon, Frank Gerstle, Baynes Barron, and William Vaughn. It was released on DVD and Blu-ray on September 24, 2013. It is the first time it has been released on any home video format, and is the only feature film ever directed by Copelan, who was primarily a film editor. ...more on Wikipedia
Actors: Clint Eastwood, Scott Brady, Irving Bacon, Frank Gerstle, Baynes Barron, + more
Released: 1958
Directed by: Jodie Copelan
Bronco Billy is a 1980 American film starring Clint Eastwood and Sondra Locke. It was directed by Eastwood and written by Dennis Hackin. ...more on Wikipedia
Actors: Clint Eastwood, Alison Eastwood, George Wendt, Geoffrey Lewis, Scatman Crothers, + more
Released: 1980
Directed by: Clint Eastwood
Coogan's Bluff is a 1968 American action film directed by Don Siegel, and starring Clint Eastwood, Lee J. Cobb, Don Stroud and Susan Clark. The film marks the first of five collaborations between Siegel and Eastwood, which continued with Two Mules for Sister Sara, The Beguiled and Dirty Harry, and finally Escape from Alcatraz. ...more on Wikipedia
Actors: Clint Eastwood, Lee J. Cobb, Don Siegel, Conrad Bain, Seymour Cassel, + more
Released: 1968
Directed by: Don Siegel