Personal hygiene in the 1700s was heavily maintained through a complicated balance of practicality, religious belief, and social position. Men and women living in colonial America washed their bodies and clothes with varying degrees of regularity, often falling victim to disease and disorder as a result. 
Despite the differing attributes of the original colonies, colonial hygiene in the earliest cities and rural settlements in America always left a lot to be desired, with odors, dirt, and waste being inescapable parts of daily life. Middle- and upper-class people tried to avoid or mask common nuisances like insects, usually to no avail, while lower classes simply struggled to survive. A lack of hygiene didn't go unnoticed, however, with dirt and grime thought to be indicative of bad manners and sloth. With so many factors to consider, here's a look at what hygiene was like in early colonial times.
Photo: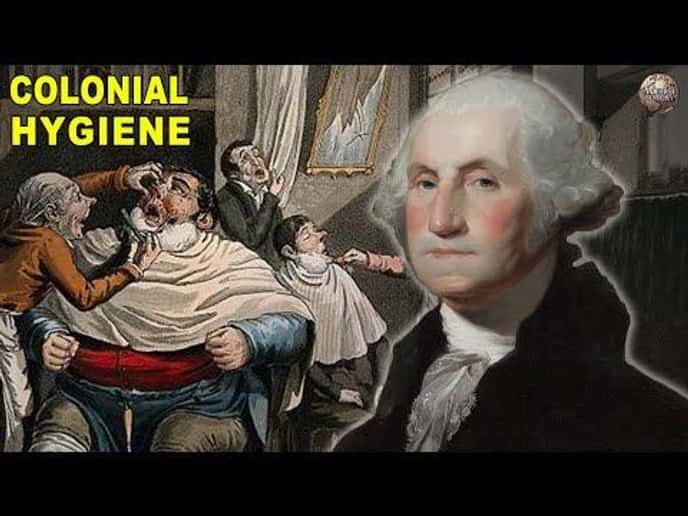 Outhouses And Privy Pots Were Used For Disposal Of All Kinds 

Photo: C.E. Turner and William Rice / Wikimedia Commons / Public Domain

Colonial households had outhouses - more accurately a covered hole in the ground - near their cabin. When individuals couldn't or didn't visit the outhouse, they could use the chamberpot inside. Chamberpots had to be emptied regularly, but were usually just dumped out of a window or near the house. In rural settings, people often lived near water sources. Human waste found its way into streams, rivers, and lakes, contaminating drinking water and spreading disease.

In urban centers like Philadelphia, however, privy pots excavated in 2014 revealed more than just typical household and human waste. When archaeologists found a dozen brick-lined privy shafts behind what was once an illegal tavern, they unearthed glasses, bottles, bowls, and drinking tankards. Other items included tanning supplies, wig curlers, and pottery made made and used by local artisans.

According to archaeologist Rebecca Yamin, the human waste was present but, more than anything, the find - which dates from right around the Revolutionary War - gave a sense of "people drinking and talking politics and arguing."