Watchworthy
Marvel Movies That Perfectly Recreate Panels From The Comics

Updated January 4, 2019
12k views
18 items
The most popular Marvel movie Easter eggs seem to be those that recreate memorable comic book moments on the big screen. Whether it be the Marvel Cinematic Universe or the multitude of Marvel films from other studios that have hit theaters over the years, each Marvel movie takes time to pay homage to the comics that inspired them.
Not every notable panel from the decades of Marvel Comics publishing history is suitable for the silver screen - and there are plenty of differences between Marvel films and the comics. Although some comic book scenes fit perfectly into the movies, Marvel still has to alter continuity to condense decades-long stories. In some rare cases, Marvel has even changed their comic book characters to match their movie counterparts.
But on occasion, the movies perfectly mirror the page.
Data-driven recommendations based on voting from over 40 million monthly visits to Ranker.
Try the free app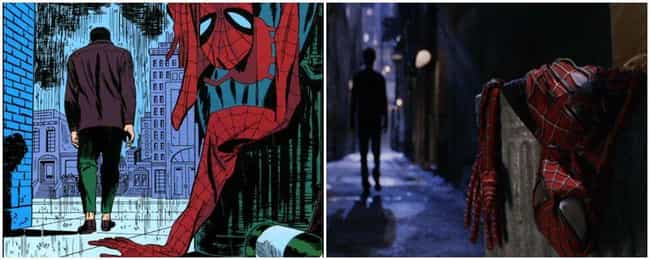 In Spider-Man 2, Peter Parker has a crisis of faith and declares himself "Spider-Man No More!" Parker ditches his costume in an alley garbage can and perfectly recreates a panel from the Amazing Spider-Man #50.
It features a similar storyline in which Parker abandons - and then reclaims - his superhero identity.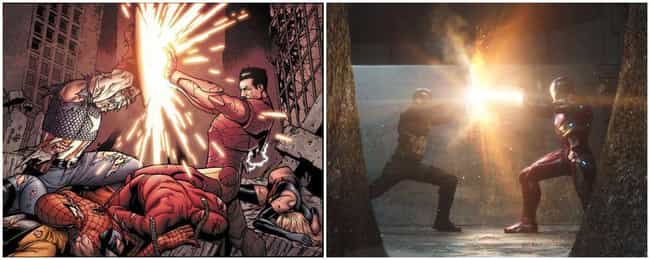 One of the most memorable moments from Captain America: Civil War was taken directly from the pages of Marvel Comics. The scene in which Cap boldly holds his shield up against the full force of Iron Man's repulsor blasts comes from the cover of Civil War #7.
It was the final issue of one of Marvel's most infamous comic events.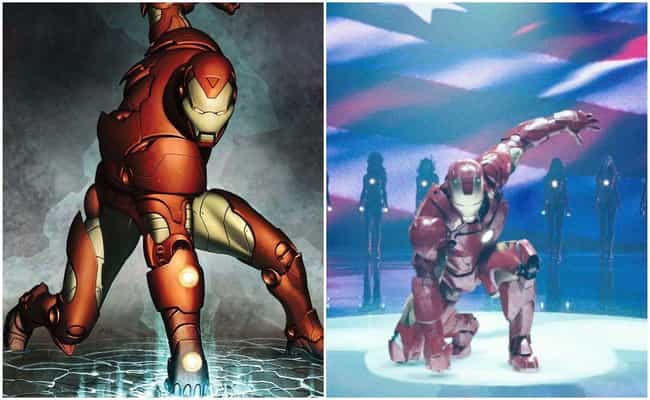 Invincible Iron Man artist Adi Granov had a lot of influence on the aesthetics of Tony Stark in the Marvel Cinematic Universe. In particular, Granov invented the "superhero landing," which was first featured on the cover of Invincible Iron Man #76. And that same pose shows up during the Stark Expo scene in Iron Man 2.
Since then, it's become a staple of the superhero film industry.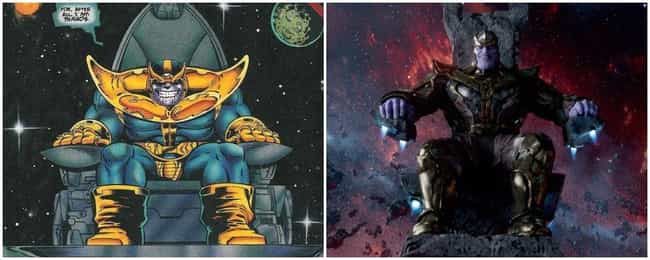 The Mad Titan Thanos made a number of appearances across the Marvel Cinematic Universe before his starring role in Avengers: Infinity War. After a post-credits tease in The Avengers, he made his proper debut in Guardians of the Galaxy, where he floats menacingly on his space throne.
This shot was taken directly from 1990's Silver Surfer #34, which kicked off Thanos's hunt for the Infinity Stones.