Total Nerd
Comic Books That Inspired Marvel's Phase Three

Has there been a greater financial success in film history the Marvel Cinematic Universe? It should really come as no surprise that the folks at Marvel Studios keep coming up with amazing and fantastic stories to tell. There are near limitless comic books for Marvel to base movies on. They do, after all, have over 75 years of publishing history backing them up.
The pages of Marvel Comics are home to myriad storylines, ranging from epic masterpieces to run-of-the-mill schlock. Each issue, however, adds to the massive backlog of potential ideas for the Marvel Cinematic Universe to incorporate. In Phase Three of the MCU, we've seen a number of published tales directly lead to high-budget, silver screen adaptations. The results speak for themselves, but do yourself a favor and check out some of the Marvel comics that inspired movies.
Civil War Obviously Adapted Civil War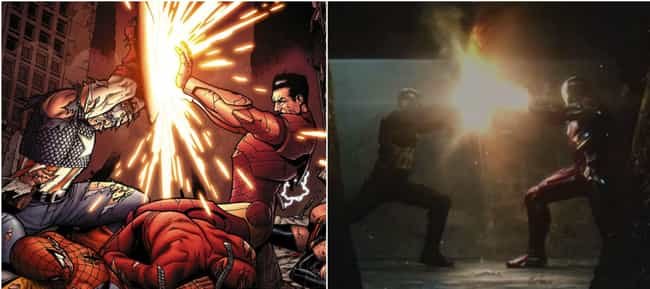 Captain America: Civil War, might seem like it took the most direct inspiration from its source material, 2006's Civil War, but the two actually have quite a few differences. Both center around a conflict between Captain America and Iron Man over a superhuman registration act, but the struggle engulfs the entire comic book universe in the source material, instead of just the Avengers.
The stakes are higher in the comic version, with a couple of notable deaths, but both feature a couple of climactic brawls and a victorious but remorseful Cap at the end of it all. The Winter Soldier plays no role in the comic book, but Spider-Man and his loyalty to Tony Stark certainly do.
Doctor Strange Directly Lifted Steve Ditko Drawings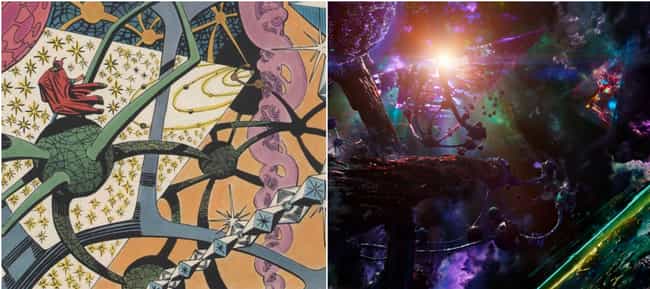 Doctor Strange's origin story is well-known to veteran comic book fans, and the Marvel Cinematic Universe didn't stray too far from the various retellings of the tale when it came to 2016's Doctor Strange. While there wasn't exactly one specific version of his origin that the film's plot borrowed from, the inspiration for its aesthetics are clear and recognizable.
Steve Ditko, the legendary artist who co-created the likes of Doctor Strange and Spider-Man, was famous for his trippy visuals and complex backgrounds in the earliest Doctor Strange publications. Many of his most famous scenes were duplicated almost exactly, but upgraded for the Sorcerer Supreme's big screen debut.
House Of M Inspired Agents Of S.H.I.E.L.D.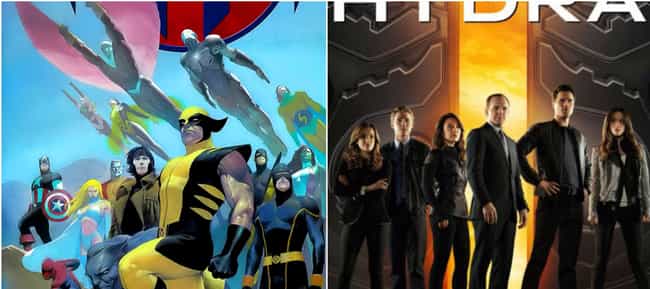 The television series Agents of S.H.I.E.L.D., which hit its fourth season in 2016, is only tangentially related to the Marvel films, despite the presence of former honorary Avenger Phil Coulson. That's why it's so surprising to find that the show borrowed a number of elements from a celebrated comic book mega-crossover that featured both the Avengers and the X-Men.
2005's House of M featured the psychotically broken Scarlet Witch using her reality-altering powers to recreate the world so that all of her (former) allies would be happy and have their greatest desires fulfilled. Agents of S.H.I.E.L.D.'s fourth season included a story arc where AIDA, a slightly-psychotic android, used a mystical artifact called the Darkhold to recreate the world so that all of her (former) allies would be happy and have their greatest regrets erased. Both AIDA and Scarlet Witch put themselves at the top of the food chain in their new universes, of course.
Thor: Ragnarok Borrows Liberally From Planet Hulk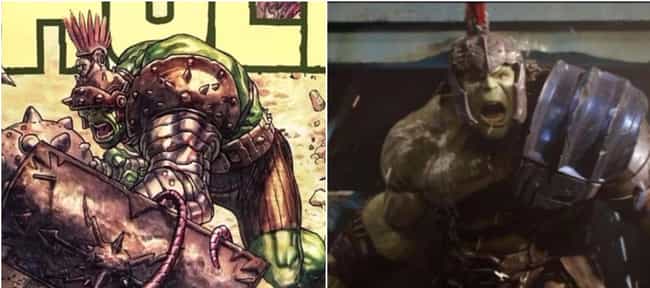 Thor: Ragnarok made no secret of taking direct inspiration from 2006's Planet Hulk storyline. Both feature the Hulk being sent to another planet and forced to fight in a gladiatorial coliseum. Hulk's costume in Ragnarok is a direct adaptation of his comic book garb, although Thor doesn't get involved in the comic, with the Silver Surfer filling his role.
At the end of Planet Hulk, the Hulk returns to Earth with a vengeance. There's little doubt that the movie-version of the Hulk will do the same before the next Avengers film rolls around.