Weird History
15 Badass Facts About Annie Oakley That Prove She Could Outshoot Any Man

Phoebe Ann Mosey was born to a poor family in rural Darke County, OH in 1860. Once she became Annie Oakley, though, she become one of the great heroines of the Old West. The facts show her knack for sharpshooting. Among other awesome Annie Oakley feats, she could shoot lit cigarettes out of people's mouths, and hit items located behind her, using just a mirror to help her aim. She and her husband, Frank Butler, traveled with other American frontier heroes as part of Buffalo Bill's Wild West show.
Oakley's career was sidelined in 1925 as the result of a car accident. The collision left her with a fractured ankle and hip. She passed away in 1926, some say as a result of her injuries, although her official cause of death was pernicious anemia. Her husband died a mere 18 days after she passed away. Apparently, he couldn't go on with his wife of 50 years.
No matter how humble her end, stories about Oakley throughout her life cement her place in history among the strong and awe-inspiring women of the Wild West.
She First Picked Up A Gun At Age 8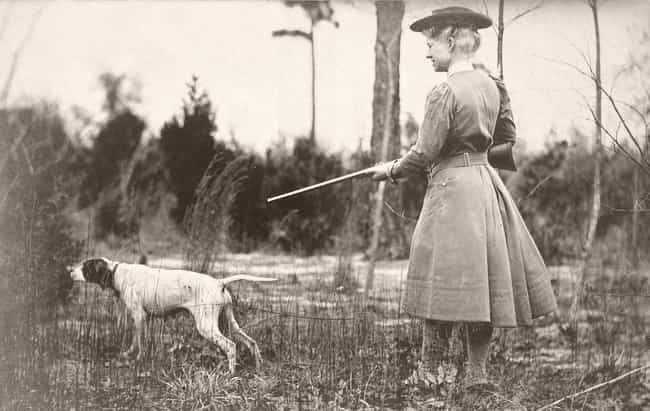 As the story goes, Oakley was 8 years old when she first picked up a gun. Her father had taught her how to hunt and trap, unusual pursuits for a young girl in the 1860s.
Oakley was once quoted as saying, "I was eight years old when I made my first shot, and I still consider it one of the best shots I ever made." Apparently, her first shot was a kill - she aimed a heavy muzzle loader at a squirrel, and got it right in the head.
She Starred In Buffalo Bill's Wild West Show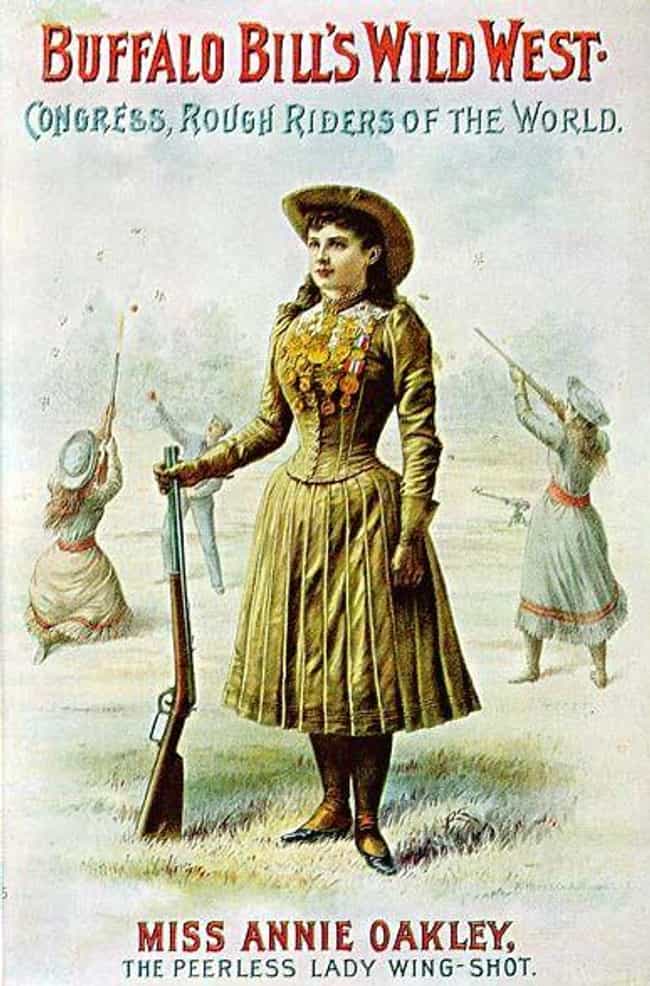 After Oakley married Frank Butler, the pair began traveling and performing as sharpshooters together. Mrs. Butler took the name "Annie Oakley," perhaps inspired by the Oakley neighborhood in Cincinnati where they lived.
In 1884, they joined the Sells Brother's Circus, but only stayed with them for one year, because a better opportunity came along: Buffalo Bill's Wild West Show. At the time, this was one of the most successful traveling acts in the United States. The performing troop traveled to 130 different U.S. cities, and even went abroad to Canada and parts of Europe.
She Out-Shot A Traveling Marksman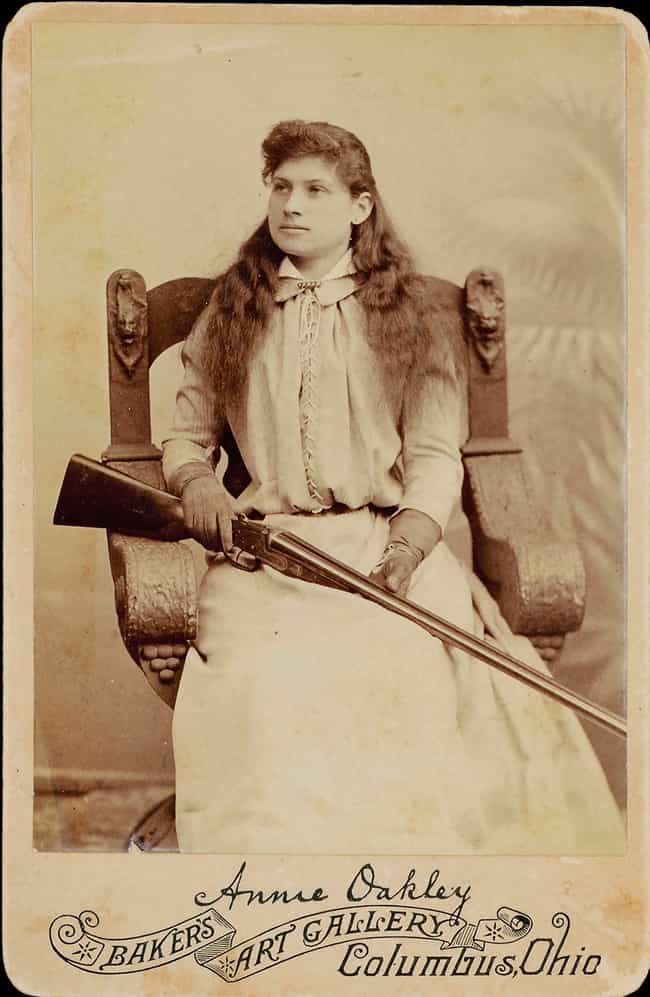 Oakley met her future husband Frank Butler when she was just 16 years old. At the time, he was working as a traveling marksmen, showing off his shooting skills to any available paid audiences. His main trick involved a series of 25 trick shots that he rarely missed.
On the day that Butler met Oakley, he offered to challenge local sharpshooters. Jack Frost, a Cincinnati hotel owner who happened to be in the area, ponied up enough money to pay for Oakley to take on Butler's challenge. Butler missing one shot, while Oakley made all 25. He was so impressed by her skills that he took the time to get to know her, and the two married in 1876.
She Could Shoot A Playing Card In Half Through Its Thin Edge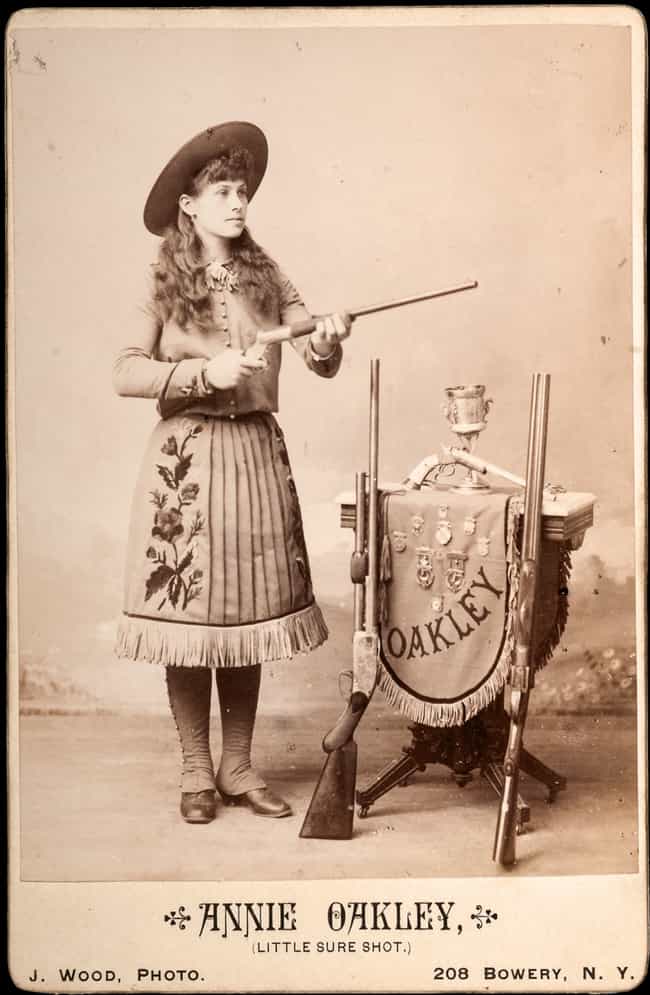 Oakley and Butler joined Buffalo Bill's Wild West Show in 1885. "Champion Markswoman" Oakley performed a number of sharpshooting tricks in the rowdy revues. She shot holes in playing cards, and could even hit the thin edge of the cards. She could shoot corks out of bottles. She could aim backwards and hit targets by simply looking in the mirror. Oakley also entered a number of shooting competitions, racking up plenty of medals and ribbons with her skills.