The Best of 2018
The Coolest New Tech In 2018

19.4k votes
5.4k voters
228.2k views
21 items
List Rules Vote up the coolest and most interesting products and technologies you're excited to see hit the market in 2018.
The world of tech is always evolving, and each new year comes with all sorts of innovations and breakthroughs from some of the coolest and most prestigious companies in the world. This year is no different, and more information is starting to come out about some of the coolest gadgets releasing in 2018. All of this cool new technology is set to be released to consumers sometime this year, and the general excitement is already making waves online.
Out of all of these cool new tech gadgets, which of these releases is building the most hype? The biggest names in tech are looking to dazzle consumers with the latest revolutionary technologies, but there are also some lesser known companies who are showcasing their newest products in order to make a name for themselves. It's up to the people to decide what new technologies are going to take 2018 by storm and which ones will ultimately be forgotten.
Check out all the new tech gadgets below and vote up the ones you're most excited to try out and see what's coming up in 2019.
back to page 1
Amazon Go Stores Provide Consumers With Check Out Free Shopping For The First Time
On January 22, 2018, Amazon opened their first Amazon Go store in Seattle, Washington. The store - which one shopper called the "future of grocery shopping" - is equipped with censors and cameras that track which items customers take or put back. This, and the help of a special Amazon Go app, automatically charges customers after they exit the store.
This eliminates the need for lines, making shopping a much quicker experience.
Are you excited for this new product?
Nutale Is A Tiny GPS Tracker Will Keep You From Losing Your Most Precious Belongings
The Nutale GPS device is billed as one of the most compact and accurate trackers in the world. Originally slated for a 2017 release, an unexpected delay means the Nutale GPS is now likely to be released in the first quarter of 2018. The device is compatible with both Android and iOS and works in conjunction with your phone to give you real-time tracking updates.
With a 30 day battery life and a memory that goes back up to four weeks, it's unlikely that you'll be losing this device anytime soon.

Are you excited for this new product?
Kuri Is A Robotic Home Assistant That's Much Cuter Than Alexa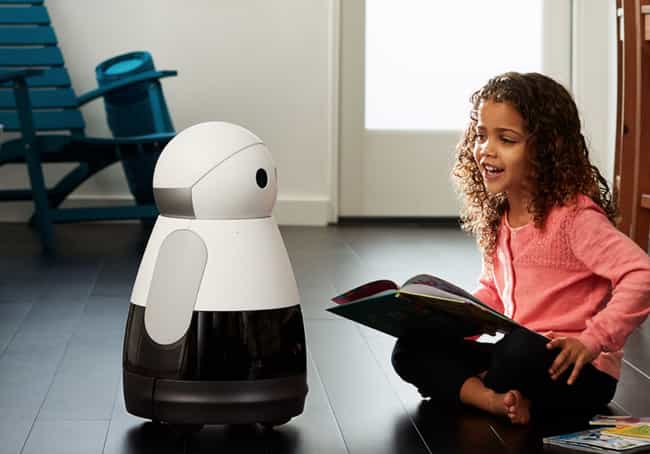 Last year saw an explosion of popularity for smart speakers that function as stay-at-home personal assistants. While it seems like very major tech company is pushing the capabilities of these devices even further, only one company is developing a smart assistant that is as adorable as it is useful. This is Kuri, a tiny robot that has all the function of Amazon's Alexa while having the added benefit of being fully mobile.
Kuri rolls around on wheels and can adapt to the floor plan of your house. Her eyes function as cameras that can take both still photos and videos, and a built in speaker means your tunes can travel with you around the apartment.

Are you excited for this new product?
A New Apple iPad Brings Affordable Technology To Schools And Is Cheaper For Adults
On March 27, 2018, Apple CEO Tim Cook announced the company was creating an iPad specifically designed for educational purposes. The device has extra storage for school projects, a 40% faster processing system, and is also compatible with Apple Pencil. The iPad has a multiple of uses in public school settings, including simulated dissections. This means students can dissect frogs and other animals via their screens, which could save schools considerable money. Schools also receive a $100 discount if they order the product for classroom use.
However, the device was not solely created for school systems. Adults can also purchase the iPad via the Apple store. Apple representatives emphasized that the new iPad could be a great way for adults to manage their workload and become more productive.
Are you excited for this new product?