Diamonds
The Coolest New Tech In 2019

Updated November 26, 2019
1.8k votes
585 voters
32.3k views
13 items
List Rules Vote up the coolest and most interesting products and technologies you're excited to see hit the market in 2019.
If there's one industry that's constantly changing and evolving, it's the tech industry. With billions upon billions of dollars pumped into tech every year, it's no surprise each passing year sees advancements in the ways we communicate, play, organize, travel, exercise, and live, which is why 2019 is shaping up to add some cool new tech into our lives.
The best new tech products for 2019 are being announced all the time, with some new technology releases kept under lock and key until the very last moment. Fortunately, there have been some announcements made regarding the coolest gadgets releasing in 2019 and they have all been compiled here for your review. Will you be the first on your block to upgrade to the newest toys in wireless communications, or be left in the dust wondering how you missed out on all of these amazing innovations?
LG's New TV Rolls Away When Not In Use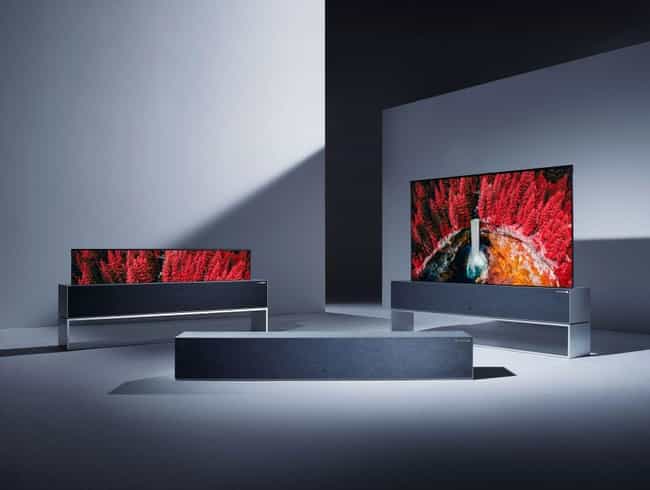 The 4K HDR Smart TV from LG was back at CES 2019, improved from its debut in 2018 and ready for the market. Calling the television - which is only available in 65" - "a piece of stand-alone art, draped in a harmonious blend of pure metal and high-end wool," LG re-imagines the television's place as center of the room. With a screen that rolls away like a poster, the TV looks like a minimalist piece of furniture when not in use.
The innovation doesn't stop there. The television can also be put into "line view," exposing only a quarter of the screen and showing a special home page with customizable modules like weather, photos, or ambient designs. With a Dolby Atmos sound system that can be used while the screen is rolled away, LG's TV seems to want to earn its place as the center of a room.
Are you excited for this new product?
This Interactive Projection Module Makes Everything A Touchscreen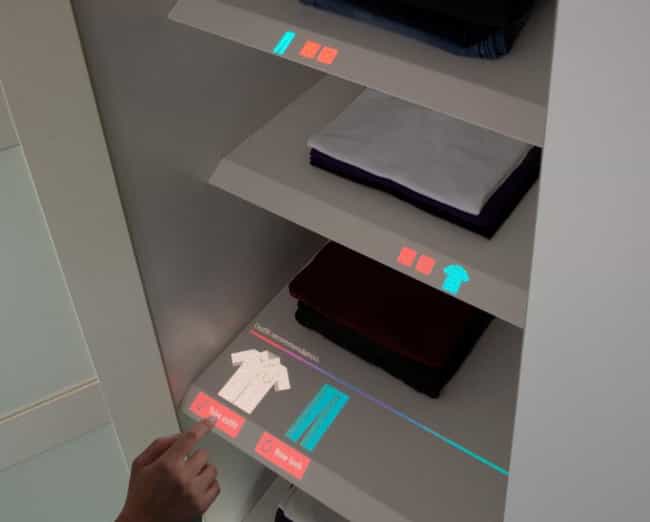 Smaller than a credit card, the BML100PI module from Bosch uses a laser to create a "focus-free image on any surface and then scans it line-by-line to detect any gestures or finger movements." In short? It makes any surface a touch screen.
When it debuted at CES 2019 in January, Bosch's projector was shown as a way to make a smart closet that could assist you in dressing for the day - seeing what clothes were available, what the weather was, and even what clothes went together. The module isn't meant for direct consumer purchase, but to be integrated into consumer products. With applications that range from "smart shelves" to providing a secondary virtual touch screen for industrial applications, the possibilities seem endless.
Are you excited for this new product?
The First Ever Quantum Computer
Though it's not a gadget or a product so much as a possibility, the sleek IBM Q System One offers a fresh future of computing. Described by IBM as "the world's first fully integrated universal quantum computing system designed for scientific and commercial use." Using quantum bits, or qubits, quantum computing allows for speed and computing processes that would vastly outperform current machines.
As it's more of a working computing concept than something you can order on Amazon, the price of the computer isn't available at this time. Customers can, however, perform quantum calculations over the internet with the computer.
Are you excited for this new product?
Who Needs Two Monitors When You Have T CRG9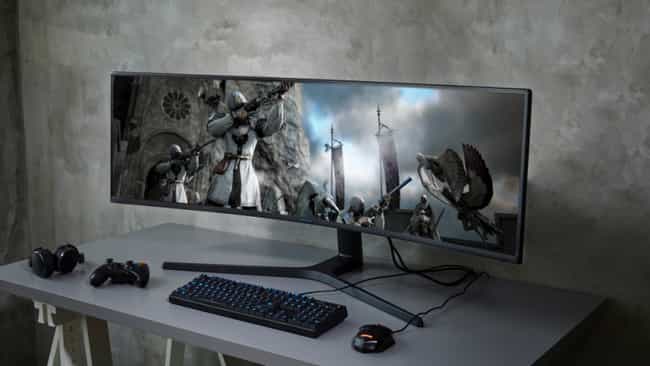 Sure, widescreen and curved monitors are nothing new, but the latest gaming monitor from Samsung offers 49-inches of curved, 3840 × 2160 full 4K resolution diplay that they say is an industry first when paired with its 2,500:1 contrast ratio. Ultra thin bezels and a fabric-covered back finish off this professional looking and powerfully capable monitor.
The combination of resolution and size gives you the equivelant of two 27-inch displays in one engrossing view.
Are you excited for this new product?