Architecture
11 Absurdly Crazy Buildings Made from Trash and Recycled Materials

When you think of buildings made of trash, what do you imagine? A steaming pile of garbage with a leaky roof? Something so dirty a vulture wouldn't land on it? Or perhaps you're thinking of something more foundational, like the house built on sand by that foolish man in the Gospels.
As it turns out, a lot of trash buildings look slick and standing firm once their enterprising owners finish putting all the bits and pieces in place. Sure, some of the final results are undeniably weird cases of what-in-the-world – but at the same time, many more are carefully planned, well-designed recycled structures that tower above a crumbling monotony of cookie-cutter neighborhoods and subdivisions.
Some of those who build with trash are driven by environmental concerns, others just want to create something colossally unique. Often enough, it's a little bit of both. And then there's the people who are just plain crazy. But somehow, regardless of the architect's state of mind, these projects always seem to turn into works of art that attract the masses.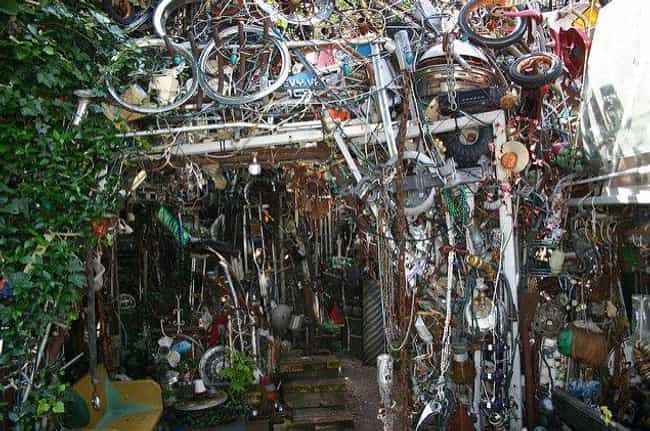 Vince Hannemann started building the Cathedral of Junk in his backyard in Austin, TX, in 1989. Over the years, it grew into a surreal palace of reclaimed trash and knick-knacks that boggles the mind and has attracted everyone from curious kids to wedding parties.
The Cathedral of Junk hides from view on Lareina Drive, but once you're on Hannemann's property, it commands the attention. There are toys, bikes, CDs, computer monitors, wine bottles, tattered American flags, statues sporting Sharpie mustaches – almost anything imaginable. Much of it arrives by donation. Roadside America took a peace pipe and aluminum rooster when it visited the attraction.
The cathedral underwent a massive zoning fight with the city of Austin in 2010, and at one point Hannemann announced he was dismantling it. However, a last-minute reprieve allowed the Cathedral of Junk to remain in all its garbage glory, so long as Hannemann did not advertise it as a tourist attraction. The cathedral went on to win the Best Organized Chaos award from The Austin Chronicle in 2012.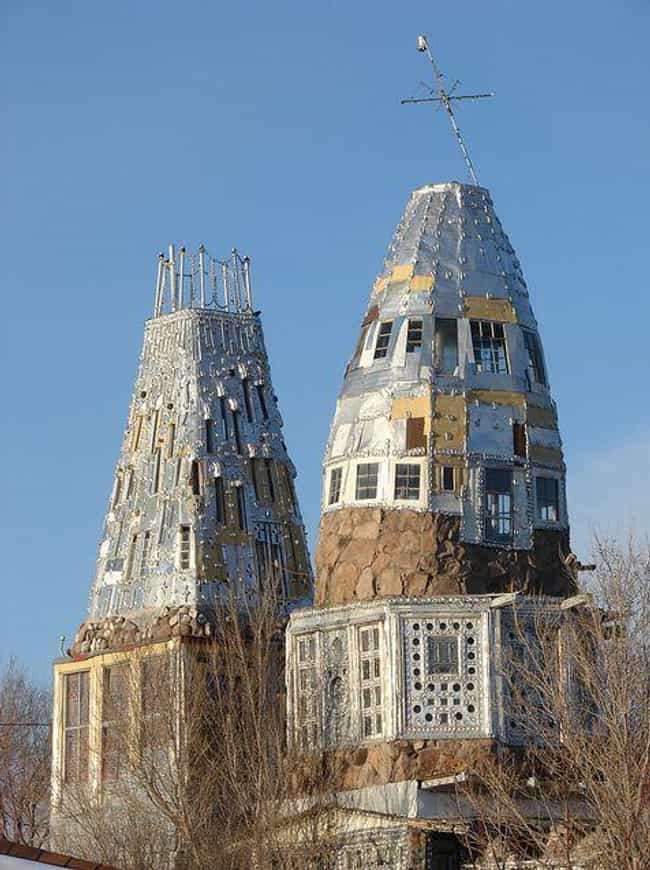 God is the one who made this, while I was under the influence. God used my hands while I was trippin'.
Those words of inspiration come straight from the mouth of Vietnam War vet Dominic "Cano" Espinosa in this short vid from Flickerista Productions, and when you see the… thing he built in Antonito, CO, you just know he did it stoned out of his mind. Two prominent towers rise above an encampment decked out with years's worth of trash hauled in from the local dump – 100-year-old planks, scrap metal, rocks, hubcaps, sliced-up beer cans galore, and a whole lot more. It all coalesces into something that can only be described as crazy.
Cano himself is just as bizarre as his creation. He says Jesus has been living in the castle since 1987, and that the world will soon end, when meteorites pound 2/3 of humanity into meat patties. He also says we never made it to the moon, and now we're trying to get to the "other one"; he's got some oddball ideas about diet and women, too.
But Cano's got heart, that's for sure. His dedication to this building is both inspiring and perplexing. If you stop by to snap some photos, he'll probably show up to offer a few nuggets of castle history – along with his trippin' vision of Jesus and judgment day.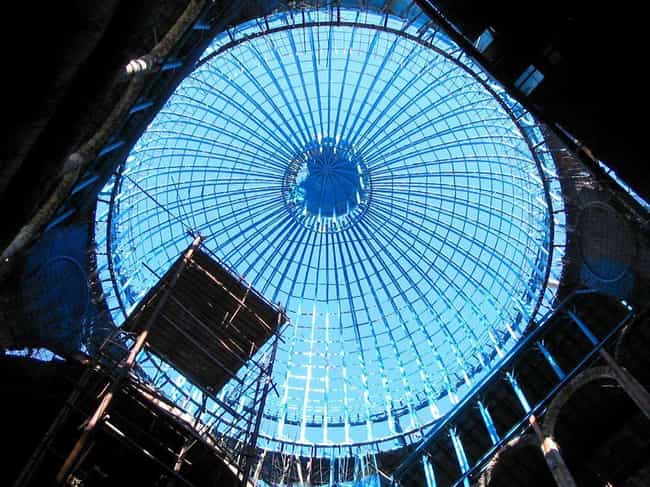 Justo Gallego Martinez's cathedral is outrageously amazing to behold. Don Justo, as he is known, is an ex-Trappist monk and farmer and, since 1963, he's been slowly but steadily building a cathedral near Madrid that's modeled on St. Peter's Basilica in Vatican City. The whole thing is made of discarded materials, and reaches a good 40 meters into the sky.
Don Justo started his project with zero construction experience, and he's still going strong in 2016. If you've got 20 minutes, Future Shorts has a great YouTube bit called The Madman and the Cathedral that delves into Don Justo's background and his longtime labor of faith.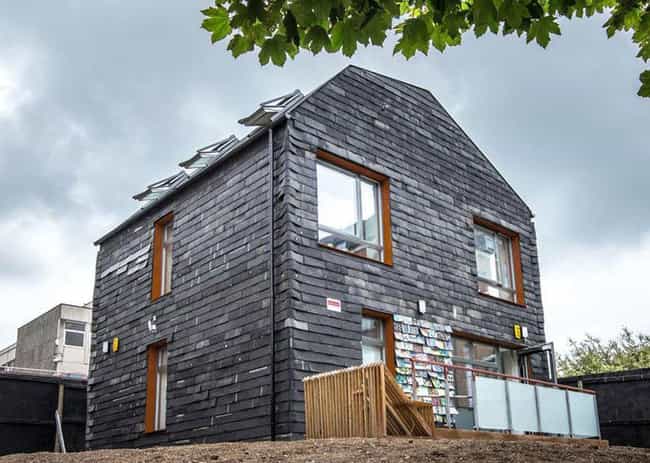 The Brighton Waste House is a research project you could live inside if it wasn't for all those pesky graduate students and workshopgoers. Built with waste materials salvaged from construction projects, this low-energy structure was completed in April 2014, and it's living proof that waste material can go a long way.
It's also proof that young people can play a big role in building innovative, contemporary housing – students at City College Brighton and Hove in England helped make this thing happen. Just a few of the items that went into its construction include vinyl banners, razors, jeans, chalk waste, and 20,000 toothbrushes.
For inspiration, the Brighton Waste House looked to The House That Kevin Built, a sustainable home that went up in London in 2008 over six days – on live TV.