2019
The Biggest Corporate Social Media Fails And Disasters Of 2019

February 8, 2019
408 votes
214 voters
10.2k views
5 items
List Rules Vote up the moments that gave you the deepest secondhand embarrassment.
It's easy to forget that even if the public social media face of a corporation seems like it has everything together, the Twitter, Instagram, and Facebook pages are run by ordinary people who sometimes make mistakes - or have to type out the mistake their bosses decided to make. Social media blunders are inevitable, and the spectacle of 2019 corporate fails draw us like moths to a flame.
With corporations thirsty to stay relevant, they often overreach their cultural bounds with public gaffes that make us cringe and rage in equal measure. Beyond just unsuccessful campaigns, the worst screw-ups shake corporate foundations. Each year brings new terrible corporate social media mistakes, and 2019 is no different.
It's embarrassing enough to make a dumb tweet, but an individual person can delete it and move on. A poorly timed joke or factually inaccurate statement from a big business gets screenshot and can tank the reputation of a company made up of hundreds or even thousands of people. What's worse, they could end up on a list of cringeworthy corporate social media fails of 2019.
Chase Bank Suggested Frivolous Spending Is Why Customer Balances Are So Low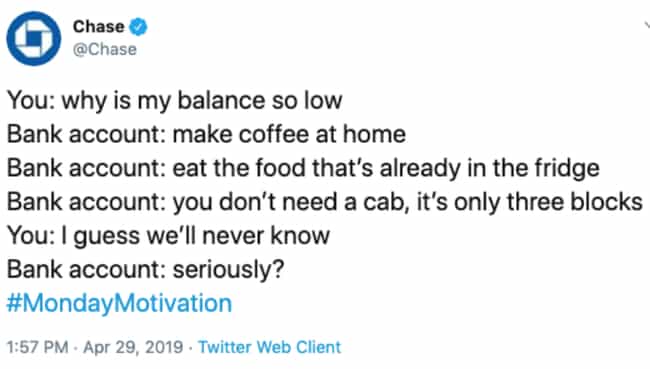 On Monday, April 29, Chase bank tweeted that the reason customer balances are so low is because of frivolous spending, and for #MondayMotivation, they should stop spending money on coffee, breakfast, and cabs. After immediate backlash, the tweet was quickly deleted and replaced with a comment that reads, "Our #MondayMotivation is to get better at #MondayMotivation tweets. Thanks for the feedback Twitter world."
Senator Elizabeth Warren stepped in and mockingly responded to the bank, tweeting:
@Chase: why aren't customers saving money?
Taxpayers: we lost our jobs/homes/savings but gave you a $25b bailout
Workers: employers don't pay living wages
Economists: rising costs + stagnant wages = 0 savings
Chase: guess we'll never know
Everyone: seriously?
#MoneyMotivation
California Democratic Representative Katie Porter pointed out, "Families aren't spending frivolously; they're trying to pay rent." Earlier in the month, Porter had shared with Congress that a JPMorgan Chase employee was short $500 every month because "her salary is insufficient to cover basic expenses."

Is this a major screw-up?
Forever 21 Sent Diet Bars With Online Orders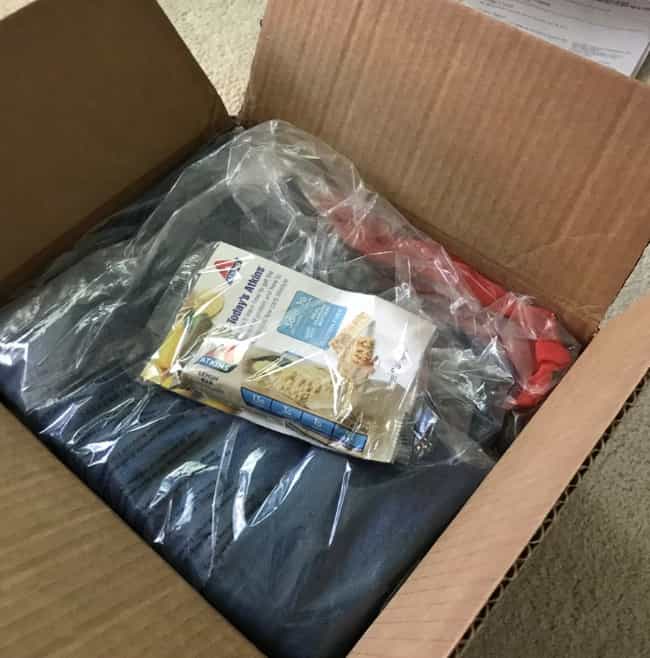 In an attempt to promote the new lemon-flavored Atkins diet bar, clothing company Forever 21 sent out a free sample with all of its online orders. Customers immediately responded on social media with outrage, accusing the company of "body shaming." One customer claimed the diet bar's slogan read, "Instead of 20 percent off your next purchase try 20 pounds instead."
One Twitter user wrote, "Apparently Forever 21 sends out Atkins bars with all of its orders, which sends a wildly dangerous message to ALL of its customers. Not only is it fat-shaming, it could also trigger people of all sizes who have [eating disorders]."
In response to the backlash, Forever 21 told The Independent:
From time to time, Forever 21 surprises our customers with free test products from third parties in their e-commerce orders. The freebie items in question were included in all online orders, across all sizes and categories, for a limited time and have since been removed. This was an oversight on our part and we sincerely apologize for any offense this may have caused to our customers, as this was not our intention in any way.

Is this a major screw-up?
Dior Created A Scent To Celebrate Native American Culture And Called It 'Sauvage'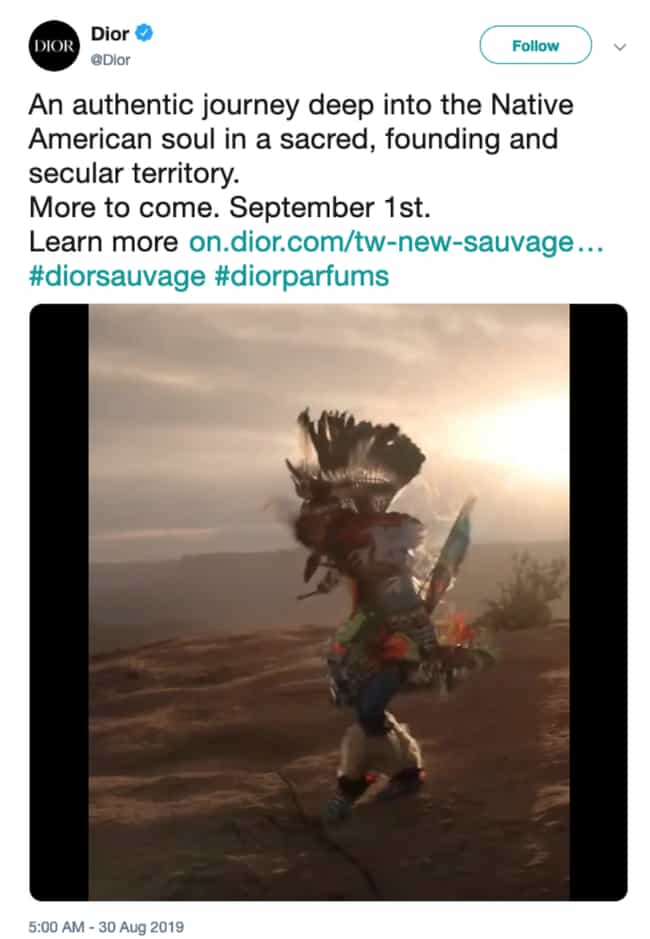 Dior perfume and fashion house released a sneak peak at an upcoming ad for their latest fragrance called "Sauvage," and immediately received backlash for cultural appropriation. The French designer brand claimed the new "parfum" represents "an authentic journey deep into the Native American soul in a sacred, founding, and secular territory." Online critics said Dior failed in that goal because the company chose to call the scent "Sauvage," which is French for "savage."
Shortly after they came under fire, Dior issued a statement to Time magazine saying that "the House of Dior, [ad filmmaker] Jean-Baptiste Mondino, and Johnny Depp [who appeared in previous ads for a male version of the fragrance] immediately decided to contact Native American consultants who are enrolled citizens of the Comanche, Isleta and Taos Pueblos, and the Pawnee Nation" once they established their new campaign would include Native American motifs, and received approval.
Dior's followers are upset to see the brand promoting the long-held tradition of projecting and interpreting Native American culture as "sauvage."

Is this a major screw-up?
Ancestry.com Released An Ad That Revised The Hardships Of Black Women In The Early American South
On April 2, Ancestry.com released an ad that showed a black woman running away with a white man in what appeared to be the early American south. Ancestry is one of the leading companies in at-home DNA testing. Backlash included statements about Ancestry whitewashing and revising the sordid history of black women in the early American south. Although Ancestry's ad suggests a biracial family was born from a fairytale love story, the reality is that white men often assaulted women of color who endured and survived years or systematic dehumanization.
Just a few weeks after the ad was posted to Ancestry.com's YouTube account, they pulled it. The company explained to Buzzfeed News, "Ancestry is committed to telling important stories from history. This ad was intended to represent one of those stories. We very much appreciate the feedback we have received and apologize for any offense that the ad may have caused."
Is this a major screw-up?