Entertainment
The Story Behind Courtney Love's Unbelievable Kidnapping And Murder Lawsuit

As details surrounding the Kurt Cobain guitar lawsuit go public, the case has become another turbulent chapter in Courtney Love's life story. A pair of lawsuits filed against Love name her as a co-conspirator in a murder plot centered on Isaiah Silva, Frances Bean Cobain's ex-husband. According to lawsuits filed by Silva and one of his exes, Love and a crew of famous associates and private investigators harassed and assaulted Silva in an attempt to regain control of the acoustic guitar that Kurt Cobain played on MTV Unplugged.
The allegations take twists that could only be found in a Hollywood feud, with each reveal more insane than the last. There's a kidnapping plot, attempts to give away dogs on Craigslist, and someone literally says, "You'll never work in this town again." Read on and try to make sense of the unbelievable lawsuit against Love.
Frances Bean Cobain Allegedly Gave Her Father's Guitar To Isaiah Silva As A Gift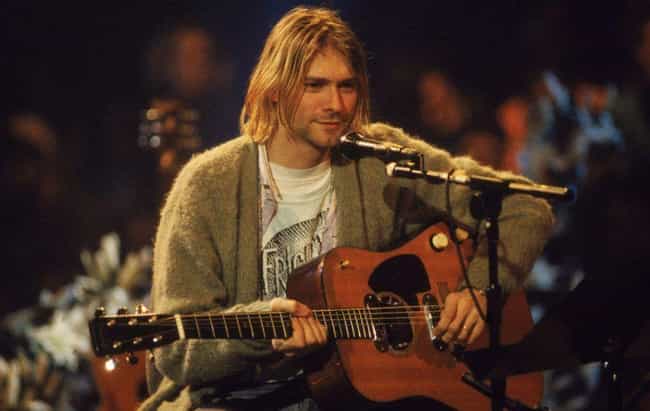 From 2014 to 2017, Frances Bean Cobain was married to musician Isaiah Silva. Months before they got married, Cobain allegedly gave Silva one of her father's most revered guitars: the 1959 Martin D-18E that was used on Nirvana's MTV Unplugged performance. After the couple divorced, they became locked in a bitter property disagreement, and the guitar was a significant point of contention.
When Silva initially claimed that the guitar was his in the divorce, Love told TMZ, "It's not his to take." She called the guitar a "treasured heirloom" and said that Frances never planned to give it away. Despite saying that she never gave Silva full ownership over the guitar, Cobain conceded in 2018 that he could keep the guitar - an heirloom worth millions of dollars - in order to complete their divorce and not pay the $25,000 a month spousal support claim that he also made.
Love Allegedly Had Three Men Invade Isaiah Silva's Home To Assault Him And Take The Guitar Back
According to Silva, former manager Sam Lutfi, actor Ross Bryant, and private investigator John Nazarian broke into his home at Love's request on June 3, 2016. The three men allegedly assaulted and intimidated Silva in an attempt to get him to give up the valuable guitar. The lawsuit accuses the three men and Love of conspiring to have Silva "burglarized, robbed, assaulted, sexually battered, kidnapped, and murdered."
Silva Claims That He Was Sexually Assaulted
Silva claims that Lutfi and two other men forced their way into his home by pretending to be LAPD officers. Silva says that once the men were in his house Lutfi grabbed Silva's genitals through his pants and said, "Listen, f*ggot, calm the f*ck down or we'll drag you upstairs and take turns f*cking you." Silva says that after the sexual assault, Lutfi and his two associates burglarized his home while searching for the guitar.
Silva Claims The Attempted Murder Was Supposed To Look Like A Suicide
According to Silva's lawsuit, if everything had gone to plan on the night of June 3, 2016, he would be dead and the world would think it was a Kurt Cobain-inspired suicide. Silva claims that before the break-in, Love and Lutfi hacked into his iMessage account and began sending messages to make Silva appear depressed and contemplating suicide. This was allegedly one piece in a larger plan to break into his home, murder him, and cover up the crime as a suicide. The alleged effect would have been to remove his claims on the guitar, his home, and spousal support in the divorce from Frances Bean Cobain.