Buildings/Attractions

Coventry Architecture: Famous Landmarks and Buildings

List of the famous landmarks that make up the Coventry skyline, listed alphabetically with photos when available. Coventry architectural landmarks as well as other major buildings, dwellings, and other structures in Coventry are included on this list. Information about these Coventry buildings is included on this list, such as when the building first opened and what architectural style it falls under. List includes both new buildings in Coventry and older historic landmarks.
List is made up of buildings like Joseph Briggs House-Coventry Town Farm and Christopher Rhodes Greene House.
This list answers the question, "What are the most famous buildings in Coventry?"
This is a good reference for research into the historical architecture in Coventry. Famous architectural houses within the city of Coventry are included as well, sometimes by address, other times listed by the name of the original home owner.
Brigham's Tavern is a historic house and traveller's accommodation at 12 Boston Turnpike in Coventry, Connecticut. It is a clapboarded two-story wood frame structure, five bays with a central chimney. Two large additions extend from the rear and left of the main block. These three sections of the house are all of 18th century origin, with the rear addition believed to be the oldest part, dating to c. 1717. The tavern had a long history, serving travellers on the turnpike between Hartford and Boston, including George Washington on at least one occasion. The property includes a second building, a c. 1870 barn The house was listed on the National Register of Historic Places in 1982. ...more on Wikipedia
City/Town: Coventry, Connecticut, USA
2
Christopher Rhodes Greene House
The Christopher Rhodes Greene House is a historic house at 2 Potter Court in Coventry, Rhode Island. The 2-1/2 story house, with a matching stable, was designed by the Providence firm of Stone & Carpenter, and built in 1883 for Christopher Rhodes Greene, one of the owners of the Clyde Bleach and Print Works, located about 1 mile away on the Pawtuxet River. The house features the irregular massing with numerous projections and window shapes and sizes, and a wraparaound porch with porte-cochere. The exterior is sheathed predominantly in wood clapboards on the lower level, and shingles cut in a variety of shapes on the upper levels. The main, south-facing, gable peak has more elaborate siding, ...more on Wikipedia
City/Town: Coventry, Rhode Island, USA
Style: Queen Anne Style architecture (Great Britain & Australia)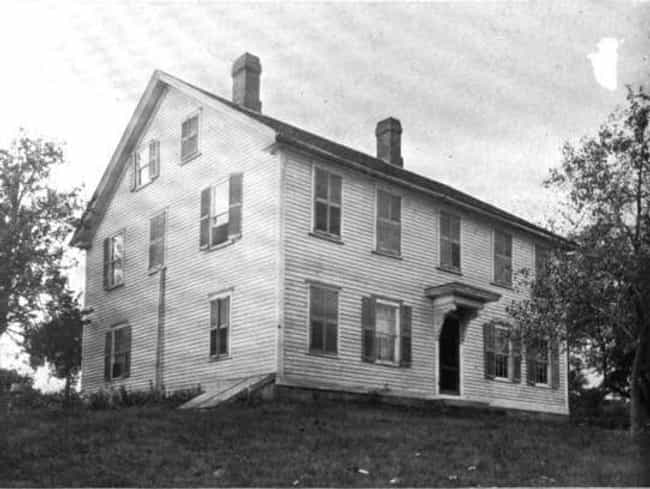 3
General Nathanael Greene Homestead
The General Nathanael Greene Homestead is historic house at 20 Taft Street in Coventry, Rhode Island. Known as Spell Hall, it was the home of American Revolutionary War general Nathanael Greene from 1770 to 1776, and was owned afterwards by his brother Jacob Greene and his wife Margaret. The house is owned and operated by the General Nathanael Greene Homestead Association, a non-profit organization, and was opened as a museum in 1924. ...more on Wikipedia
City/Town: Coventry, Rhode Island, USA
Opened: Jan 01 1774
The Harris Mill, also known as the Interlaken Mills, is a historic mill complex at 618 Main Street in the Harris village of Coventry, Rhode Island. This complex of ten buildings occupies a 4.3-acre parcel adjacent to the North Branch of the Pawtuxet River. The oldest portion of the main mill building dates to 1850, with a major expansion added in 1870. The mill was founded by Elisha Harris, who had recently served as Governor of Rhode Island, and produced cotton twill cloth. It was acquired by Interlaken Mills in 1900, for whom it had been a major supplier, and was operated until 1953. The mill was listed on the National Register of Historic Places in 2007. ...more on Wikipedia
City/Town: Coventry, Rhode Island, USA
Opened: Jan 01 1850
Style: Greek Revival