Graveyard Shift
The Creepiest Videos Caught By Ring Doorbells

Updated December 27, 2019
1.8M views
20 items
Home security technology has come a long way. We can monitor every room and the exterior for very little money, and it's all accessible from a smartphone. Even doorbell cams exist now, with companies like Ring manufacturing a variety of options. If you're not familiar with their products, Ring doorbells feature cameras built directly into the panel, so you'll always have a video of any person - or thing - that visits your porch.
Footage caught by Ring doorbells generally falls into the mundane category, but now and then, the devices capture unnerving and even downright eerie security footage. What's worse is that people have discovered ways to hack into the security devices and spy on families in their homes. A man named John Baker Orange actually sued Ring and Amazon after his Ring camera was hacked in July 2019; he claimed the companies were negligent in keeping their devices secure.
The following instances of real home surveillance footage fall into the creepy category. Be it strange and dangerous people caught on cameras, unwanted animals lingering on the porch, or potential paranormal activity, it's all been recorded.
A Man Hacks Into A Ring Camera In A Girl's Room And Claims To Be Santa Claus
An unknown man hacked into the Ring security camera in an 8-year-old child's room and claimed he was Santa Claus. The LeMay family in Memphis, TN, hoped to use the device to keep an eye on their daughters while they played; it took only a few days for the camera to be hacked.
In the video, the frightened child asks, "Who's this?" when she hears a voice. The man responds that he is her "best friend." He proceeds to prompt her, "I'm Santa Claus. Don't you want to be my best friend?" before she screams for her mom.
The man tries to tell the girl she can do whatever she wants, including break things in her room. No one knows how long he had access to the device.
Ring assured customers they were working on making sure the breach was not related to a companywide hack.
A Man Hacks A Ring Account And Speaks To The Family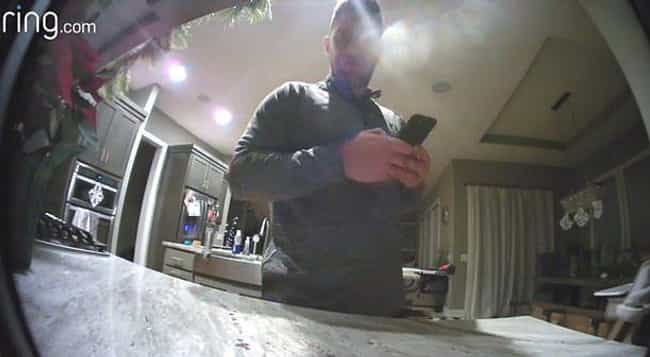 On December 11, 2019, an unidentified man hacked into the Ring doorbell account of a family in Sarpy County, NE, and spoke to the young daughter as she watched TV. Adam Krcilek shared the video, taken from his kitchen, where a disembodied voice can be heard asking, "What are you watching? Hey, what show is that? I've seen that show before. What episode are you on?" to no response.
Once Krcilek enters the room, he hears the voice and eventually disables the camera. Krcilek said that he took down all of his interior cameras, and Ring did not advise him to set up a two-factor verification when he purchased the account six months prior to the incident.
Ring assured customers the company "will continue to introduce additional security features," but that the network was not compromised. At least five families in different states have reported similar experiences.
A Woman Is Heard Screaming For Her Life In Possible Kidnapping
On November 12, 2019, disturbing footage of a woman screaming for help was captured from a Ring doorbell camera on the 3800 block of Third Avenue in the Leimert Park neighborhood of Los Angeles around 11 pm. The police were not aware of the doorbell footage until the following morning, but responded to a report of a possible kidnapping. LAPD officer Mike Lopez said responding authorities could not find evidence of a crime.
After the footage came to light, the LAPD reopened their investigation. The screams were thought to be coming from a white vehicle that drives down the street. A woman is heard yelling, "Somebody help me." A witness claimed she also heard a man say, "I'm sorry."
Detectives continue to search the area, according to TV news station KTLA 5, and requested that anyone with information contact LAPD's Southwest Division at 213-485-6570.
A Mysterious Figure Leaves Vintage Television Sets On Front Porches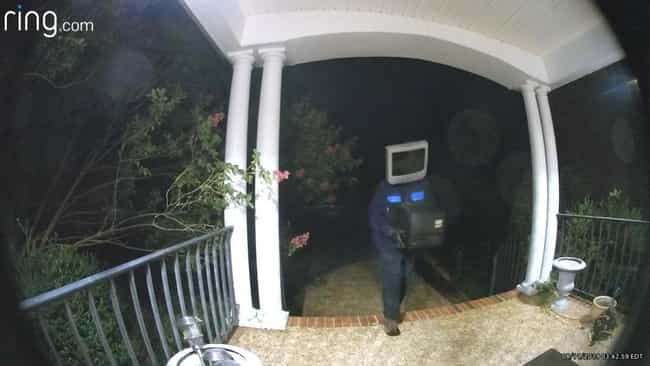 On the night of August 22, 2018, a mysterious figure known as TV Santa Claus left dozens of vintage television box sets on the front porches or residents in Grey Oaks, VA. The perpetrator was never identified and in fact returned one year later, on August 10, 2019. This time, TV Santa Claus was captured by a Ring.com doorbell camera wearing a blue jumpsuit and a television box set over their face.
The unidentified suspect hit more than 50 homes in Henrico County, VA. It is unclear if this is the work of one person, or several people. Police collected the sets the following morning, asking potential victims to report the TVs immediately if it happens again, though they believe it's a harmless prank.