Graveyard Shift 12 Disturbing Stories Of Dead Bodies Left To Decompose On Top Of Mount Everest

Mount Everest serves not only as a testament to the majesty of nature's beauty, but as an alluring siren song calling to the heart of every adventurer. Despite the risks, thousands swarm to Nepal every year in an effort to conquer the tallest point on Earth. Many of them never leave.
Over 250 bodies remain on Everest, giving it claim to the title of the world's largest open-air graveyard. While most Mount Everest deaths occur due to avalanches, falls, and exposure to the harsh climate, the area known as the "Death Zone" holds a terribly high body count and comes with its own unique set of problems.
The Death Zone is commonly known as the area above 26,000 feet. When the human body enters this altitude, it slowly starts to die. Then it becomes a race against the clock for climbers to make it from this mark to the peak and back again before their body fails them. Since oxygen at this level is only a third of what it is at sea level, climbers may find themselves sluggish, disoriented, and fatigued. The pressure makes weight feel ten times heavier and causes extreme distress on organs. Because of these severe effects, climbers usually only have a window of 48 hours inside the Death Zone and are strongly urged to use supplemental oxygen at all times.
If someone dies on Everest, it's almost impossible to retrieve their body, especially in the Death Zone. Due to unbearable weather conditions, severe lack of oxygen, pressure on dead weight, and the fact that many bodies on Mount Everest are completely frozen onto the mountain face, most corpses are left exactly as they fall. Attempts are sometimes made to retrieve the body of a loved one, but those expeditions can cost upward of $25,000 and are extremely dangerous for the retrieval team.
Overall, standard protocol is to simply let these figures, frozen in the final moments of death, become a permanent addition to the rocky terrain. It would make sense that the mountain's nickname is EVER REST.
As spring 2019 rolls around, the snow on Everest melts exposing bodies buried under the ice for years. As more bodies appear, the Expedition Operators Association of Nepal is concerned about how to retrieve them. Recovering remains from higher altitudes can cost up to $80,000. In the meantime, some climbers have begun referring to the deceased as landmarks.
back to page 1
Hannelore Schmatz Earned The Dubious Honor Of Being The First Woman To Die On Mount Everest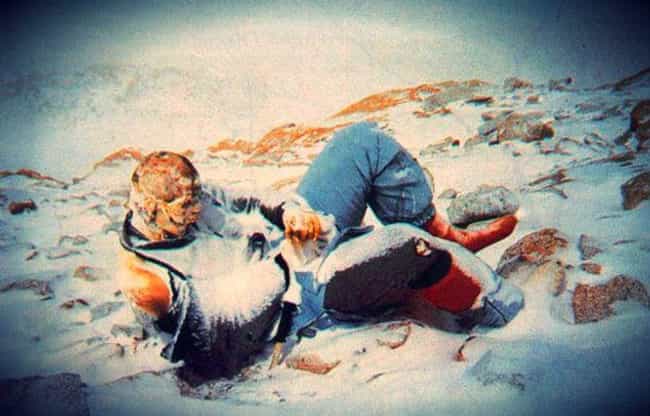 Hannelore Schmatz was a German mountaineer who successfully summitted Everest in October 1979. On the way down, Hannelore and her teammate, Ray Genet, were overcome with exhaustion and, despite their Sherpa's pleading to continue to Camp IV, they decided to spend the night inside the Death Zone. They set up a temporary camp without any cover, which was basically just sleeping bags.
Overnight, there was a severe snowstorm that left Ray Genet to die due to hypothermia. Shortly afterwards, Hannelore succumbed to exhaustion a mere 330 feet from camp. Her final words were said to be, "Water... water."
Attempts to retrieve her body in 1984 resulted in the falling deaths of two men due to the extreme winds on the southern slope. For years, climbers at Camp IV would gaze upon Hannelore's body, still leaning against her long-since-deteriorated backpack with her eyes wide open and her hair blowing in the wind. As time dragged on, she simply became known as "The German Woman."
Eventually, the high winds swept Hannelore's body down the Kangshung face.
Hannelore Schmatz was not only the first German citizen but also the first woman to perish on the upper slopes of Everest.
A Mass of Bodies Has Created An Unintentional Palette Of Explosive Colors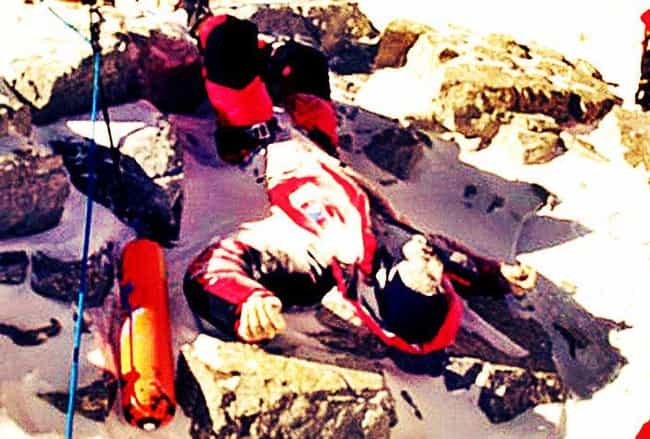 Along the Northeast Ridge Route near Everest's summit lies "Rainbow Valley." While the name may suggest happiness and hope, Rainbow Valley is essentially a mass pit of dead bodies. This macabre scene got its name from all of the vibrantly colored jackets and climbing gear that are still attached to the corpses strewn on that section of the mountain.
Climbers along this route can not help but notice this blatantly visible spectrum of color as they take this particular passage. Throughout the years, climbers have been known to push bodies over the mountainside into Rainbow Valley or cut the ropes of mummified corpses so that the way is less hazardous for those embarking on the trail.
According to Nepalese law, Everest is sacred and any bodies are to be removed immediately. However, the dilemma lies in the fact that since it is nearly impossible to retrieve bodies from the Death Zone, the bodies must stay where they are, and Rainbow Valley will only continue to accrue more hues for its palette.
This British Pilot Was Determined To Climb Everest With Only The Lord's Prayer
The most bewildering story of death on Mt. Everest is that of British soldier, pilot, mystic, and mountaineer Maurice Wilson, in 1934. Wilson was a fierce proponent of using one's faith to solve the world's problems and was inspired by George Mallory's summit expedition the previous decade. Wilson believed that by using prayer and his faith alone, he would succeed where Mallory had failed.
Wilson's plan was to fly a plane to the upper slopes of Everest and then hike up to the summit. This plan was abandoned when authorities refused to allow him to fly near Everest. Despite being a poor pilot and having used only minor hikes around the foothills near his home for his mountaineering preparations, Wilson flew into India and approached from the Rombuk Glacier. Having no climbing equipment, he found his attempts at scaling the ice walls near impossible. His inexperience as a mountaineer showed when he stumbled upon crampons (standard equipment for ice climbing) at an abandoned camp and left them behind.
Constantly losing his bearings and having to retrace his steps in horrid weather, Wilson finally retreated back to the Rombuk monastery with a twisted ankle, snow-blind and suffering from exhaustion. After several more treks marred by bad weather, no climbing equipment, and his lack of experience within a mountain environment, Sherpas Tewand and Rinzing urged him to return to camp. When Wilson did not return from his last attempt, they left the mountain and reported his death.
Maurice Wilson was found in 1935, covered in snow, surrounded by pieces of his wind-blown tent. Many of the details of Wilson's expedition come from his diary that was found in a rucksack near his corpse.
The First Shredder on Everest May Still Be Boarding Down Its Face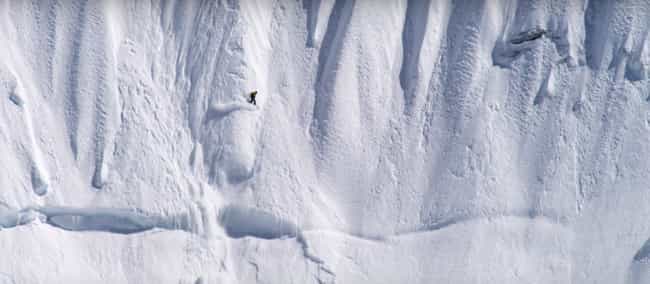 In 2001, French snowboarder Marco Siffredi became the first person to successfully snowboard down Mount Everest using the North Col passage. Siffredi, who had come from a long line of mountaineers, was disappointed that he was unable to complete his actual goal of boarding down Hornbein Couloir, which he considered to be the true face of Mount Everest.
Siffredi returned in 2002 at a time of year when the Hornbein would have amassed more snow in an attempt to ride down the steepest slope on all of Everest. He reached the summit in a grueling 12 hours with the aid of his Sherpa friend, Phurba Tashi. Upon reaching the top, Phurba was excited but Siffredi did not share his outlook.
"Tired. Tired. Too much snow. Too much climbing," Siffredi responded.
Being so late in the day with clouds beginning to fill in, the Sherpas urged Siffredi not to make the descent but he refused to pass up a chance to conquer the Holy Grail of snowboarding. That was the last time Marco Siffredi was seen alive.
As the Sherpas were packing up Camp III, they noticed a figure rise and then slide down the mountain along the North Col. This was strange because Siffredi would have been nowhere near the North Col passage and he was the only climber on Everest at the time of year. When the Sherpas investigated the area where they had seen the figure, there were no snowboarding tracks anywhere.
Marco Siffredi is forever shredding the Hornbein with the wind at his back and a smile on his face.