Graveyard Shift
12 Newly Unearthed Mass Graves That Hid Horrific Secrets

Updated June 14, 2019
121.2k views
12 items
New mass grave sites are being uncovered all the time due to modern technology, like satellite and radar, as well as the passage of time. The idea of a mass grave filled with multiple corpses is creepy enough, but sometimes it's the details uncovered that provide a truly grim picture of the lives and deaths of the people within.
Decapitation, torture, disease, and even neglect are all evident in these newly discovered mass grave sites. What may be even more unsettling are the discoveries yet to be made as investigators attempt to fill in the blanks with forensic and DNA analysis. The human capacity for darkness is well known, but what makes these mass graves so frightening is the cold, systematic nature of the killing.
2014: One Woman Finds 796 Children's Bodies In A Septic Tank Of An Irish Orphanage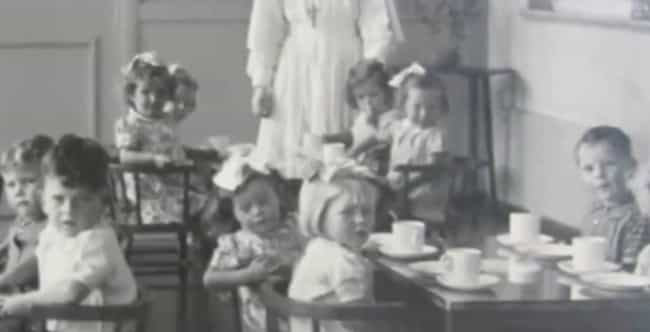 In 2014, a grisly discovery was made at a site that was formerly the Bon Secours Mother and Baby Home in Tuam, Ireland: 796 skeletons of children between the ages of three months to three years. Local historian Catherine Corless discovered the home had death certificates for nearly 800 children but only one burial record, so she pushed for an examination of the grounds. The search uncovered hundreds of bodies in the septic tank of the abandoned Catholic home for unwed mothers and their children. This discovery confirmed the decades-long suspicion that the nuns who ran the home were disposing of the bodies of children on its grounds without a proper burial.
An investigation was launched and the bodies were exhumed and subjected to DNA analysis. According to the court-appointed Mother and Baby Homes Commission, the DNA results confirmed the children were all under the age of three and they were buried mostly in the 1950s. The children died mainly of disease and symptoms related to severe neglect.
2015: Construction Worker Discovers Spanish Flu Pandemic Burial Site In Pennsylvania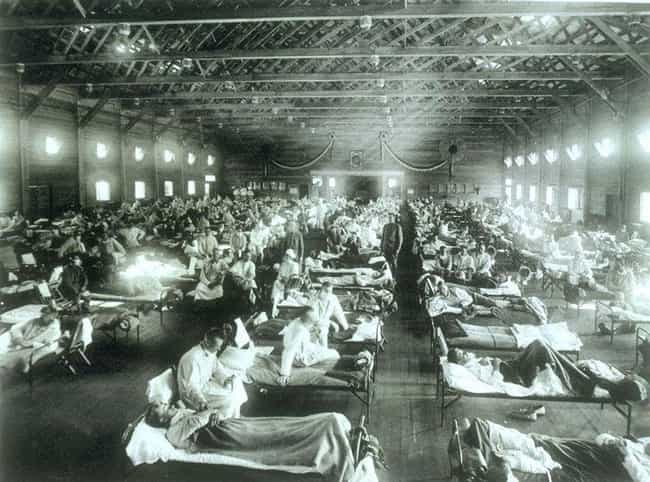 A construction worker contracted to widen Route 61 in Schuylkill Haven, PA, a small village 90 miles northwest of Philadelphia, made a gruesome find when he saw piles of human bones exposed from erosion. Kevin Mock, a transportation department archeologist, investigated and found evidence that the meadow was used a a burial ground during the 1918 flu pandemic, which killed over 50 million people worldwide.
According to the records, the town had 17,000 infections and over 1,500 deaths in one year. None of the remains found in the meadow were buried in coffins, speaking to the speed at which the disease swept through the town, and the number of the dead will remain a mystery until DNA analysis has been completed.
Authorities state that there should be no risk of contamination from unearthing the remains, despite the fact that no precautions were taken back in 1918 to contain or disinfect hundreds of diseased corpses without coffins.
2015: Colombian Authorities Uncover World's Largest Urban Mass Grave In Medellin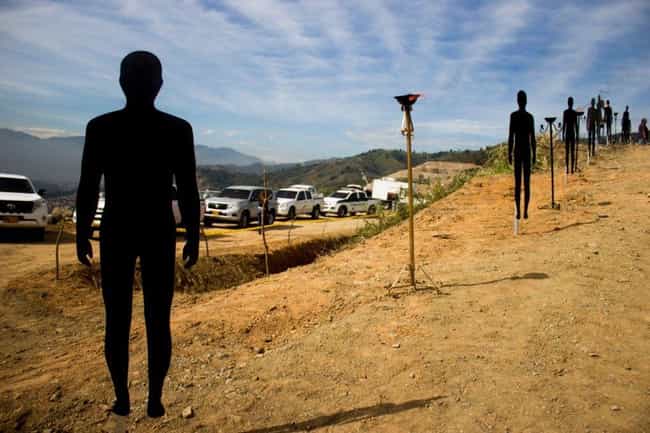 According to Justice For Colombia, a peace and social justice non-profit, Colombia finds an average of twelve bodies a week in mass graves. That number received a bump in 2015 when Colombian authorities discovered what may be the largest urban mass grave in the world in a landfill of Comuna 13, a slum on the outskirts of Medellin.
According to eyewitnesses, up to 300 corpses are buried in an area that measures 285,000 square feet (or about five football fields). They are suspected to be victims of the ongoing conflict between the government, paramilitary, and cartel forces. This makes the landfill the largest urban mass grave to ever be unearthed.
2015: African Union Finds Evidence Of Forced Cannibalism In Mass Graves All Over South Sudan
South Sudan is the world's newest nation; it declared its independence in 2011 and tragically devolved into a humanitarian disaster due to a civil war in 2013. A report released in 2015 by the African Union states that investigators found mass graves all over South Sudan with disturbing evidence of war crimes, including forced cannibalism, from all sides.
Some of the horrific acts described by the African Union report include "evidence that some of the people who had been gathered were compelled to eat human flesh, while others were forced to drink human blood belonging to a victim who had been slaughtered and his blood collected on a plate." An eyewitness account described seeing "SPLA (South Sudan army) soldiers burning dead bodies and compelling Nuer women to eat burnt flesh of burnt victims."
The South Sudanese Civil War is still being waged by a growing list of combatants every year. The cruelty of war puts the civilian population at risk and it is estimated that up to 300,000 have been killed and 1.5 million have become refugees.