Weird History
Dark Behind-The-Scenes Stories About 'I Dream Of Jeannie'

Updated May 3, 2019
323.2k views
14 items
When it comes to classic TV guilty pleasures, I Dream of Jeannie often makes the list. Starring Barbara Eden as the title character and Larry Hagman as astronaut Major Tony Nelson, who's both in love with and exasperated by Jeannie, the show was a delightfully silly and campy romp from the moment it debuted in 1965.
In the show's pilot episode, Major Nelson returns from a spaceflight and lands on a deserted South Pacific isle where he discovers an unusual bottle. When he rubs it, out pops Jeannie, who proceeds to plant a kiss square on his lips. Thus begins Jeannie and Major Nelson's culture-clash adventures and wacky road to romance.
With its Technicolor sets, flashy pastel wardrobes, and Jeannie's out-there backstory as a 2,000-year-old, blonde-haired, all-American genie supposedly from the Middle East, the show proved to be a frothy indulgence. But while Jeannie was all fun and games to viewers' eyes, life behind the sitcom scenes was much different. Behind-the-scenes I Dream of Jeannie stories show the darker side of the showbiz veil.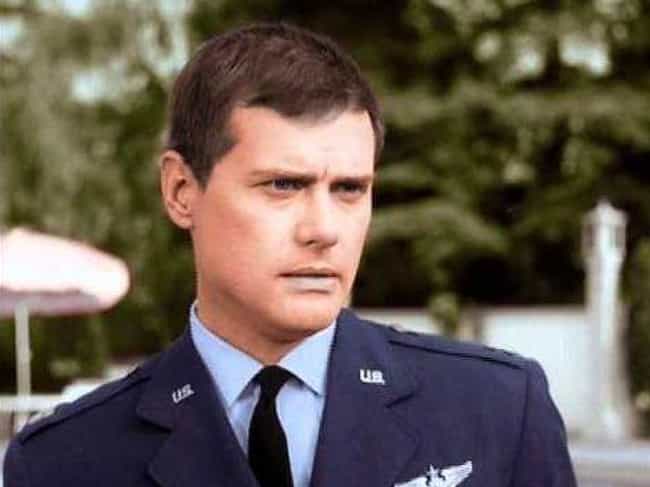 Larry Hagman Reportedly Hated Being On The Show
Larry Hagman allegedly despised being on I Dream of Jeannie and made sure everyone knew it. He learned early on that his character, Major Nelson, was neither the star nor the most interesting part. As showrunner Sidney Sheldon explained years later:
Suddenly, Larry found himself in a show with a beautiful, half-naked girl and there was no way that it would be his show. I tried everything, but it was always only Jeannie the public was interested in, and through five seasons, he became frustrated and very angry.
Hagman was purportedly so miserable that he often unloaded his ire on the cast and crew. While filming a guest spot on the show, Sammy Davis Jr. had asked Barbara Eden, "How do you work with this guy, Barbara? He's a total assh*le."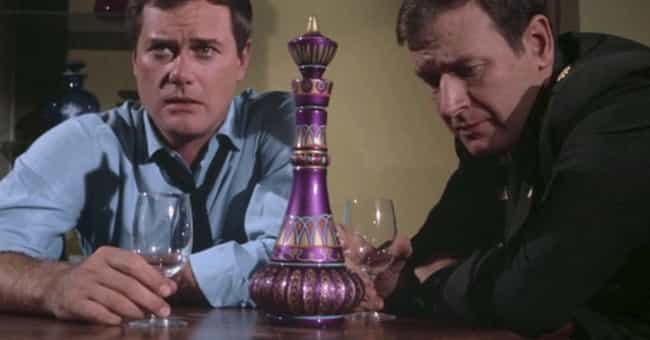 Jeannie's Bottle Was A Refashioned Jim Beam Bottle
Jeannie's exotic-looking bottle was a revamped Jim Beam bottle. It was initially a limited-edition Christmas decanter made of "fine, smoked crystal" and contained Beam's Choice premium whiskey. The show's prop masters gave the bottle an elaborate makeover.
In 2017, it sold at auction for over $34,000.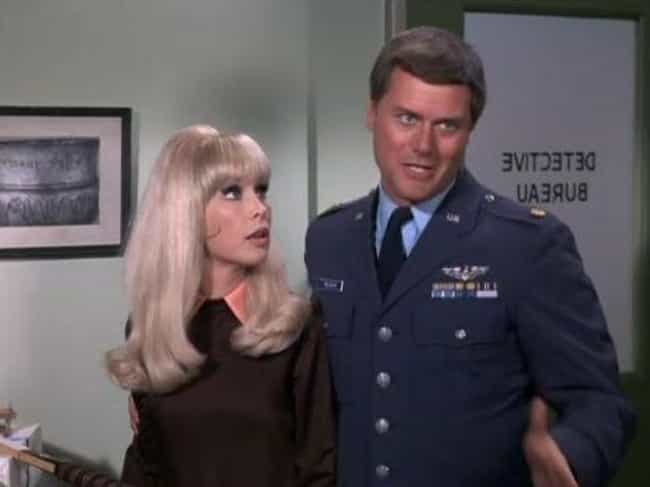 The Crew Got Back At Larry Hagman On At Least One Occasion
A hardworking team of people can only tolerate so much abuse from an actor whose behavior is allegedly akin to a combination of a tyrant and a petulant child. The Jeannie crew might have exacted a bit of revenge on Larry Hagman at least once. When the actor demanded a cup of tea, the crew obliged and brought it to him.
But before they did, they supposedly filled it with salt. Hagman spat out the tea in disgust.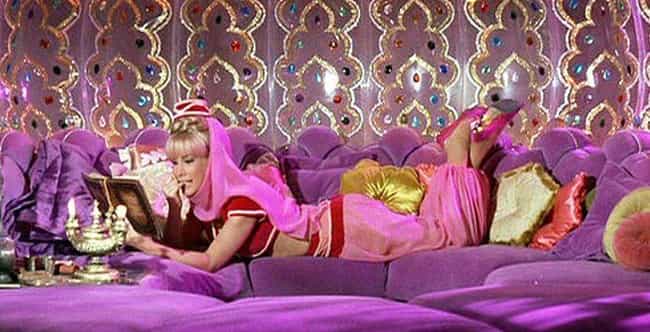 Barbara Eden Once Became Trapped In Jeannie's Bottle
Over the seasons, countless viewers surely imagined how it would feel to live in Jeannie's jewel-encrusted, cushion-strewn bottle. But Barbara Eden reportedly had to spend a little too much time in those close quarters.
During one episode's shoot, the director called for a lunch break, and the cast and crew left the set - leaving Eden trapped in her oversized bottle. She started yelling for help, and the crew eventually returned to retrieve her. But to add insult to injury, they purportedly recorded her cries and used them in the show.