Culture
10 Dark Origins Of Frida Kahlo Paintings

May 15, 2017
41.5k views
10 items
Frida Kahlo paintings are known for their dark nature and vivid – and sometimes painful – imagery. Kahlo often expressed her personal pain in her work, especially the lifelong chronic pain she experienced as a result of a bus accident she was in at just 18 years old. Frida Kahlo's inspiration was often the macabre and morbid, and this is reflected in her body of work.
The stories behind Frida Kahlo's paintings are related to news stories, personal tragedies, and her own physical decline and chronic pain. Mixing themes and imagery from Mexican folklore, pre-Colombian spirituality, Catholicism, and her own biography, Frida Kahlo made art that contains striking and evocative imagery, creating syncretic works that are wholly her own. Unique and completely original in her own right, Frida Kahlo's paintings' origin stories are often as interesting as the works themselves.
The Gruesome Painting Inspired By A Real-Life Suicide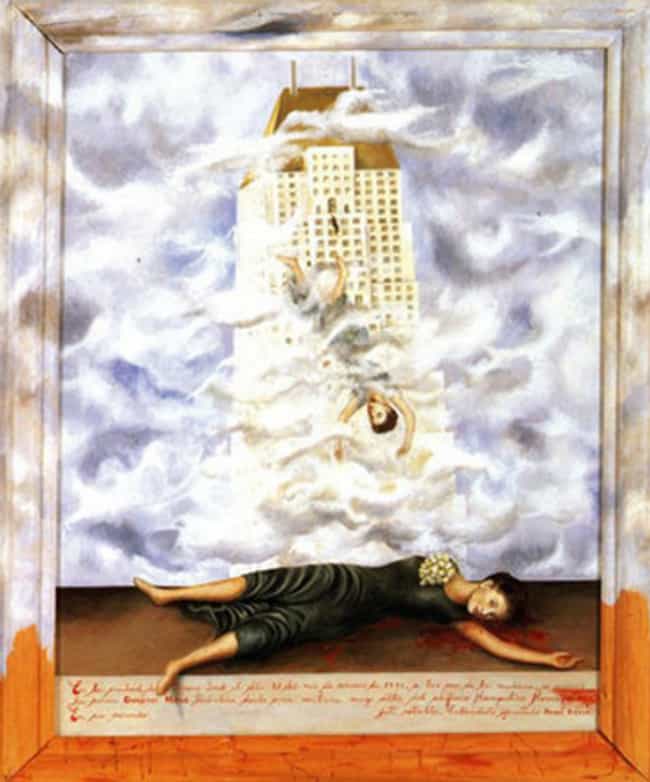 When American socialite Dorothy Hale committed suicide in 1938, her close friend Clara Boothe Luce, the publisher of Vanity Fair at the time, commissioned Frida Kahlo to paint a work commemorating Hale. Luce was shocked when Kahlo presented her with The Suicide of Dorothy Hale, a gruesome painting of Hale throwing herself off a building, which harkened to Hale's actual suicide method – throwing herself from the top of a luxury apartment suite in New York City. Initially, Luce had intended to give the painting as a gift to Hale's mother. Instead, Luce almost had the painting destroyed, but her friends convinced her to preserve it instead, and the work hangs at the Phoenix Art Museum.
A Murder Inspired One Grisly Painting's Title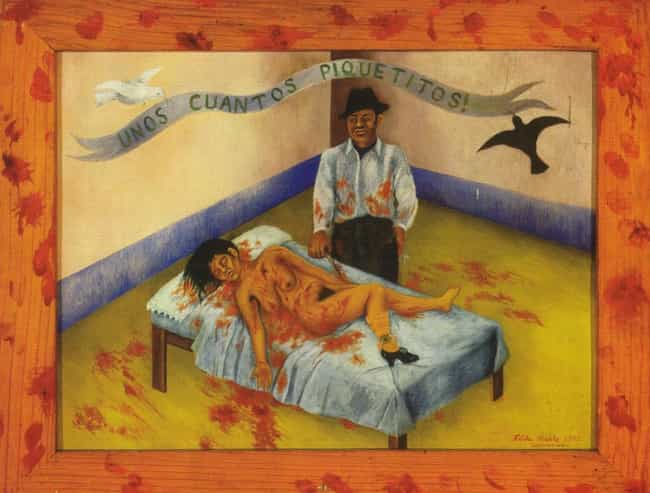 A Few Small Nips (1935) is a gruesome painting that was inspired by a real-life event. Kahlo read a story in the newspaper about a man who stabbed his wife to death while in a blind-drunken rage. When arrested, he protested by saying, "[but] all I did was give her a few small nips." Kahlo, apparently inspired, made a painting depicting the event. Some art historians believe that Kahlo combined her own personal pain with the subject matter of the news article to create the painting. For, in 1934, she had become aware of an extramarital affair her husband, Diego Rivera, was engaged in – an affair with Kahlo's sister, Cristina.
Kahlo Once Painted The Scene That Changed Her Life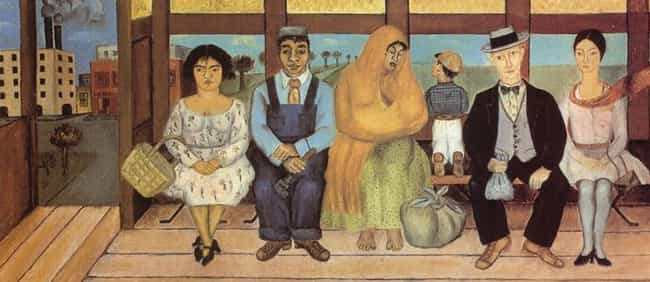 This painting, The Bus (1929), looks innocent enough, as it's a depiction of a group of people seated on a bench in a bus. However, the young woman who is gazing straight ahead at the far left of the seating arrangement may very well be Kahlo herself. Many speculate the painting is a depiction of Kahlo's memories of the scene surrounding her just before the bus she was riding collided with a trolley in 1925. The accident broke Kahlo's spinal column, ribs, and collar bone, and it sent a steel rail through her abdomen, resulting in near death and a lifetime of chronic pain.
Kahlo Movingly Depicted Her Own Miscarriage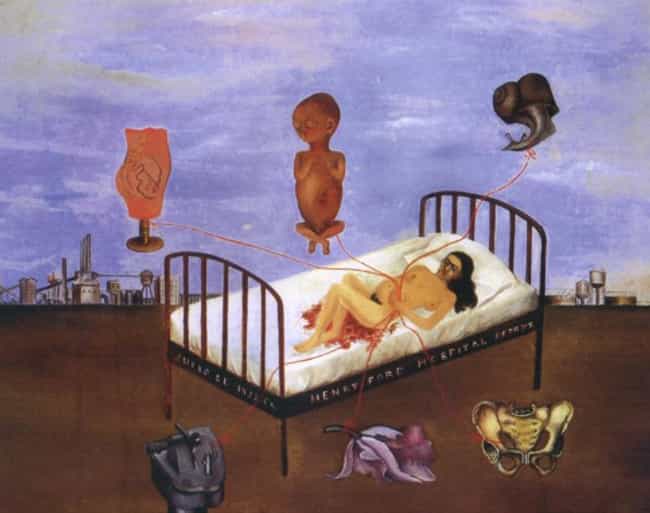 Kahlo longed to have children, but she suffered from infertility throughout her life. Henry Ford Hospital (1932) depicts Kahlo's feelings after suffering a miscarriage in Detroit, MI. The objects connected to Kahlo's body by umbilical cords are both literal and symbolic depictions of the event. The fetus of her lost son obviously falls into the former category, whereas the orchid represents a uterus, and the snail represents the slow nature of her operation and recovery.