Weird History The Making Of 'Deliverance' Was Even More Horrifying Than The Film's Backwoods Locals

The making of Deliverance was a survival story to rival the one on screen. The 1972 movie, based on James Dickey's novel of the same name, is about four friends - Lewis (Burt Reynolds), Ed (Jon Voight), Bobby (Ned Beatty), and Drew (Ronny Cox) - who take a canoe trip down the Cahulawassee River. Rapids are the least dangerous thing they have to face. After an unpleasant encounter with aggressive hillbillies, the men find themselves running for their lives.
Director John Boorman insisted on making his film feel as authentic and real as possible, and his efforts made Deliverance one of the scariest movies ever. The following anecdotes will take you behind the scenes of Deliverance to show you how he accomplished that mission. During production, all the main actors nearly perished, and there was a fair amount of drama off-camera, as well. Deliverance is to wilderness survival movies as Goodfellas is to mob movies - a prime example of a film that gets every last detail exactly right. More than 45 years later, it still retains its raw, unforgettable power.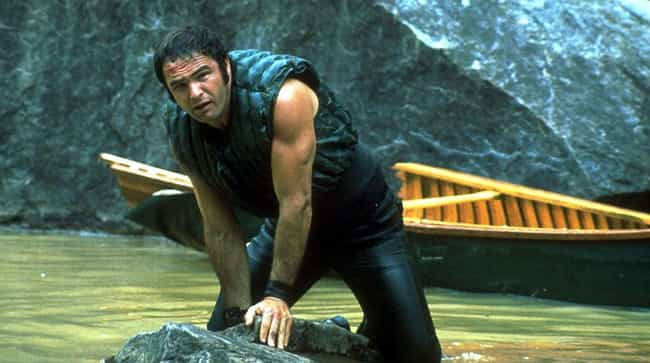 Burt Reynolds Actually Went Over The Waterfall In The Canoe
Burt Reynolds was known as a tough guy, and he reveled in the reputation. So for a scene in which Lewis goes over a waterfall in a canoe, he rebuffed John Boorman's plan to use a dummy. Reynolds said he'd do it himself. That was a big mistake.
The actor told The Hollywood Reporter:
I went over the falls and the first thing that happened, I hit a rock and cracked my tailbone, and to this day it hurts. Then I went down to the water below, and it was a whirlpool. I couldn't get out and a guy there said, "If you get caught, just go to the bottom. You can get out, but you can't swim against it." So I went down to the bottom. What he didn't tell me was it was going to shoot me up like a [geyser]. So I went out.
Adding embarrassment to injury, the force of shooting up out of the water caused Reynolds' costume to be completely torn off. He emerged from the water bare.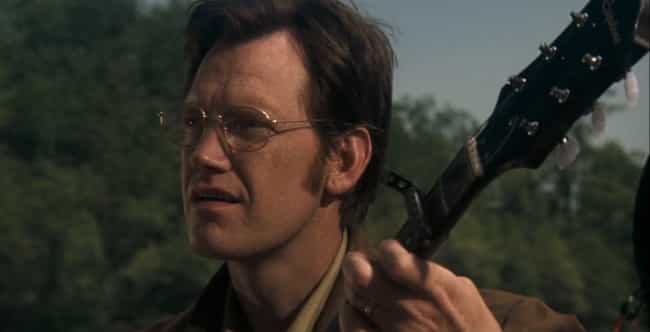 Ronny Cox Nearly Fell Down A Waterfall
Deliverance was filmed on the Chattooga River. Despite the safety precautions on set, an element of extreme danger remained. Ronny Cox found this out the hard way when he was nearly washed away during one scene.
To help make rapids, the filmmakers released a flow of water from a nearby dam when they were ready to shoot. One such rush of water flung Cox out of his canoe right on cue. However, he hit a rock just below the surface, hurting his shoulder and making it impossible to swim. The actor was supposed to grab hold of a rope after floating out of frame, but he didn't have enough strength in his good arm to hang on.
A backup rope was placed a short way down the river, right before a waterfall. Cox missed that, too. Thankfully, a prop guy jumped in with a rope around his waist, saving the actor from going over the waterfall.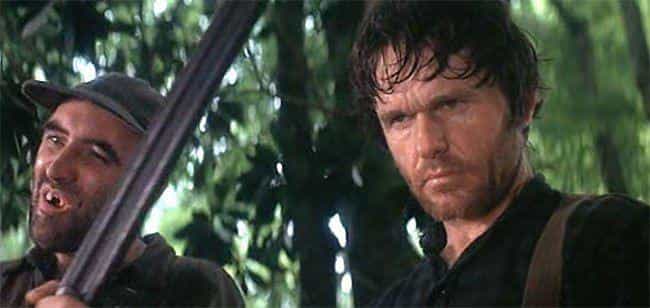 The Actor Who Played 'Mountain Man' Attempted To Frighten Ned Beatty For Real
Actor Bill McKinney plays "Mountain Man," the hillbilly who violates Ned Beatty's character, Bobby. The scene is so jarring because of the sense of menace McKinney brings. It doesn't feel like a performance. There's a good reason for that: The actor took a Method approach to his role, attempting to frighten Ned Beatty off-camera.
In a group interview included on the 40th Anniversary Blu-ray, Burt Reynolds explained what happened:
I just remember [McKinney] would sit three tables away from us during lunch, just staring at Ned. Later I asked Bill why he was doing that. He said he was taught by Bruce Dern. And Bruce Dern said your main thrust, pardon the pun, should be to scare the hell out of Ned Beatty. And he did.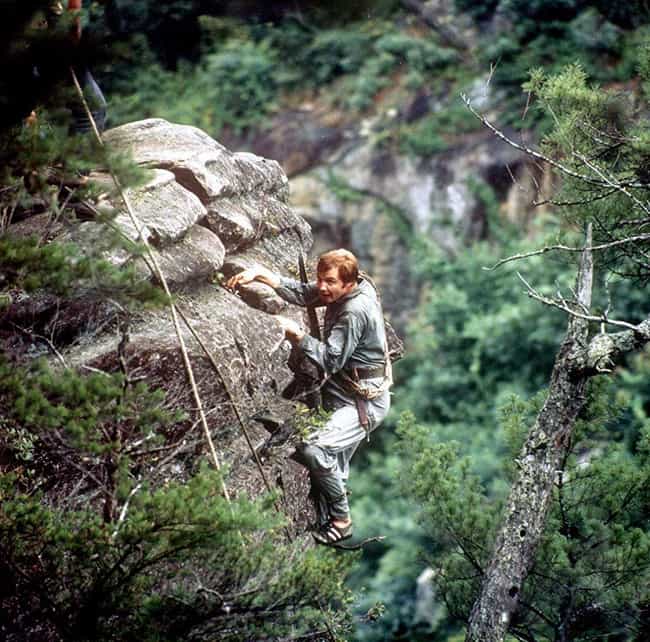 Jon Voight Almost Plummeted Off A Cliff
Jon Voight wanted to make sure the perils faced in Deliverance were palpable for the audience. This quest for authenticity nearly caused him to plummet off a cliff. The actor told The Guardian he wanted a rock-climbing scene filmed in close-up, which would prevent the use of a stuntman.
"I was about 10 feet up on the face, which was slippery and almost perpendicular," he said. "I told the two grips below me: 'If I start to fall off, I'm going to push off the rocks. And you'll catch me.' I started to slip, called out and one of them caught me."
The danger was worsened by the fact that a sharp rock was mere inches from the actor's head when he was caught.