Rock
Desert Daze 2019, Ranked

Reporting in after the first two full Desert Daze days, a resounding success on all levels. The 2019 incarnation of Desert Daze is in the second year at the Moreno Beach Club, ninety minutes east from LA in an idyllic lakefront beach setting. The festival's organizers fixed all logistical hurdles from the year prior and have now firmly established a psychedelic-leaning mostly-rock festival perfectly balancing anticipated "name" artists with up-and-comers in prime slots on the next-door second stage, starting up immediately after each main stage set.
Desert Daze has become a mid-size festival filling a needed void in the currently-rock-lacking festival landscape, so let's hope the festival organizers are turning a profit and adventurous rock fans can enjoy this for years to come. In addition to a packed lineup, this year the nighttime-friendly (and Instagram-friendly) art installations throughout were leveled-up from the 2018 incarnation for those fleeting moments when there actually wasn't a band worth seeing. Coming from this festival vet I say Huzzah, Desert Daze! My only complaint is why they start the Sunday program so late, making it pretty much impossible for anybody with a job to stay for all three nights. But hey I'm an old guy so maybe in the minority with this opinion. Anyhow, to the Rankings (in this case there should be no losers as every artist I saw had their moments, but I still gotta rank):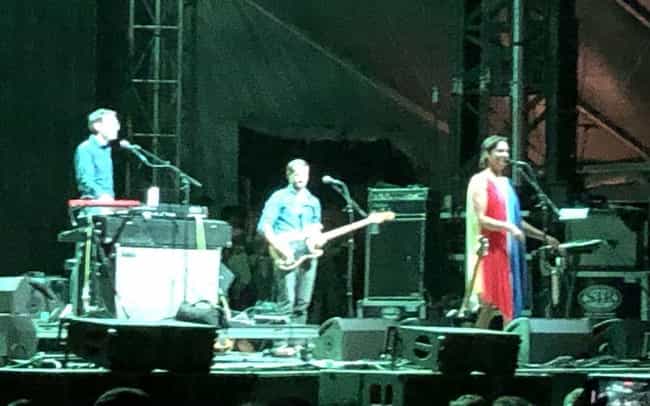 While excited for the Stereolab re-u, I would not have guessed they would be my absolute highlight of the fest. Sometimes when bands reunite, the combination of new energy and a career spanning set list means the reunion actually is better than the original live shows. This was definitely the case here having seen the original lineup a few times back in the day. Many of the songs were at least somewhat re-arranged; were extended out a bit longer. Laetitia seemed super gracious and happy to be out there. It was truly a momentous set. At minimum, in my top 5 favorite shows of the year.
see more on Stereolab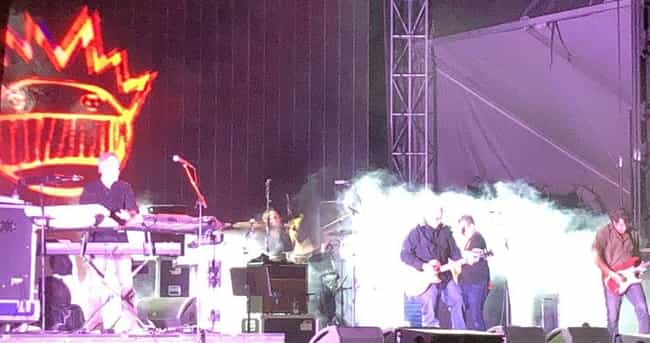 For the first time ever, Ween performed their classic 1994 album, Chocolate and Cheese, in full. A personal favorite of mine. I was not unhappy to see the 13 song album stretched out to 90 minutes. Enjoyed the show as much as any Ween I've seen, and they're a live favorite of mine to begin with. Seemed like these versions were taken a step further than usual, for example "Roses Are Free," was jammed out Thin Lizzy dual-lead style in an extended outro. After the main set they finished with a grip of mostly older songs. Aaron looked happy and healthy. One of the best shows I've ever seen Ween play, and a big improvement from the last time I saw them in L.A. (Palladium a few years back).
see more on Ween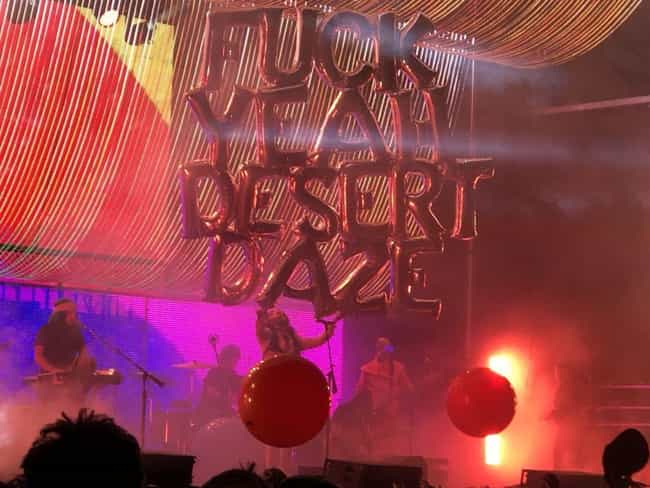 For the most part, the Lips were fantastic. Having seen them almost too many times Soft Bulletin/Yoshimi era when the live show got kinda samey, I had a bit of trepidation, as did my friends. We were all blown away by the total musical reinterpretation of The Soft Bulletin, with almost every song extending out instrumentally and even the forgotten tracks top-notch. And a super impressive stage presentation, even by Lips standards. Would have been the best set of the weekend save for two things. First, after over 80 minutes of The Soft Bulletin it would have been badass to change up the end and encore with (any) "other-era" Lips, at least for my tastes. Instead, they did 3 songs off Yoshimi. Also, as is often the case, Wayne just talks too much. Among other things, haranguing the late night, chilled-out-but-clearly-digging-it-crowd about "not being awake enough" at least three times was a real buzzkill. Less talk more rock!
see more on The Flaming Lips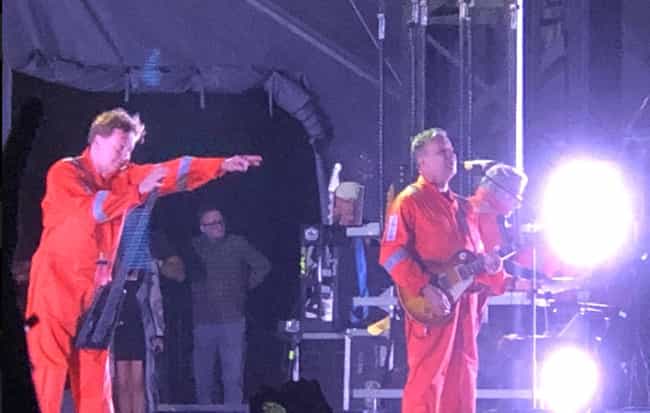 Having only played one other full show in the last five years, and billed as part of a yet-to-be-announced farewell tour, this DEVO reunion was probably the "most special get" of DD19. The twilight Saturday set also drew the biggest crowd, who sat patiently through an at-20-minutes-perhaps-a-bit-too-long "corporate Devolution" video. Although they started with some lesser tracks, they sounded strong and both the musical and performing energy were high from the get-go. Halfway through they threw a short film on and costume-changed into jumpsuits, switching to a more guitar-focused attack andpulling out the bangers ("Uncontrollable Urge" was my song-highlight of the whole festival). Mothersbaugh went off at the end for another costume change (into Booji Boy) which they changed up with a bizarre Trump surreal story which didn't quite work but hey give them points for trying something unique. Although two of the original four members have passed, DEVO are still a band worth catching if they do take this show out for a farewell lap.
see more on Devo