Graveyard Shift
Dexter Morgan's Infamous 'Work' Rooms, Ranked By Practicality

Updated December 16, 2019
87 votes
24 voters
1.4k views
14 items
List Rules Vote up the work rooms that are well put together.
Dexter Morgan learned how to construct the perfect "work" room over the course of eight seasons on the Showtime series Dexter. He could pick out any abandoned property, construction zone, or burial site to wrap in plastic and conduct his business of bloody vengeance on those who evaded the justice system. Dexter is a blood-splatter analyst by day, guided by his "dark passenger" to take care of a more gruesome business by night. Like anyone else with a side job, he needs space to work. His irresistible urges lead to the emergence of these infamous Dexter plastic rooms, each with their own pros and cons of practicality.
Dexter uses his work rooms to act as judge, jury, and executioner of those who wrong the innocent - and the last place one would want to wake up in would be in a Dexter work room. If you were in Dexter's line of work, which room would you find most practical?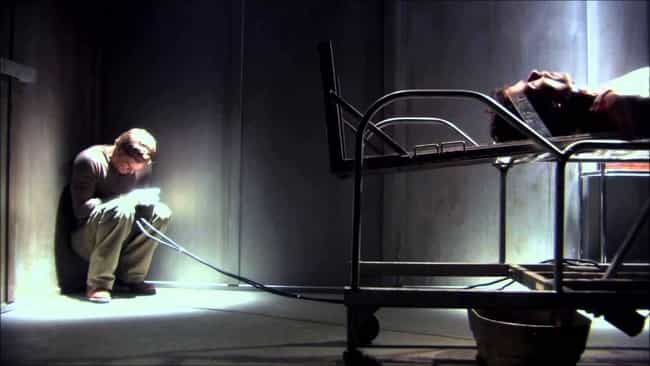 Episode: Season 1, episode 12, "Born Free"
Location: Brian Moser finds himself in his own secret slaying room in his apartment.
Who's On The Table? Brian Moser, AKA the Ice Truck Killer, and Dexter's destructive biological brother, seduces Deb and forces Dexter into a series of mind games. He eventually apprehends Deb and straps her to a table the same way Dexter usually straps down his prey. He tries to get Dexter to end his sister and join him in his spree, but ultimately underestimates the power of Harry's code.
Pros: Not only is Brian's work room meticulously hidden from any potential outside parties, but it's also set up in such a way that Dexter can stage the scene to appear as if he took his own life. The clean-up is minimal, and any accidental fingerprints left behind can be explained.
Cons: More than anything else, Dexter has to smuggle Brian into the apartment undetected, which can be difficult in a walkup apartment with close neighbors.
Arthur Mitchell AKA Trinity's Room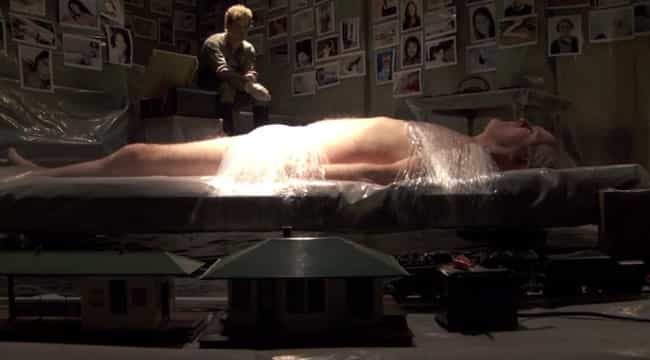 Episode: Season 4, episode 12, "The Getaway"
Location: This work room is constructed in the same location that Arthur Mitchell, AKA Trinity, would take the children he nabbed. This is the second room Dexter constructs for Mitchell; the first is at his hotel, but it goes unused when Mitchell gets the drop on his nemesis.
Who's On The Table? Arthur Mitchell lands on Dexter's table because of his infamous cycle of slayings and poor treatment of his family. At first, Dexter thought he could learn a trick or two about how to maintain a healthy family while continuing his extracurricular activities by befriending Mitchell. When Mitchell turns out to be a less-than-stellar father and husband, Dexter relinquishes his mentorship and wraps him in plastic.
Pros: Since Dexter's first room designed for Mitchell goes unused, he has to make a quick turnaround and set up the new space with efficiency. Not only does this room have plenty of wall space to put up photos of Mitchell's prey, but it's also secluded enough that he can guarantee he won't be interrupted.
Cons: Since the work room was fashioned on the fly, Dexter's meticulous plastic wrapping may have missed a step or two, leaving the risk of DNA evidence.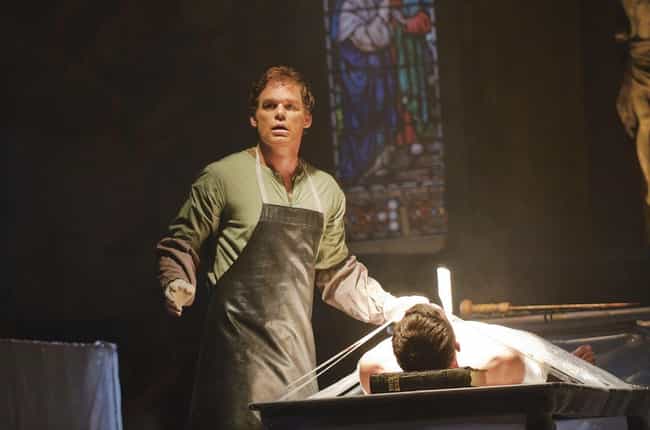 Episode: Season 6, episode 12, "This Is the Way the World Ends"
Location: As a reference to Travis Marshall's religion-based spree, Dexter sets up his final resting place in an abandoned church.
Who's On The Table? Travis Marshall, the Doomsday Killer, finds himself on Dexter's table after using his own twisted biblical interpretations as an excuse to target innocent people. He believed his purposeful destruction of mankind would bring the end of days. He even went after innocent children, namely Harrison, Dexter's son.
Pros: Dexter lets his sense of "poetic justice" get the better of him by setting up Travis Marshall's table in an abandoned church. Though spacious and relatively private, churches, even abandoned ones, tend to attract unwanted visitors.
Cons: This workspace is too accessible with too many entrance points, letting anyone walk in without prior warning for Dexter, who is too wrapped up in his work to be paying much attention to outside noise anyway. Lighting is also problematic since electricity is not readily available and Dexter conducts his business at night. The cons of this location are made especially clear when his sister, Debra Morgan, walks in at exactly the wrong moment.
Episode: Season 7, episode 6, "Do the Wrong Thing"
Location: Hannah McKay finds herself strapped down in a closed amusement park.
Who's On The Table? Hannah McKay, one of Dexter's love interests, is responsible for poisoning an author who threatened to expose her past. Dexter hopes to use Hannah to relieve some of the tension built up after his sister finds out about his secret double life. He ultimately frees her, however, after he realizes she's not afraid of him, and is acting out of defense rather than maliciousness. The two have relations and begin a romantic courting of each other, only to face Deb's interference when she asks Dexter to take care of Hannah for her.
Pros: This is a very well-lit and festive work room chosen and constructed by Dexter. Other than the usual plastic and duct tape, Dexter is able to quickly set up this space, and makes efficient use of the surrounding decor.
Cons: The concrete floor would be difficult to clean if it were to soiled by bodily fluids. Although the park is closed, it's possible that a security force could spot Dexter, and if Hannah screams, it's likely someone would hear her.