Total Nerd
'Dick Tracy' Was A Prestige Comic Book Movie That Came Out 25 Years Too Early

Updated January 24, 2020
8.8k views
14 items
Four-color detective hero Dick Tracy, with his famous wristwatch radio and unmistakable yellow overcoat and fedora, got his start in a syndicated comic strip by Chester Gould that began publication in 1931. More than half a century later, the Dick Tracy movie was released, with director Warren Beatty in the lead role. A lot of money and effort went into promoting the film, as Disney positioned it to be a blockbuster on the scale of Tim Burton's Batman, which had hit theaters a year earlier.
The result was a movie like no other - one made up of bright, primary colors that looked like they could have leapt straight out of a comic strip, interspersed with show tunes sung by none other than Madonna as the film's femme fatale, and choked with a who's who of Hollywood nobility, playing often indecipherable roles under acres of makeup. Despite seven Academy Award nominations (and three wins) and a $100+ million box office haul, it was considered a flop and got relegated to the half-forgotten backwaters of event films that never quite became events.
It's kind of a shame. The two-dimensional characters may not pop on the screen like they did in comic strips decades before, but the handcrafted, comic-colored world of Dick Tracy is an accomplishment that has to be seen to be believed - one that owes its aesthetic to Hollywood's Golden Age, but was nonetheless completely a product of its time.
The World Of 'Dick Tracy' Looks Like A Comic Book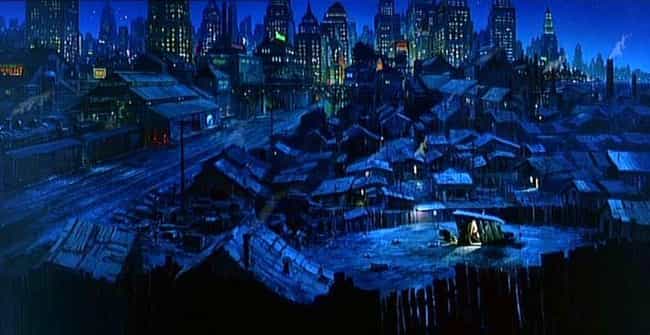 Cinematographer Vittorio Storaro, who had previously worked on the likes of The Bird with the Crystal Plumage, Apocalypse Now, Reds, and The Last Emperor, already had three Academy Awards under his belt by the time he received his fourth nomination for Dick Tracy. Meanwhile, production designer Richard Sylbert and set decorator Rick Simpson won an Oscar for their work on the film. Utilizing only seven primary colors, always in the same shade, the film strived to ape the look of its comic strip roots.
Years before films like 300 or Sin City, Dick Tracy relied on real-life sets accompanied by lavish matte paintings to recreate the look of a comic strip on film in a way that no other comic book movie had ever attempted. However, doing so also pushed the movie way over budget.
It Was One Of Disney's Earliest Attempts At A Comic Book Film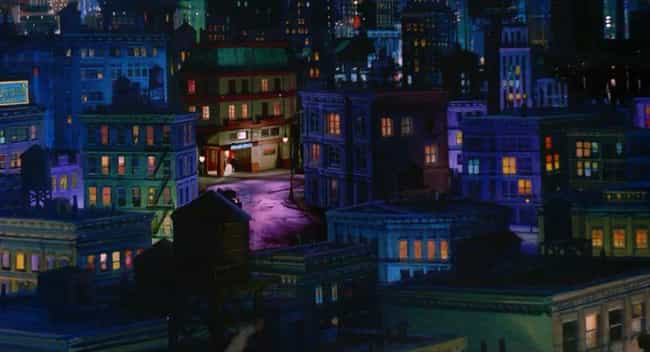 Decades before Disney acquired Marvel - and in so doing, facilitating the biggest cinematic universe thus far conceived, not to mention securing the lion's share of the box office - the company had a minor financial failure on its hands in the form of Dick Tracy.
Disney financed Dick Tracy - releasing it under its Touchstone Pictures imprint - and poured a lot of time and money into its promotional campaign. The film's advertising was modeled on what Warner Bros. had done with Batman the year before, and included McDonald's tie-ins, action figures, T-shirts, music videos, and even an album released by Madonna of songs "from and inspired by" the movie.
The film's less-than-stellar performance at the box office actually caused Disney's stock to drop.
It's A Masterpiece Of Practical Effects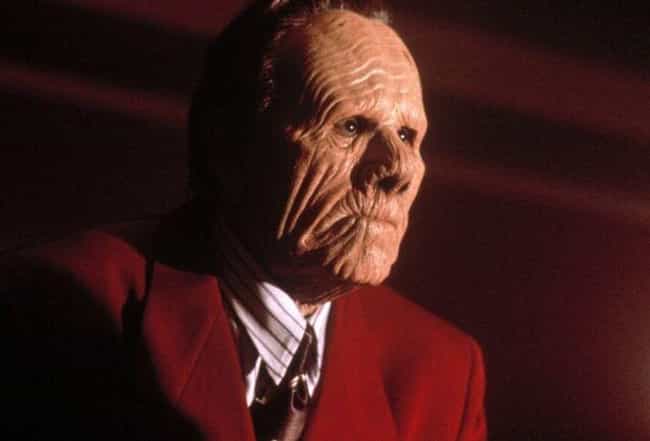 In addition to an Academy Award for art direction, Dick Tracy also won an Oscar for best makeup for stylists John Caglione Jr. and Doug Drexler, who used elaborate prosthetics to create Tracy's rogues gallery of misshapen hoods and henchmen, complete with descriptive names like Pruneface, Flattop, and the Brow. Just about every bad guy in the film is caked under what seems like pounds of makeup - but that's not the only way Tracy is a sort of last hurrah for practical special effects.
In keeping with the flat, four-color look of the comic strip, the film's cityscapes were brought to life with 57 elaborate matte paintings on glass, which were combined with live-action footage filmed on backlots and sound stages. The result is a comic book world that doubles as a testament to the Old Hollywood way of making movies - fitting, given the film's 1930s stylings.
The Film's Design Team Thought In Terms Of Big Themes And Symbols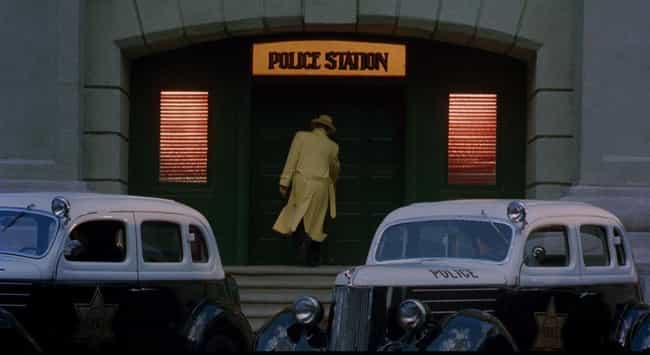 A superhero is only as good as his outfit, and while Dick Tracy may not quite be a superhero, he's close enough. Entertainment Weekly describes the film as having a storyline that is "simplicity itself," drawn from the archetypal strokes of the fairy tale. The design team was thinking big thoughts, such as, "How does the myth of the gangster relate to the rise of fascism?" - a thought that is underscored in Pacino's portrayal of "Big Boy" Caprice, with its echoes of Bertolt Brecht's satirical play about the rise of Hitler as told through a '30s gangster.
"It's almost a mask that Tracy has to wear," costume designer Milena Canonero said of Dick Tracy's trademark yellow overcoat and hat, "because he's a knight. He fights against evil. He's the sun."
Production designer Richard Sylbert had a similar justification for his decision to film on backlots and use so many matte paintings. Normally, he said, he wouldn't use a backlot because he wants details and realism to make a place look lived in. "But for Dick Tracy," Sylbert explained, "we wanted to eliminate specific details. What we wanted was a bunch of icons."