Editor's Note: Voting and Reranking have been closed.
Before the early 2010s, scientists were conflicted on the question of Homo sapiens interbreeding with Neanderthals, but since then, multiple studies have shown the incredible overlap between Neanderthal and human DNA - enough that approximately 1%-4% of modern human DNA traces directly back to Neanderthal ancestry.
Neanderthals coexisted with modern humans for tens of thousands of years, and the two groups certainly met. Evidence shows that Homo sapiens not only procreated with Neanderthals - they also slew and ate them. 
It's not surprising that prehistoric humans mated with Neanderthals since prehistoric people were notoriously promiscuous. But while science proves humans mated with Neanderthals, the evidence still leaves some questions open. When did they begin to interbreed? Was it consensual? And were there human-Neanderthal relationships?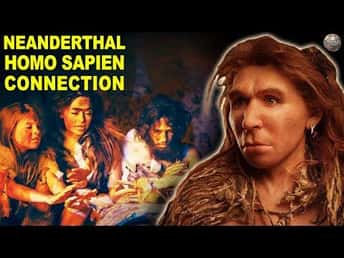 Photo: Will Oliver - PA Images/PA Images / Getty Images

Most Modern People Have A Small Percentage Of Neanderthal DNA

There's not a huge difference between prehistoric Homo sapiens and Neanderthals, it turns out. While Neanderthals were slightly stockier and had thicker bones, the two were compatible in many ways. According to a study published in Science, on average, up to 4% of a person's genetics trace directly to the Neanderthals.

While the Neanderthals vanished 30,000 years ago, the study provides solid genetic evidence that prehistoric Homo sapiens procreated with Neanderthals.