Culture
22 Wildly Dirty Jokes In Disney Movies Kids Were Supposed To Miss

15.4k votes
3k voters
209.8k views
22 items
List Rules Vote up the most shocking adult moments from childhood favorites.
Disney is the happiest brand on Earth. It's a symbol of innocence and wholesome, family fun. The House of Mouse has been entertaining kids since the dawn of time – or, at the very least, the 1920s. But it turns out Disney isn't as pure as you might think. It's hard to count just how many jokes in Disney movies you missed as a kid, but every film is pretty much a treasure trove of secretly raunchy humor.
It's not uncommon for sordid quips to be hiding in the dialogue of some favorite children's shows – Hey Arnold is full of them, and so is Justice League Unlimited. And maybe that humor is to be expected. After all, parents are watching these films as well. Why not throw some jokes for adults in Disney movies, too? The kids won't even notice.
Whether it's Cruella De Vil joking about touching a dog inappropriately or Aladdin being chased out of a brothel, dirty jokes in Disney movies are plentiful. Even the beloved Frozen isn't sacred. Here are some of the raunchiest, most hilarious adult jokes in Disney movies. Once you see them, you'll never watch these flicks the same way again.
This Scandalous Scene In 'The Rescuers'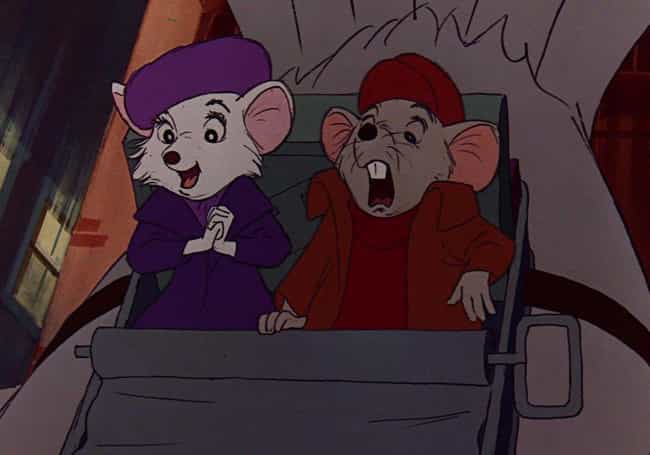 It's hard to tell just how many grandparents clutched their pearls in horror as they watched The Rescuers. In 1999, Disney had to recall the VHS version because someone snuck in an image of topless girl. In the scene, which is about 38 minutes into the film, Bianca and Bernard are flying through the city on a sardine can strapped to Orville's back.
They pass some windows, and one of them features a photo of a topless woman.

Is this surprising?
Yup, There's A Strip Club In 'Cars'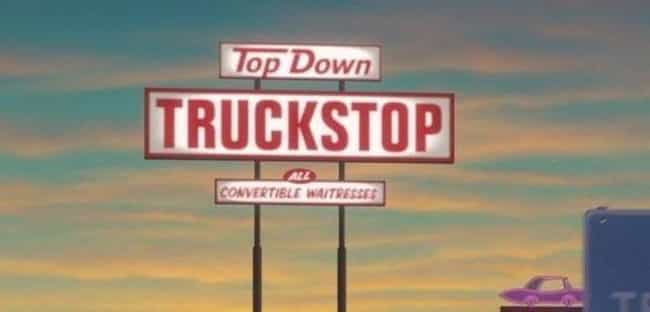 The dirty jokes in Cars largely fly under the radar, because only a small fraction of adults are interested in watching a film about animated, anthropomorphic cars. The ones that did definitely couldn't have missed the actual strip club sneakily tucked away on the highway.
The sign reads "Top Down Truckstop: All Convertible Waitresses."

Is this surprising?
Insects Are Out To Pollinate In 'A Bug's Life'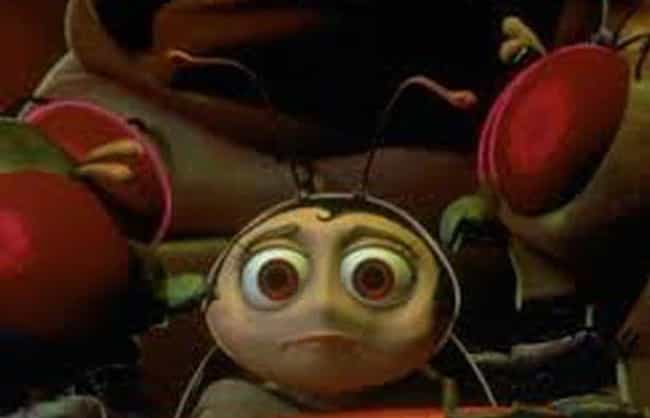 A Bug's Life takes the meaning of pollination to a whole new level when two fleas catcall Francis. The fleas yell out, "Hey cutie! Want to pollinate with a real bug?" Pollination is how plants reproduce, so any reasonable adult can put two and two together to get the real intent of this line.

Is this surprising?
Linguini's Little Problem In 'Ratatouille'
Poor Linguini is the butt of so many off-color jokes in Ratatouille. In this scene, Linguini tries to tell Collette about Little Chef Remy. He says, "I have this tiny... a little... little." Collette looks down towards Linguini's groin.
Is this surprising?