Scientists Finally Discover Ancient Blueprints Showing How The Pyramids Were Built

Noelle Talmon
Updated September 23, 2021
1.6m views
13 items
Editor's Note: Voting and Reranking have been closed.
The Great Pyramid – the largest of several found at Giza – is the only surviving wonder of the ancient world. With such a fantastical past, it has long been debated how such an astounding structure was built without the help of modern technology. Over the years, it has been conjectured that ancient Egyptians carried large hand-carved rocks up massive ramps to set them in place, but that doesn't explain how these enormous limestone blocks were transported to the Giza plateau in the first place.
However, in 2017, archaeologists made a fascinating new discovery: a papyrus scroll that finally explains how the building materials were brought from far away. Consisting of one person's first-hand account, this discovery uncloaks a mystery that has fascinated archaeologists, researchers, and armchair historians for years. Zahi Hawass, minister of antiquities and former chief inspector of the site of the pyramids of Giza, called it "the greatest discovery in Egypt in the 21st century." It's no wonder the discovery made headlines around the world.
Photo: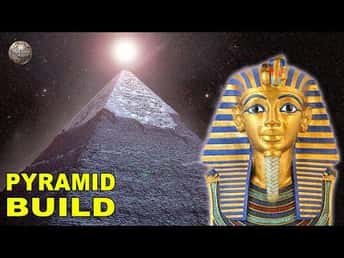 Photo: Jon Bodsworth / Wikimedia Commons

Some Historians Believe The Pyramid Required 100,000 Workers

It's impossible to agree upon an exact count of just how many people contributed to the building of the pyramids, but that doesn't mean there aren't educated hypotheses currently being postulated. According to Greek historian Herodotus, the pyramids were built by 100,000 workers, although many of today's Egyptologists think the number is more likely between 20,000 and 30,000.

Famed Egyptologist, Zahi Hawass, believes around 36,000 ancient Egyptians built the pyramids based on their size, the size of the tombs, and the cemetery.