Anime Underground 16 Anime Scenes That Scarred You For Life
785 votes
207 voters
4.2k views
16 items
Follow
Embed
List Rules Vote up the disturbing anime scenes that still haunt you to this day.
CAUTION: This list does contain some anime SPOILERS.
Anime is no stranger to pushing your emotions (and stomach) to their limits. Whether it's a scene that is horrendously disgusting or simply heartbreaking, fans have seen it all at this point. Even in children's anime and shoujo, there are see moments that are surprisingly violent, morbid, or just straight-up scarring.
There are countless anime series that depict horrifying scenes that have scarred us for life, but this list focuses on the 16 that audiences have found to be the most unforgettable. From the more emotionally disturbing scenes to the straight-up graphic ones, you are sure to find yourself nodding and wincing as you remember these terrifying moments.
Attack on Titan is one of the most popular anime series of the 21st century, and some of that popularity simply comes from the show's shock value. In this particularly gruesome scene, the protagonist of the series, Eren Jaeger, has to watch his mother being eaten by an enormous, creepily smiling Titan.
It's graphic; it's shocking; it turns the stomach and scars the mind of all who watches it. If you have witnessed this brutal scene, you surely remember it.
Also Ranked
#2 on The Best Anime Series of All Time
#1 on The Best Anime Streaming on Netflix
#4 on The Best Adult Anime of All Time
#6 on The Best English Dubbed Anime of All Time
see more on Attack on Titan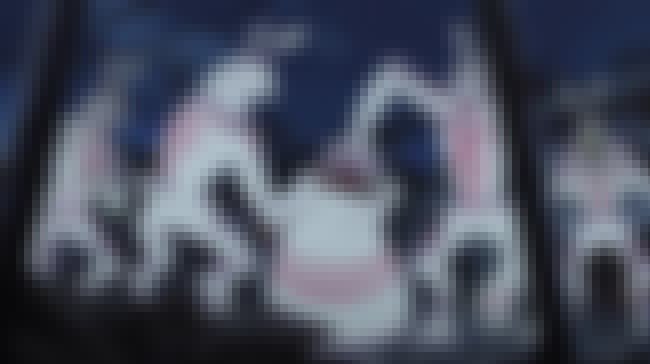 Blood-C is no stranger to violence. It follows a monster slayer as she kills creatures left and right, but the scene in which a pack of vicious bunny creatures eat a town of people and store the rest in their bodies made viewers sick to their stomachs.
The graphic nature of the scene was probably the most terrifying and scarring of the entire show. There are a lot of horrifying anime scenes out there, but this one is particularly memorable.
Tokyo Ghoul is an anime that does not shy away from violence, but the most repulsive scene in the series takes place during the first episode. The protagonist, Ken Kaneki, gets turned into the one-eyed ghoul he becomes for the rest of the series in this vicious and unforgettable scene.
Taking place during the first episode, this moment comes as a huge surprise to audiences, and the woman/ghoul who is attacking him is sadistic and disgusting. You may not want to be eating popcorn while watching this scene (or most scenes in this show for that matter), as it will likely make you sick.
Also Ranked
#13 on The Best Anime Series of All Time
#21 on The Best Adult Anime of All Time
#7 on The Best English Dubbed Anime of All Time
#20 on The Trippiest Anime of All Time
see more on Tokyo Ghoul
Attack On Titan – Mikasa's Family's Murder
One grisly Attack on Titan scene shows Mikasa's horrid origin. Her parents are brutally murdered before her eyes as a child. Her innocence is stripped from her, and as if that wasn't bad enough, she gets kidnapped by her parents's killers.
Luckily the kidnappers are murdered by main protagonist Eren Jaeger, but the last one Mikasa has to kill herself. This was a sort of initiation into the world of fighting and destruction for Mikasa, and afterward, her life was never the same. This whole ordeal was pretty scarring, but the worst part was seeing nine-year-old Mikasa witness her parents's murder and then getting kidnapped herself.