Entertainment
Disney Villain Halloween Costumes

461 votes
153 voters
70.2k views
8 items
Disney Halloween costumes bring Disney magic into your holiday celebration. For those looking for ideal Villain Halloween Costumes, dressing like a Disney Villain may be the perfect thing. These Halloween costumes are for kids and adults alike, and feature antagonists from Disney classics, including "Aladdin," "Peter Pan," "Sleeping Beauty," "Cinderella" and others. They are particularly ideal for wearing to a Halloween party alongside your favorite Disney princess.
Disney villains are remembered as the bad guys in the animated films, such as Captain Hook in "Peter Pan," but the villains are not limited to males. Several Disney films feature female villains and the Halloween costumes are just the same. Female villains include the always evil Cruella de Vil from "101 Dalmatians," Queen Grimhilde from "Snow White and the Seven Dwarfs" and Ursula from "The Little Mermaid."
While these Disney villain costumes are prefect for Halloween or costume parties, they're not really suited for other gatherings, like weddings. For those lavish celebrations however there are plenty of Disney bridal gowns perfectly suited for the occasion.
What are Disney villain costumes? Take a look here and see for yourself.
Straight from the dog-loving film
101 Dalmations
the Cruella de Vil costume is one of many Disney villain costumes that can easily be made sexy for adults if desired. Grab a pre-made
Cruella de Vil costume
or simply grab a tight black dress, red heels and gloves and your favorite
black and white wig
. Finish the look with a white fur jacket and you're ready to go.

Is this a great costume?
see more on Cruella de Vil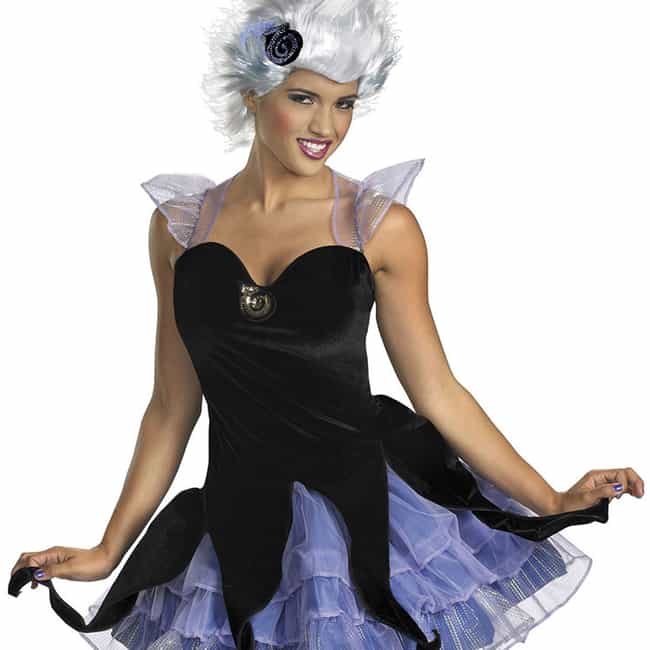 While she's a far cry from a looker in the animated film
The Little Mermaid
, dressing as Ursula can be sexy and still sassy with a
Disney Ursula costume.
Easily the sexiest octopus you can find, Ursula's look can be complimented with
a ruffle skirt,
black heels and a silver wig. Add a shell hair pin for that extra touch.
Is this a great costume?
As perhaps the most well known queen in all of the many Disney movies, Queen Grimhilde, or simply the Evil Queen, from
Snow White and the Seven Dwarfs
oozes darkness and evil with her black and purple gown and dark makeup. Get this look by purchasing a pre-made
Evil Queen costume
complete with the robe, collar and gold crown.

Is this a great costume?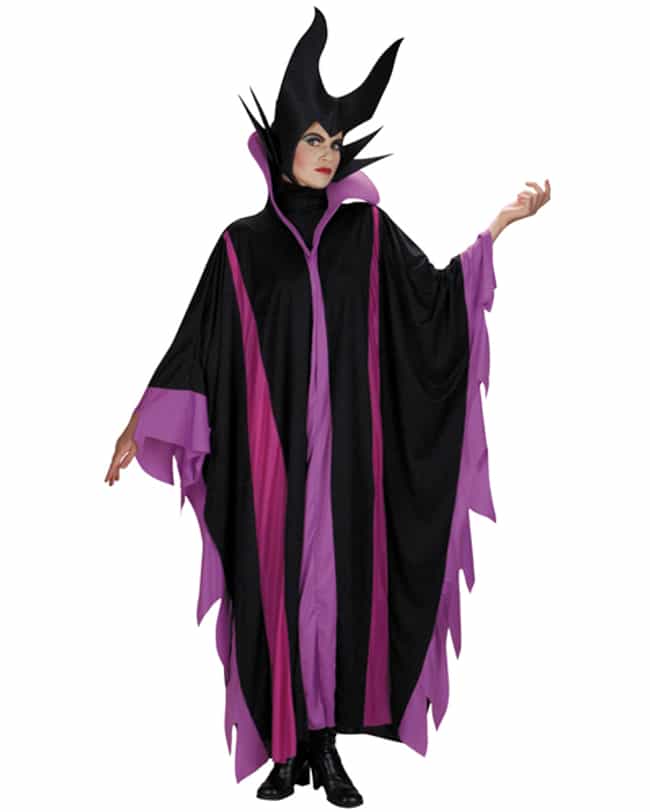 Also known as the "Mistress of All Evil" from Disney's Sleeping Beauty, Maleficent is one part villain and one part beautiful. Similarly, the costume for Maleficent can be creepy and evil, or it can be sexy.
While most of the
pre-made Maleficent costumes for women
are more of a black and purple figureless gown and black headpiece, the same character can be made sexy by purchasing or making a simliar little dress, donning
the Maleficent headpiece
and grabbing some black boots to complete the look.

Is this a great costume?
see more on Maleficent